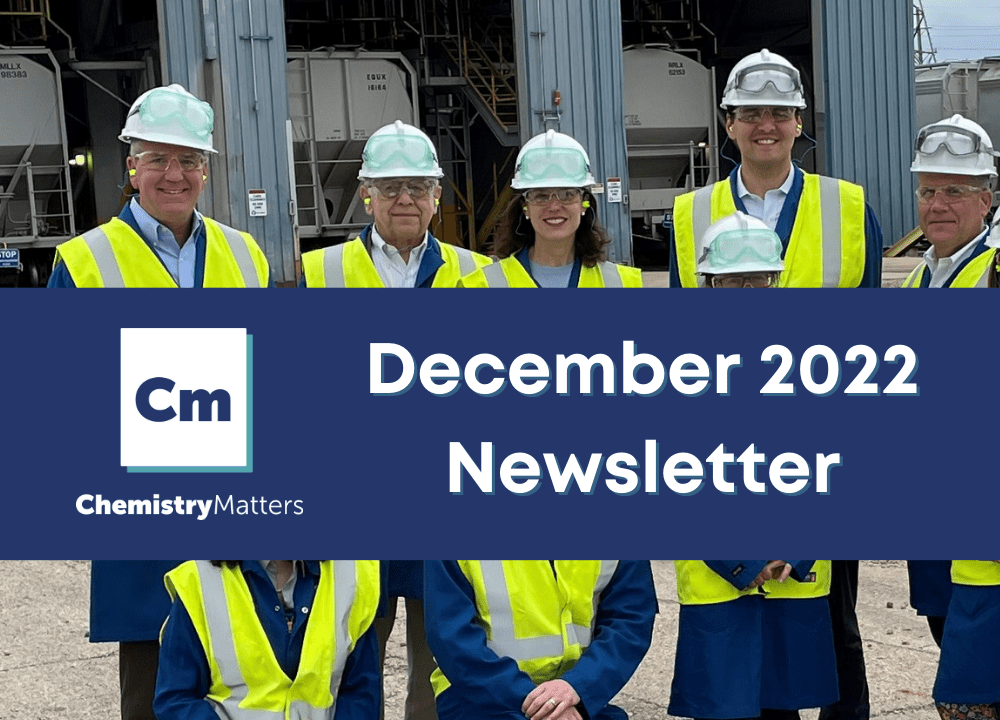 2022 in Review – December 2022
December 22, 2022
Chemistry Advocates,
Welcome to our Year in Review! Thank you for being a part of our community and our wins for the world of chemistry this year.
Join us on a journey recapping all that we've accomplished together in 2022! 
Helping STEM Scholars Thrive
The Future of STEM Scholars Initiative (FOSSI) grew in a big way this year – with representatives spreading the word about the program at HBCU Week in Orlando, Members of Congress posting about the program, and even meeting with the White House Executive Director of HBCUs.
FOSSI is a national chemical industry-wide scholarship program which provides students $40,000 scholarships and connects them to leadership development, mentoring and internship opportunities at sponsoring companies. To date, FOSSI has raised more than $11 million and sponsored 151 scholarships.
As we prepared to enter our fourth year, we took the opportunity to reflect with some students who are currently in the program.
There's just one month left: share the application for the Future of STEM Scholars Initiative with a high school student!
Applications due January 31st.
Learn more About FOSSI.
Engaging with Congress in-state with Plant Tours
This year, members of Congress and local elected officials joined us at sites across the nation to learn more about the industry and the important impact that the business of chemistry has on each state.
From visiting with state representatives in Massachusetts, to Senators in Iowa, we traveled over 50,000 miles across the country to engage and teach legislators about the important work being done in the world of chemical manufacturing.
Check out our page recapping #PlantTours here!
Building Relationships in America's Chemistry Capital
Making progress toward sustainability goals is both an opportunity and a challenge for leaders across the U.S., and the business of chemistry can help meet these goals.
On September 20th, ACC CEO Chris Jahn joined "Houston's Sustainability Push," an event that launched Axios' Houston Newsletter.
During the event, he and Huntsman Corporation president and CEO Peter Huntsman highlighted the role of industry partnerships in integrating sustainability across energy and manufacturing sectors.
Click the video link below to watch.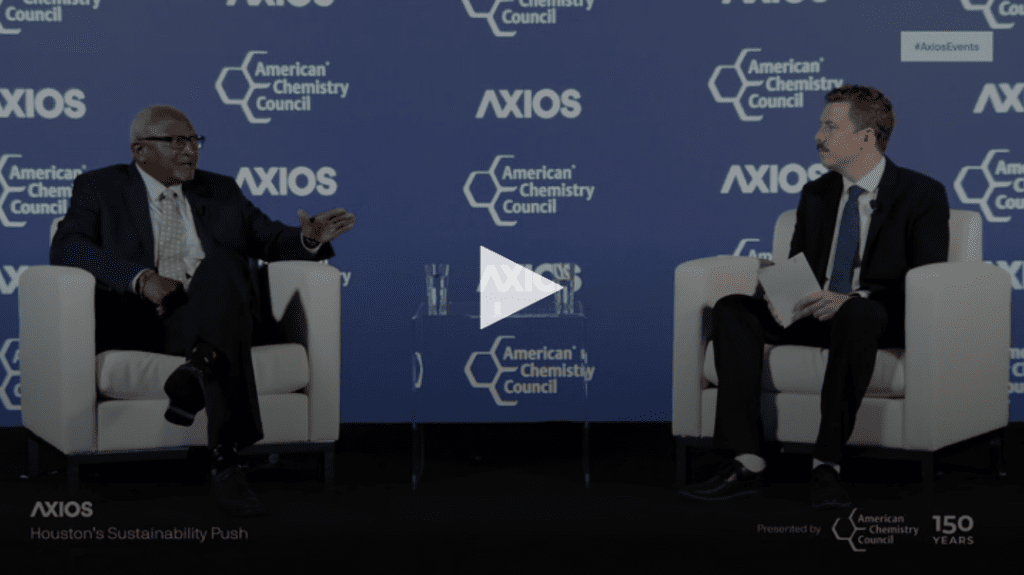 Introducing…the People Behind our Circular Future
Meet the inventors, the innovators, the engineers, transformers and the champions. These are the people changing the world of sustainability as we know it, and forging new roads that we never could have imagined before.
This year, America's Change Makers profiled these people and learned about the enormously important work they do in the business of chemistry.
Their work jumpstarts the "circular economy" for plastics by creating new plastics made with PCR: post-consumer recycled material. This material can make plastics, instead of ending up in a landfill, incinerator… or our environment.
Rennisha works on fiber optics and cable, bringing power and internet to the world.
"These lightweight cables work by carrying pulses of light along flexible glass threads, which are as thin as a strand of human hair."
Keeping the U.S. Economy Afloat
This fall, with the nation on the verge of a severe economic slowdown led by freight rail strikes, we knew we needed to act. And we did – engaging advocates like you to help urge Congress to reach a deal averting a major rail shutdown.
A rail strike lasting just one month would have had serious consequences, including the following:
Job Loss: The U.S. economy would lose 700,000 jobs across multiple industries and economic sectors. These losses would essentially erase the job gains made over the past three months.
Inflation Spike: The Producer Price Index (PPI) would jump by four percent. PPI measures inflation from the viewpoint of industry and is considered a leading indicator for consumer inflation. A four percent spike would represent a twentyfold increase over the latest PPI reading.
Economic Slowdown: The Gross Domestic Product (GDP) would contract by one percentage point, which would pull almost $160 billion dollars out of the economy. To put this into perspective, during the financial meltdown in 2008, the economy lost $210 billion dollars through the first half of 2008.
Our work was a success! The House and Senate passed H.J.Res.100 in a bipartisan vote, successfully moving forward legislation that averted a devastating #RailStrike.
Making Innovation a Reality
"We're going big, we're going global, but it's all starting here in Houston," ExxonMobil's Dave Andrew shared at the exciting start-up of a new large-scale Advanced Recycling facility in Texas.
Advanced Recycling, which is now possible in more than 20 states, can break down those hard-to-recycle plastics and turn them into raw materials for new products.
This facility is one of the largest in North America and is capable of processing more than 80 million pounds of plastic per year – which means making a huge difference in preventing plastic waste from going to landfills. While this facility is one of the first to have such amazing scale, it will certainly not be the last.
Check out the video from their launch below.