Advanced Recycling is a Game-Changer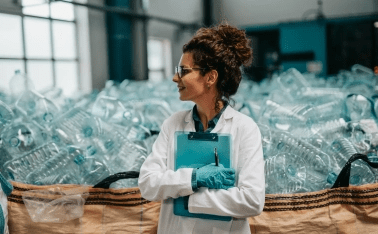 How can we recycle the 90% of plastics that don't get recycled today?
What is Advanced Recycling?
Today's mechanical recycling systems can process some used plastics, like water bottles and milk jugs. But more plastics need a recycling solution that goes past traditional methods. That's where advanced recycling can help grow plastics recycling and complement existing recycling processes. Recycled plastic created via advanced recycling can even be used in food and pharma-contact packaging.
Advanced recycling technologies harnesses the power of science and innovation to transform used plastics into new products that can be recycled again and again. These facilities have even been found to have lower air emissions than other well-regulated facilities, including food processing, auto manufacturing, hospitals and universities. Source: (2021 report from Good Company)
Click to see a visual explainer of how advanced recycling works.
State Support for Advanced Recycling Gains Momentum
In just a few years, 20 U.S. states have adopted legislation that will enable advanced recycling to keep used plastics out of local landfills and in local economies.
Recent words in LoHud: New York should not ban sustainability innovations. This is why
"The environmental benefits here could be significant: if this bill were changed to support advanced recycling, much of the 800,000 new tons of used plastics that clog up landfills each year could instead be put to productive, sustainable use."

Michael Moreno, Co-founder and COO of Braven Environmental
Studies on Viability & Environmental Impact
The City College of New York's Earth Engineering Center

In December 2019, Professor Marco Castaldi of the City College of New York's Earth Engineering Center published a FAQ of common misconceptions about advanced recycling technologies. Using his years of research and scientific background, he explained why advanced recycling technologies should be used as part of the solution to plastic waste.
Washington State University's Composite Materials & Engineering Center

In June 2021, Washington State University published a report evaluating the opportunities for expanding plastics recycling in the State. The report looked at the technical, logistics, and economic aspects of plastics recycling technologies, including advanced recycling.
Rice University's Baker Institute for Public Policy

In 2021 the Baker Institute issued a policy brief that highlighted advanced recycling technologies as the "future of plastics sustainability." The brief outlined the opportunities provided by advanced recycling technologies and made recommendations to enable advanced recycling technologies to the Biden administration, including: improve the economics around collection of plastics; ensure modernized regulatory and permitting for advanced recycling facilities, and; support an integrated waste management system.
Independent Commodity Intelligence Services (ICIS) Consulting

In July 2021, ICIS published an article that identified challenges and opportunities for growing plastic recycling rates in the United States. Demand for recycled plastics is growing rapidly while the amount of recycled plastics available remains low. ICIS determined that advanced recycling technologies will be needed to meet this demand.
Good Company

In March 2021, sustainability firm Good Company released a report on the emissions of pyrolysis-based advanced recycling technologies emissions are similar or lower than those from other common facilities, such as hospitals, college campuses, food processing, and auto manufacturing.
Closed Loop Partners

In April 2019, Closed Loop Partners issued a report that assessed the landscape of technologies that can help increase plastic recycling and stop plastic waste. According to the report, these technologies could meet an addressable market with potential revenue opportunities of $120 billion in U.S. and Canada alone.

In November 2021, Closed Loop Partners issued a follow-up report that focused specifically on advanced recycling technologies. The report found that advanced recycling technologies could help double the rate of plastic packaging recycling in the U.S. and Canada by 2030.
Investing in a Greener Economy
See the different ways companies are utilizing advanced recycling technologies to lower their carbon footprint while working to solve the plastic waste problem.