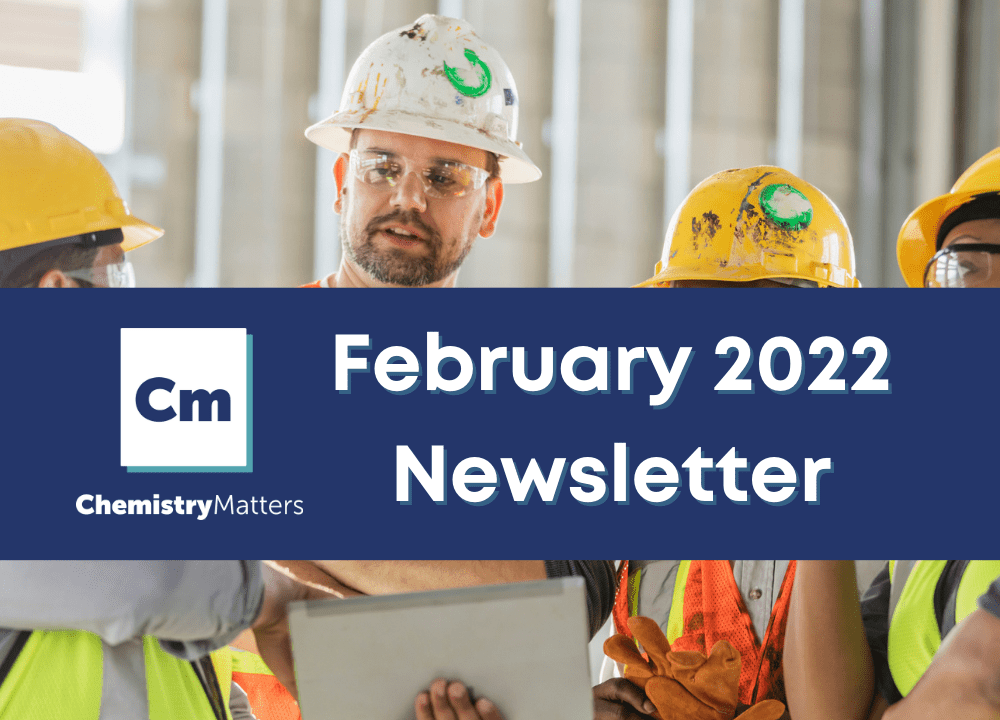 Periodic Tables & Recyclable Plastics – February 2022
February 10, 2022
Chemistry Advocates, welcome to February!
In this newsletter, we're sharing some exciting new content on ChemistryMatters.com, learning more about the future of recycling, and reading up on the latest #SupplyChain news.
This month on Twitter, we're celebrating National Periodic Table day (Feb 7), International Day of Women and Girls in Science (Feb 11), and reminding you that #FOSSI apps are due Feb 15.
Don't forget to follow us on Twitter so you don't miss a thing!

Check out the ChemistryMatters blog!
Have you been to ChemistryMatters.com recently? We've been posting new content and sharing exciting stories about sustainability, chemistry, and more.
Click here to check it out!
MEMBER HIGHLIGHT
Congratulations to Braskem America, which was awarded 1 of 7 U.S. Department of Energy (DOE) research & development grants to formulate infinitely #recyclable single-polymer chemistry bio-based multilayer films.
This DOE investment seeks to discover more affordable ways of recycling existing #PlasticFilms and to create more #Eco-friendly options for the future.
Braskem's inclusion in this initiative highlights the ability of the #ChemistryIndustry to create innovative products and solutions to modern problems, and we encourage the U.S. government to continue to explore how the business of chemistry is committed to a #CircularEconomy.

Support new recycling initiatives that are working to keep difficult-to-recycle plastics from ending up in landfills.
Several states are currently considering #Advanced Recycling legislation. Advanced Recycling technologies complement existing mechanical recycling methods, allowing more types of used plastics (3-7's) to be recaptured and remanufactured into new plastics and products.
Already, corporations and mature recycling enterprises are making significant commitments and building infrastructure at a commercial scale to transition toward a circular economy for plastics.
Championing these efforts is critical to using our resources, such as plastics, more responsibly and keeping them out of the environment where they don't belong. Learn more about advanced recycling here.

Last month, the American Chemistry Council released the results of a survey of nearly 70 U.S. chemical manufacturers that focused on supply chain constraints and disruptions to business.
Findings were as predicted: Almost all companies (98%) reported modifying operations because of supply chain/transportation issues, Two-thirds reported lost production and nearly all reported shipping delays (94%), and more.
Check out our explainer Twitter thread here, or Read the full report here.
Connect with Chemistry
Celebrating a Year of Progress in Energy Efficiency
Weekly Chemistry and Economic Trends (January 21, 2022)
U.S. Chemical Production Expanded in December
ACC Releases November 2021 Resin Production and Sales Statistics
NAFRA Comments on New York Legislation Restricting Flame Retardants in Electronic Displays
EPA Should Encourage, Not Discourage, The Acceleration of Advanced Recycling
America's Plastic Makers Call for Transparent Certification Process for Advanced Recycled Plastic