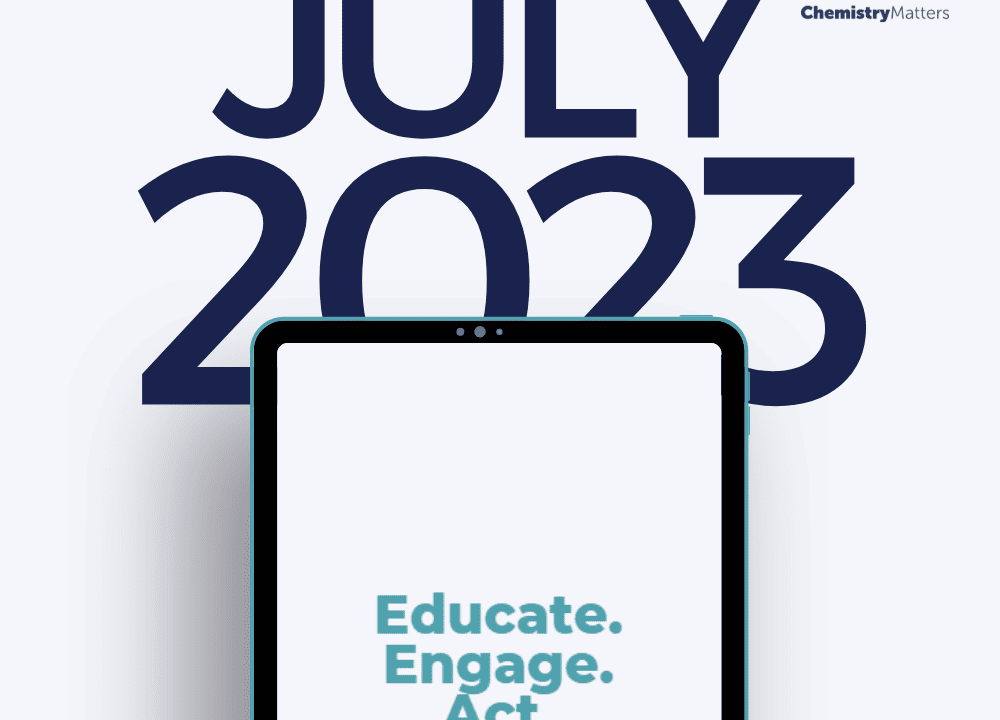 Gearing up for #ACCAugust – July 2023
September 12, 2023
Chemistry Advocates,
August is upon us, and that means that #ACCAugust has begun!
This year so far, #TeamChemistry has hosted nearly 70 tours with elected officials to chemistry facilities across the country – but there's much more to come!
Follow along with our travels at @AmChemMatters on Twitter, and the hashtag #ACCAugust across platforms!
Did you know that #ChemistryMatters invites elected officials to tour chemistry companies so they can see and gain a better understanding of how critical materials are researched and produced?
Many of these tours happen during August, which is when Congress is in recess. Welcome to what we call #ACCAugust.
Curious? Click here to watch a recap video from #ACCAugust2022! 
---
This month, #TeamChemistry was on Capitol Hill to help staffers learn about the importance of chemistry to helping us go places. A huge thank you to Alliance For Automotive Innovation for co-hosting our product showcase spotlighting the "Science Behind Autos" on Capitol Hill and to our member companies & OEMs for exhibiting the innovative automotive components & materials made possible by America's chemical manufacturers. Chemistry fuels automotive manufacturing and is essential to enhancing vehicle safety, improving fuel efficiency and boosting performance.
---
Member Highlight
For the chemical manufacturing industry, working to build a more sustainable future can involve enhancing manufacturing processes, including minimizing environmental impacts while conserving energy and natural resources like water.
Ecolab develops water, hygiene and infection prevention solutions and services that protect people and the resources vital to life. Ecolab's manufacturing facility in Garyville, Louisiana, is a prime example of Ecolab's water stewardship efforts. To contribute to the health of this water-stressed watershed, the Garyville plant adopted a three-pathway strategy with a net-positive water approach:
Increase water-use efficiency on site using Ecolab solutions, such as reusing backwash water at the start of the manufacturing process, which reduced the plant's intake of river water by 85,000 gallons a day.
Understand the shared water challenges in the basin and address them with nature-based solutions, including a project to restore and enhance 10,000 wetland acres in partnership with The Nature Conservancy.
Implement the principles of the AWS standard, such as sustainable water balance, good water quality status and important water related areas (IWRA), balancing relevancy and risk to the site.
---
Congress and the Biden administration want to accelerate reductions in GHG emissions; make the nation's energy delivery system more resilient and reliable; strengthen supply chains; and enhance U.S. competitiveness.
Modernizing the policies used to review and approve for new energy production, energy infrastructure, and manufacturing projects is a valuable and under-recognized tool to help policymakers advance these national priorities. Permitting reform has attracted bipartisan support over several decades. The permitting process for some potential and emerging lower-emissions technologies is continuing to evolve and will need attention.
Chemistry companies are among the leaders and participants in exploring the development and use of innovative lower-emissions technologies. The chemical sector and its supply chain also produce essential 'inputs' for energy-saving solutions such as semiconductors, electric vehicles (EVs), solar and wind power, advanced battery storage, high-performance building solutions, lightweight vehicle parts, and more. Rapid deployment of new infrastructure will be important for both.
---
Connect with Chemistry
ACC Statement Regarding Expiration of Essential Chemical Security Program Key to Combating Terrorism
Weekly Chemistry and Economic Trends (July 28, 2023)
Polyurethane Products' Role in Promoting Good Health and Well-Being
ACC Welcomes Senate Hearing on Permitting Reform
Weekly Chemistry and Economic Trends (July 21, 2023)
ACC Challenges Lack of Independence, Transparency for Peer Review of EPA's Draft Formaldehyde IRIS Assessment
New ARC Project Helps Revitalize Drive for Appalachian "Energy Storage Hub"
Organizations Around the Country Oppose EPA's Flawed Drinking Water Proposal
Overly Broad PFAS Restrictions Could Endanger Healthcare Quality and Cost