Plant Tours 2021
During the year, we work to create opportunities for those employed by the business of chemistry to engage with their elected officials by hosting in-district events. Bookmark this page to follow along with us as we cross the country showcasing facilities and highlighting important issues for the chemistry industry.
Elkem Silicones Tour with Rep. Ralph Norman - Dec 16
York, SC
Elkem Silicones is an advanced material solutions company that operates in three main sectors: silicones, silicone products and Carbon silicones. The York, SC facility opened in 2012 and currently employs almost 200 people. This facility sits on 28.5 acres in York, SC and has over 200,000 sq. Ft. in manufacturing space. The materials made in York, SC can be found in nearly everything: from electric vehicles to beauty products and textile coatings.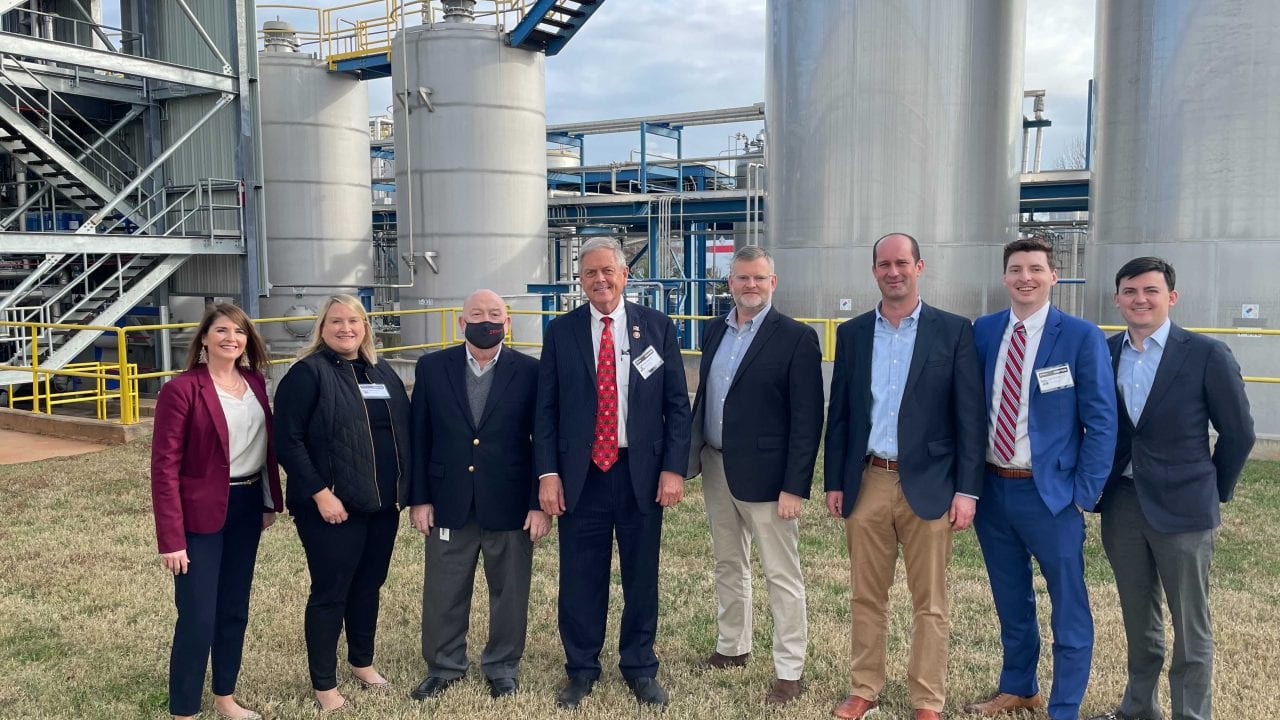 Chevron-Phillips Chemical Company Tour with Rep. Mariannette Miller-Meeks, M.D. - Dec 16
Bloomfield, IA
Thank you to Congresswoman Mariannette Miller-Meeks for coming to visit your constituents in Bloomfield, Iowa! This area is home to Chevron-Phillips Chemical's Performance Pipe division - where skilled workers manufacture polyethylene pipe fittings used in the transport of water systems, natural gas, and countless industrial applications. This facility has a strong commitment to #safety - on her visit, Congresswoman Miller-Meeks learned about their protocol and signed their safety commitment herself. Iowa is a major hub of the business of chemistry as the 6th-largest chemistry-producing state. Here, chemistry generates $18.51 billion annually and employs over 20,000 directly & indirectly. Thank you Congresswoman for visiting and learning more about why Chemistry Matters to Iowa!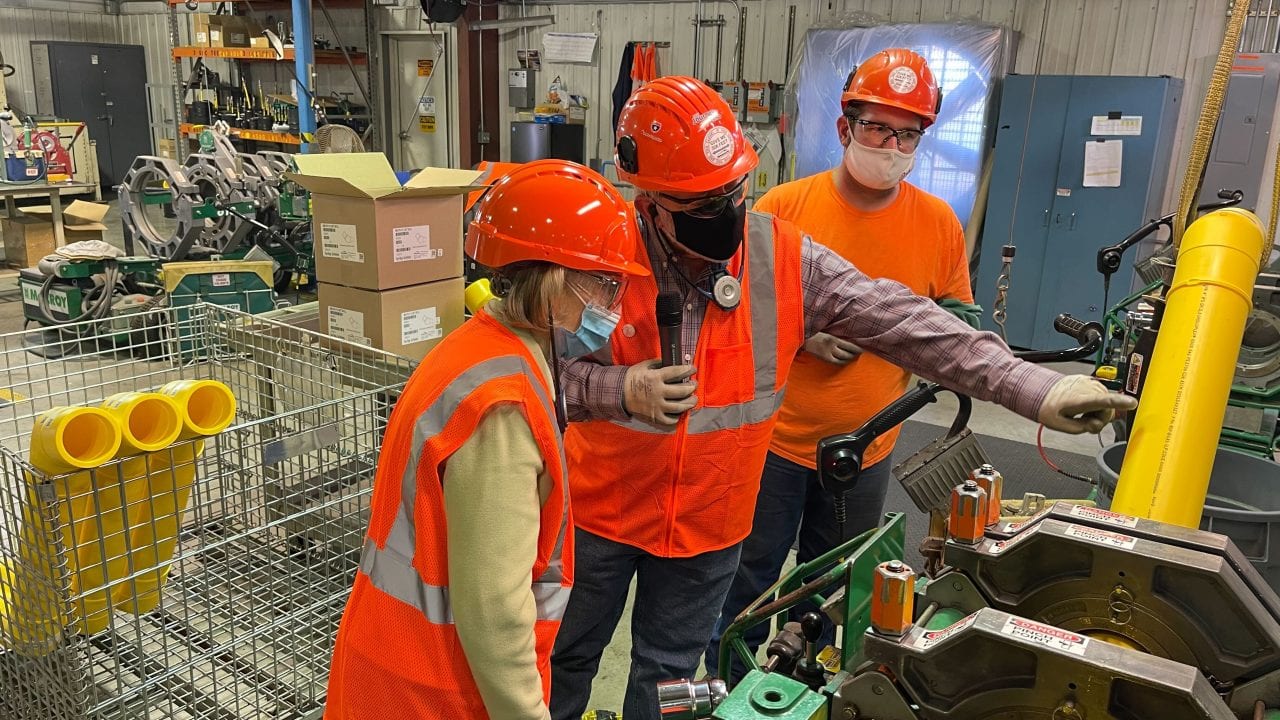 Kuehne Chemical Company Tour with Sen. Tom Carper - Nov 24
Delaware City, DE
Senator Tom Carper visited Kuehne Chemical Company's Delaware City plant - this site employs over 50 Delawareans! Kuehne recently celebrated 100 years since opening its doors in 1919, and now has locations in South Kearny, NJ, New Haven, CT, and Delaware City, DE. This site produces Sodium Hypochlorite, Caustic Soda, and Chlorine - critical chemistries for water treatment, keeping pools safe for swimming, and even paper processing. Companies like Kuehne are incredibly important to Delaware's economy: at $1.83B in output, chemistry is the 2nd largest manufacturing industry in the state and employs over 3,980 skilled workers at an average annual wage of $108,418.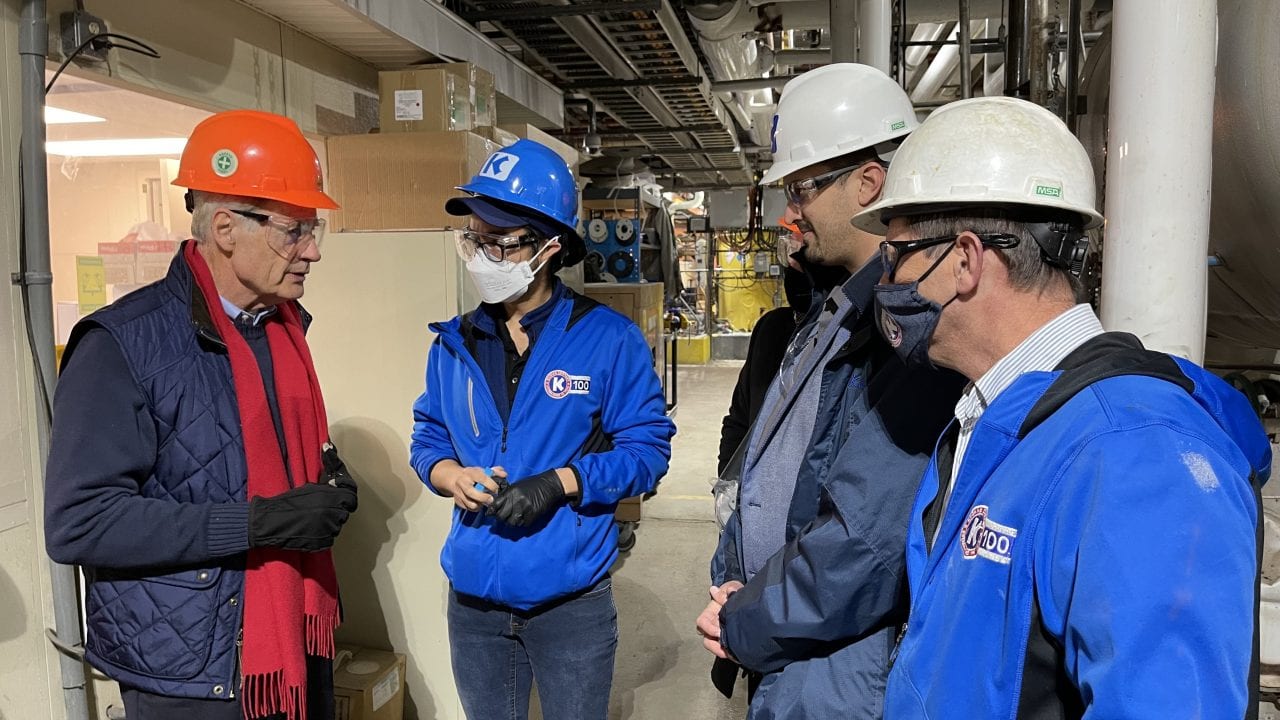 Monosol Tour with Rep. Frank Mrvan - Nov 22
Portage, IN
Thank you to Rep. Frank Mrvan for visiting MonoSol's Portage (Duneland), Indiana facility this week – where they manufacture water-soluble films used in consumer applications, utilized for their ability to provide safe and sustainable convenience. These films are used in a range of common items like dishwashing and laundry detergent packets, hospital laundry bags, and personal nutrition supplements like protein powder. MonoSol originated in Indiana, and is tackling packaging waste issues through their innovative use of dissolvable packaging technologies made possible by chemistry. In Indiana, chemistry is responsible for over 30,000 jobs and $955 million in wages. Thank you to Rep. Mrvan for seeing how #ChemistryMatters to Indiana!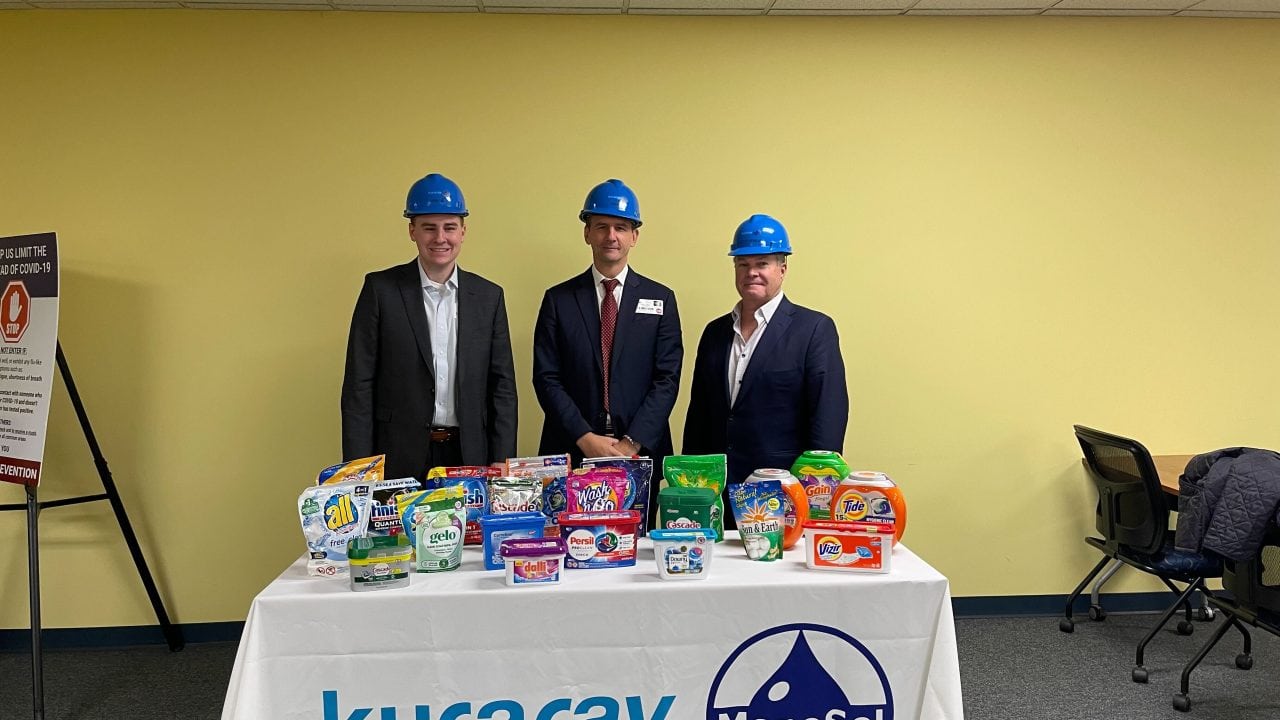 Lubrizol Corporation Tour with Rep. Virginia Foxx - Nov 12
Gastonia, NC
We were grateful for Rep. Virginia Foxx taking the time to meet with over 80 constituents employed by The Lubrizol Corporation.'s plant in Gastonia, NC! These skilled workers are critical to North Carolina - where the business of chemistry contributes $18.35B annually to the economy. The employees at this site help produce carbomer polymers that are used in personal care products like toothpaste, soaps, & shampoos to create a correct viscosity & ensure longevity. As the 7th largest chemistry-producing state, North Carolina ships $3.15B in products around the world annually and employs 45,451+ workers, who make a salary 33% higher than the average manufacturing wage in NC.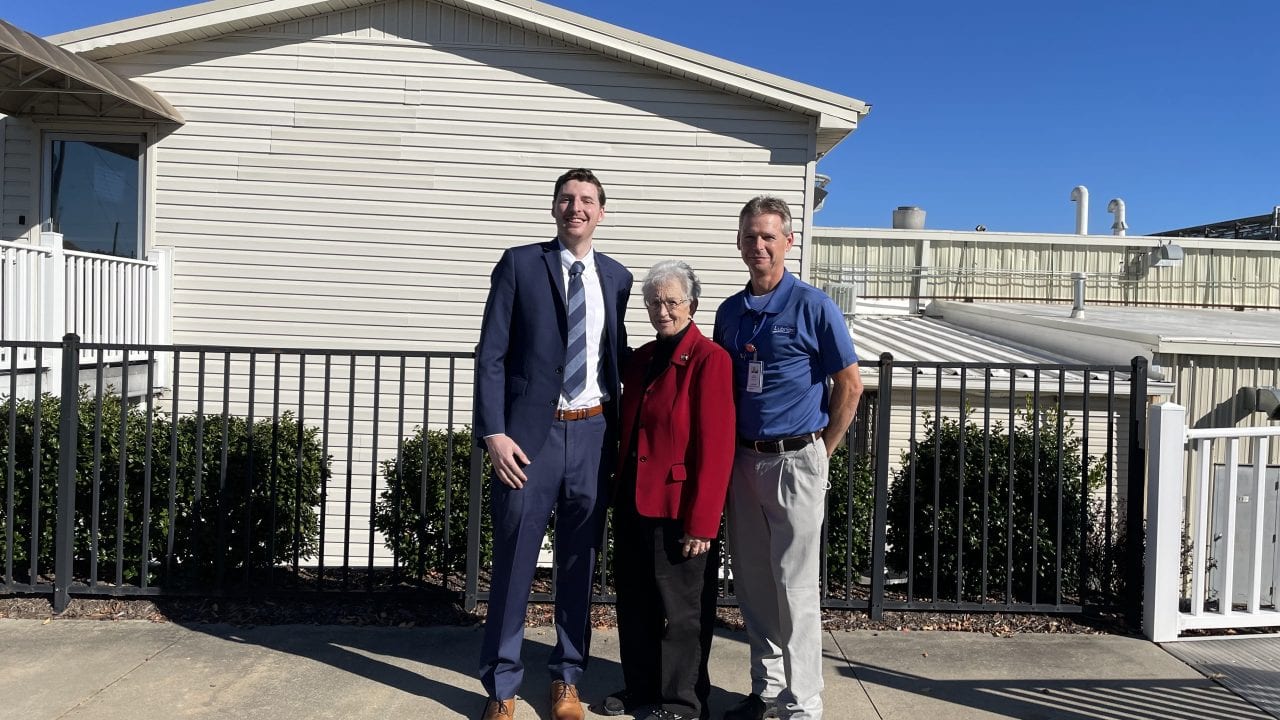 Chevron Phillips Chemical Company Tour with Rep. Randy Weber - Nov 9
Sweeny, TX
Congressman Randy Weber for visited his over 1,000 constituents working at the Chevron Phillips Chemical in Sweeny, Texas. This historic facility was a critical part of supporting U.S. efforts during WWII, and in 2000 Chevron and Phillips 66 merged their chemical operations at this site. Here, hardworking Texans produce polyethylene - 2.2 billion pounds a year - that can be found in hundreds of everyday items, from plastic pipes to candy wrappers. Currently, they're expanding their hexene operations, which will add 600 construction jobs and 50 full-time positions to the community. As the first largest chemistry-producing state, Texas chemistry pays $8.13B in wages annually and ships $38.21B in products to customers worldwide. Thanks again to Congressman Weber for seeing how Chemistry Matters to Texans.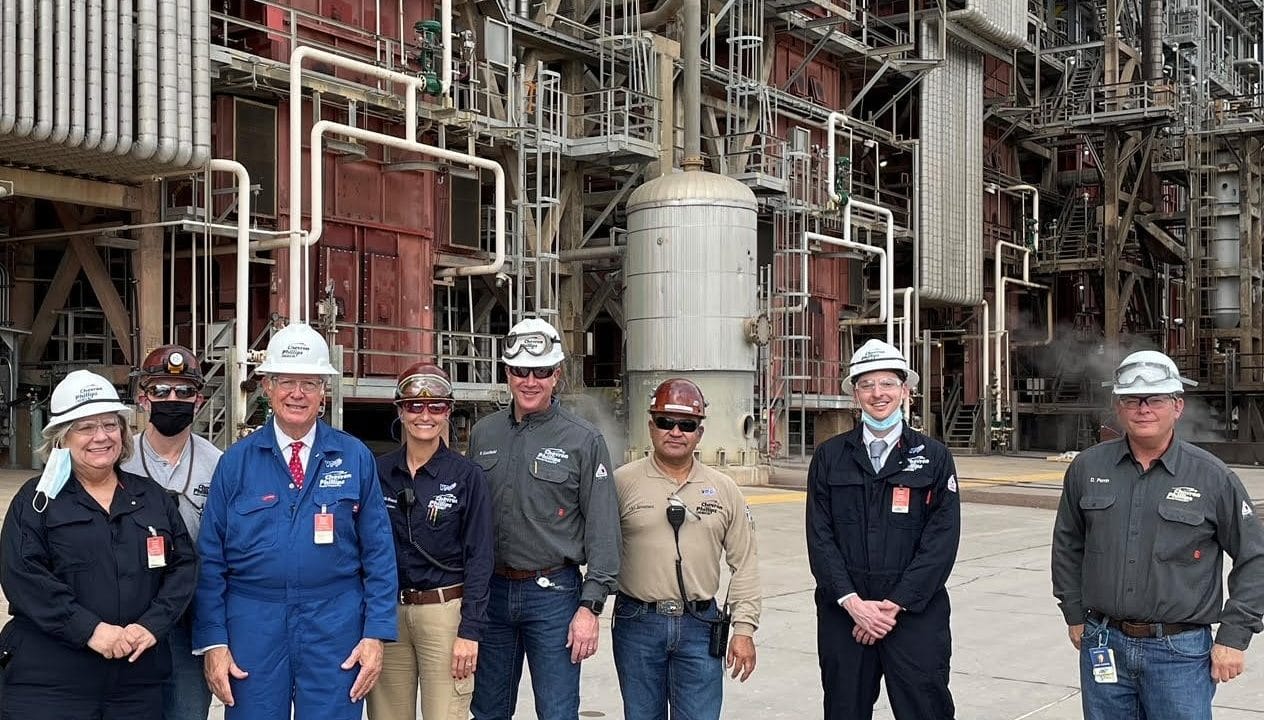 Braskem Tour with Rep. Carol Miller - Oct 12
Neal, WV
Congresswoman Carol Miller for visited Braskem in Neal, WV to meet with constituents and learn more about how Chemistry Matters! This site celebrates 60 years of operations this year and employs 106 West Virginians. The site produces polypropylene using the Spheripol process - which is used in applications ranging from medical to automotive as well as packaging. In West Virginia, the business of Chemistry is the #1 largest manufacturing industry - employing 16,673 directly & indirectly at an average annual wage of $93,382. Braskem cares about their community, traditionally supporting Kenova Volunteer Fire Department and STEM programs at local Wayne County public schools. They have also made a commitment to a more circular future, aiming to be carbon neutral by 2050.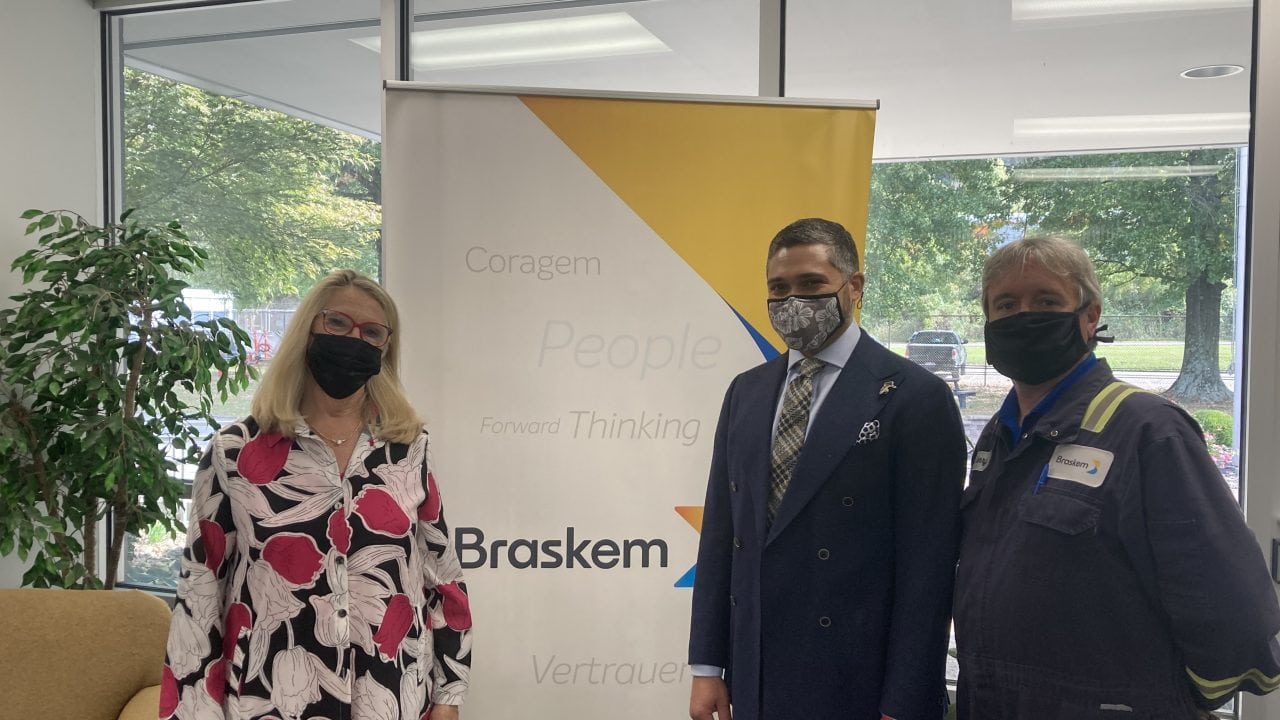 Huntsman Corporation Tour with Governor Chris Sununu - Oct 26
Merrimack, NH
New Hampshire Governor Chris Sununu visited the Huntsman Corporation's Merrimack, NH facility. Here, 36 skilled workers help create advanced materials that have end-users in the automotive, aerospace, construction, energy and fuels industries. Strength, thermal & electrical conductivity, and high-temperature resistance make some of their advanced carbon-based products "out of this world" - in fact, this facility makes materials that were used in the NASA - National Aeronautics and Space Administration Juno Space probe that currently orbits the planet Jupiter. In addition to employing New Hampshirites, this site has been a positive force for its community - the economic impact of this facility is $3.8 million, they give to local Toys for Tots, and have a safety incident rate of 0. Thanks again to Gov. Sununu for seeing how much Chemistry Matters to New Hampshire!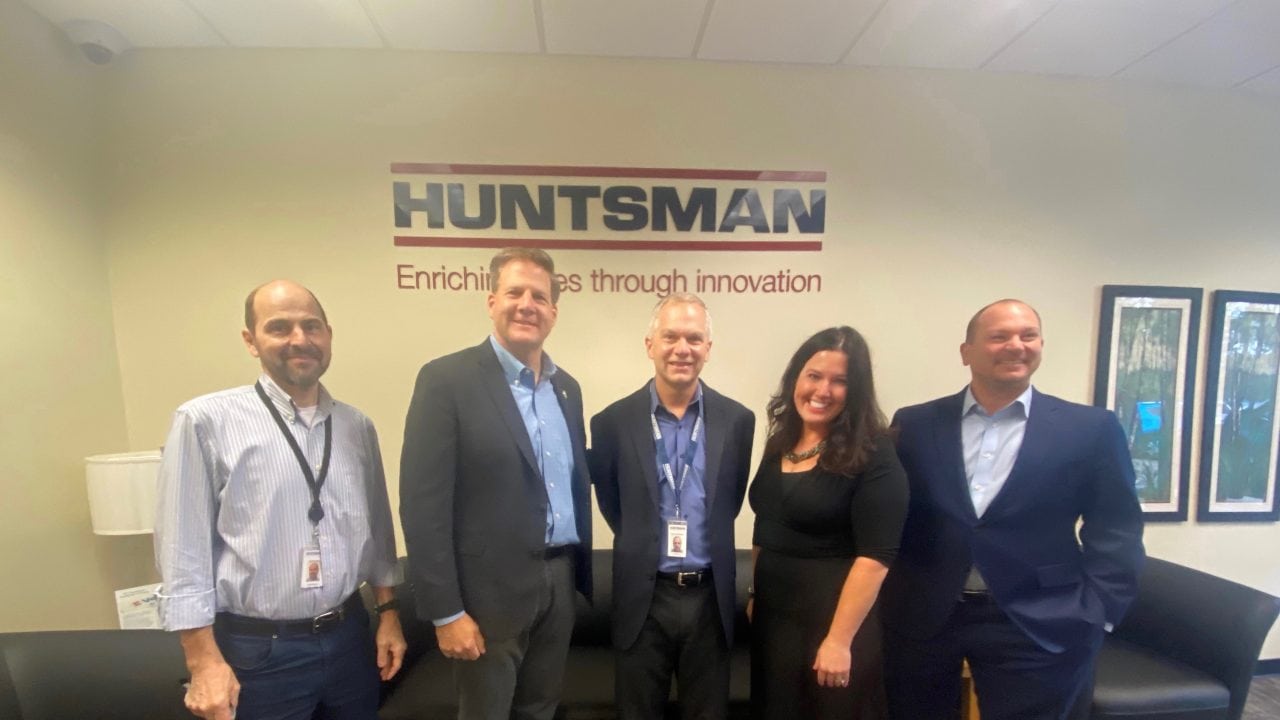 Koppers Tour with Rep. Jack Bergman - Oct 6
Hubbell, MI
Thank you to Congressman Jack Bergman for touring Koppers Inc.'s Hubbell, Michigan facility! If you buy pressure-treated lumber anywhere in the U.S., there's a 99% chance it has copper that originated at this site. Here, raw scrap copper is treated and turned into basic copper carbonate, often found in pressure-treated lumber. Over 60 Michiganders are employed here, who help treat 102,000 pounds of raw copper every single day. The business of chemistry is a large economic driver in Michigan and directly employs over 21,667 skilled workers. The average chemistry wage is $92,614 annually.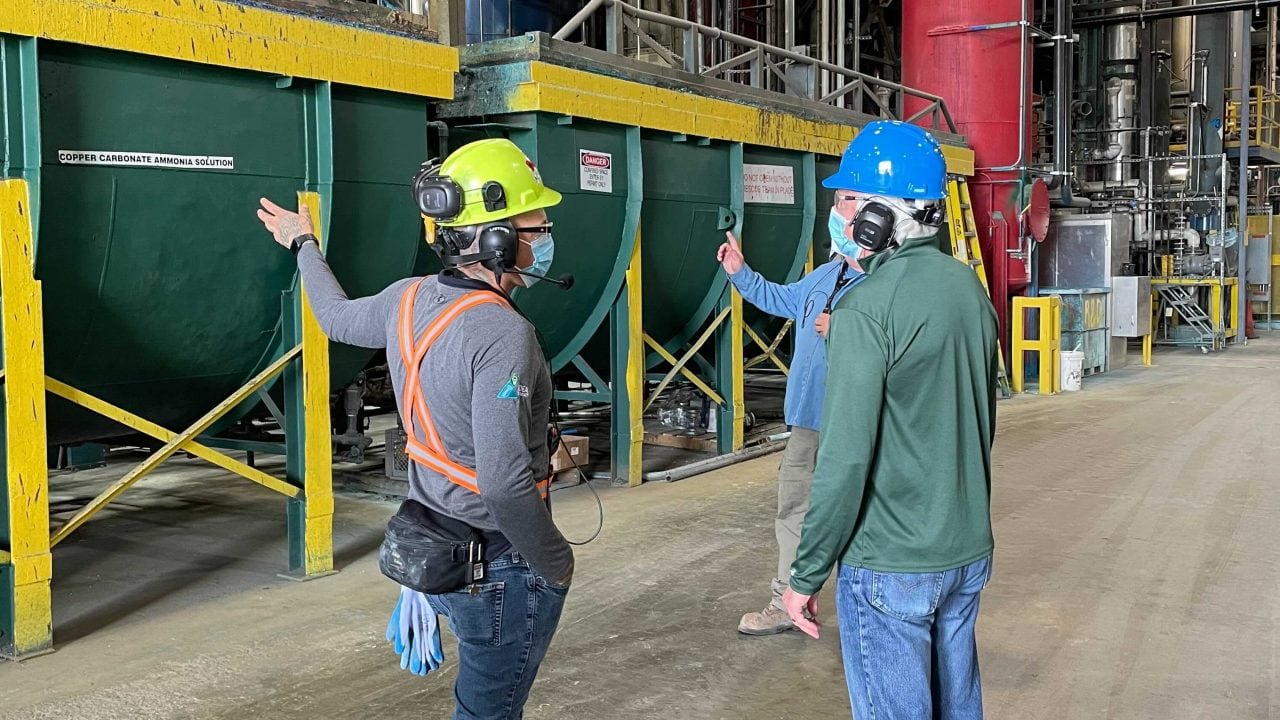 Virtual DuPont Townhall with Sen. Chuck Grassley - Sept 27
Fort Madison, IA
We were grateful to have Senator Chuck Grassley join DuPont employees in Fort Madison, Iowa for a virtual town hall. This site is a major manufacturer of printing inks and coatings used in manufacturing aircraft and fabric applications. Over 80 skilled workers are employed by this location, which has been manufacturing a wide range of products for over 100 years. During the town hall, we shared some statistics on the importance of the business of chemistry in Iowa - which provides 19,619 direct & indirect jobs that pay on average 22% more than other manufacturing jobs in the state.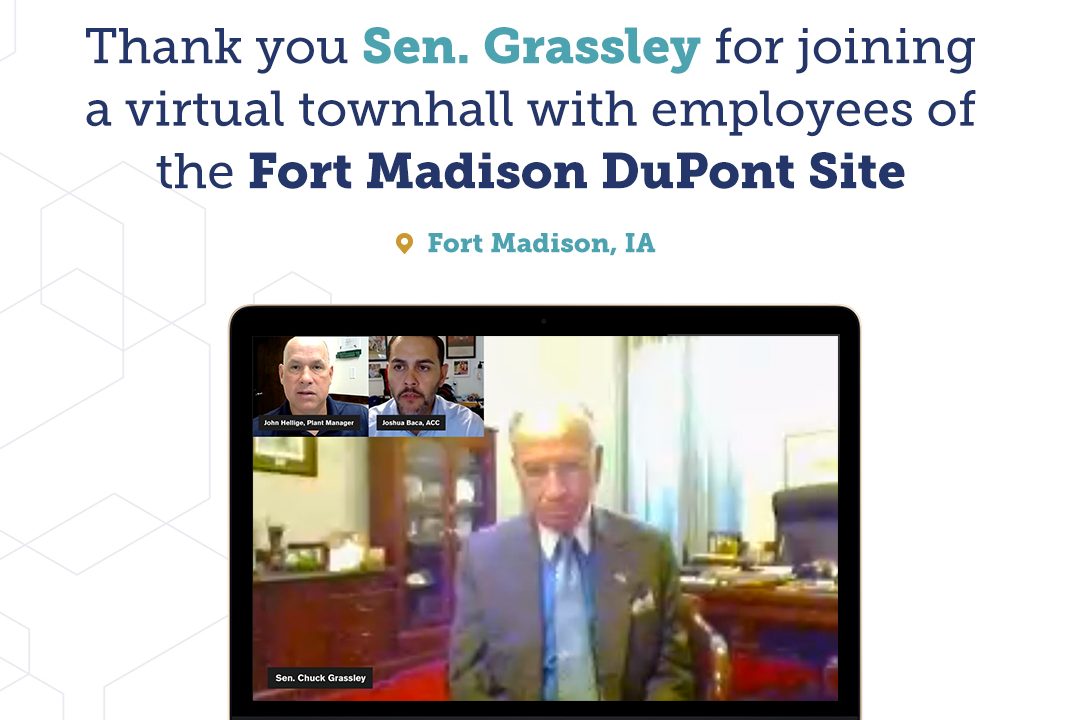 Virtual Arkema Tour with Rep. Jerry Carl - Sept 23
Axis, AL
Many thanks to U.S. Representative Jerry Carl for taking time to virtually meet with constituents from Arkema's Axis, AL plant! This Arkema facility employs 130+ hard-working Alabamians who create materials to improve the quality, processing, & durability of plastic items. They manufacture Acrylic Polymers, PEKK & tin-based organometallics - materials that are used in PVC pipe, siding, fencing, decking, windows, and trim in addition to film, sheet, and bottles. These materials are critical to construction & packaging supply chains. Giving back to their community, this site also supports programs such as the American Cancer Society, Mobile Community Action Headstart program, LeMoyne Emergency Medical Service; Life South blood drives; Making Strides Against Breast Cancer Walk; Southwest Alabama Workforce Development (SAWDC); United Way®; Mobile Work & Spherion Employment annual Internship program.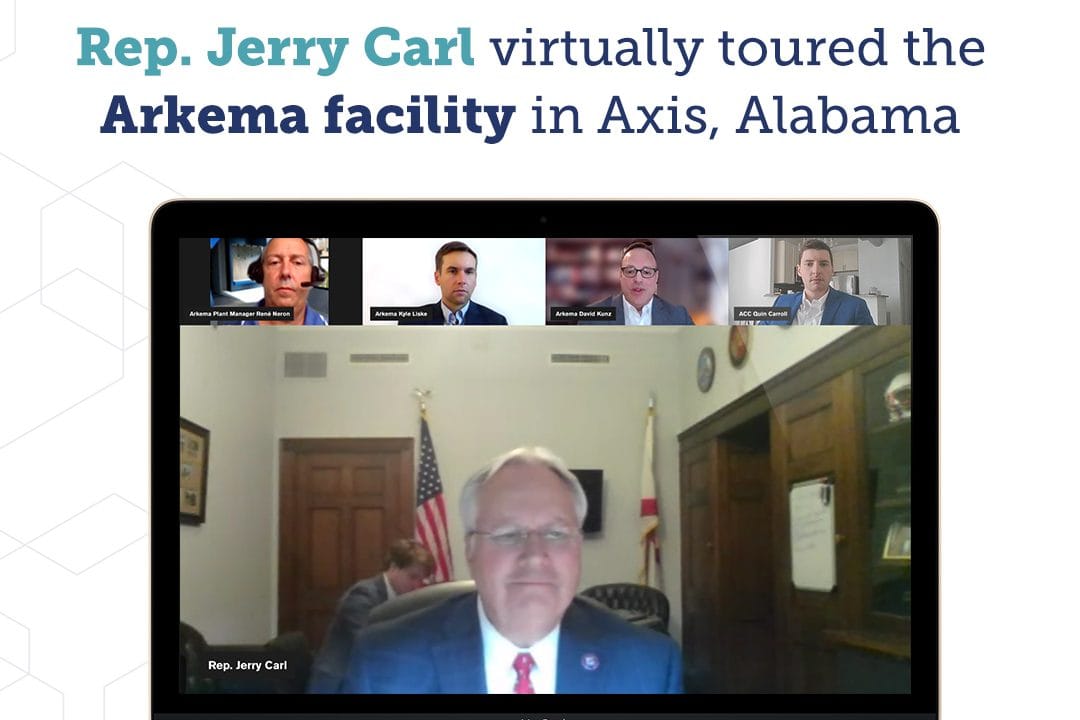 EMD Electronics Tour with Rep. Buddy Carter - Sept 19
Port Wentworth, GA
Congressman Buddy Carter for visited the EMD Electronics plant in Port Wentworth, GA to take a tour and meet with constituents as part of ACC Autumn. Skilled workers at this site produce pearlescent pigments that are found in the cosmetics, industrial, and coatings industries. The pigments made at this facility can be found in a breadth of products: from cosmetics to automotive paint, phone casings, and buttons on dress shirts. The mural in this photo was also made with materials produced at this site! Chemistry matters in making our world brighter and more colorful.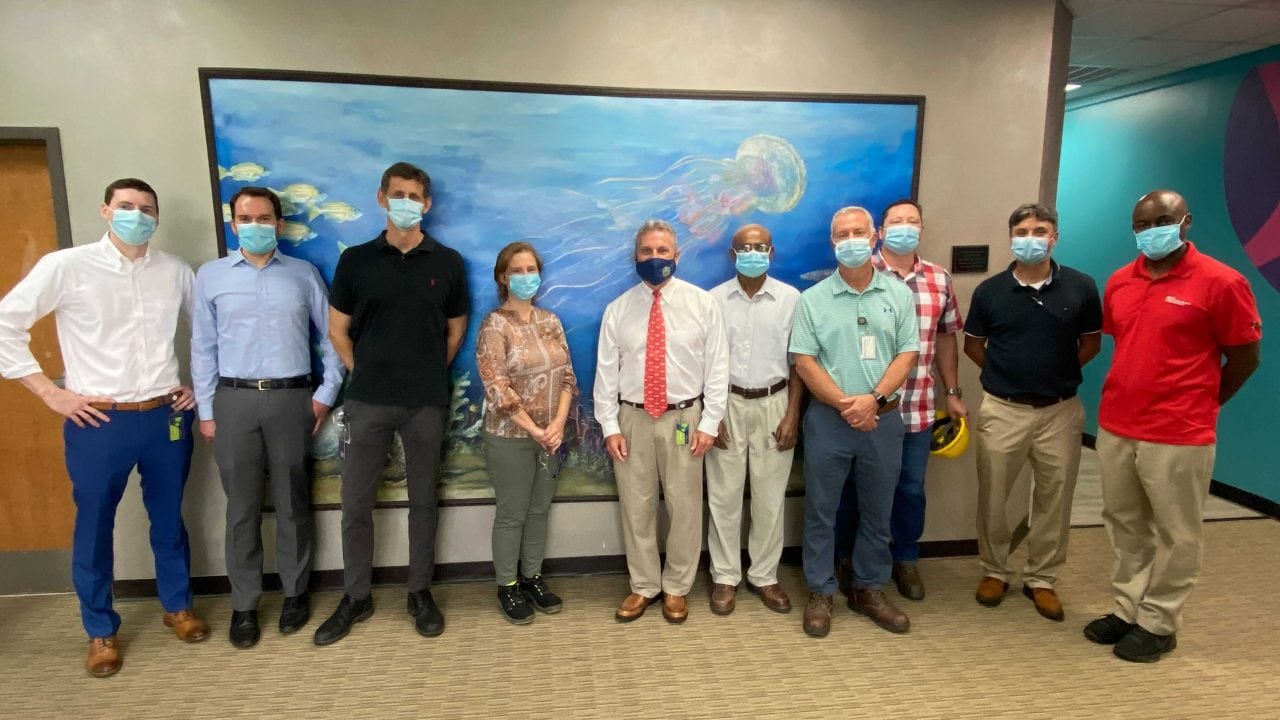 ICL-IP Tour with New York State Senator Pete Harckham - Sept 14
Tarrytown, NY
We were joined by New York State Senate's Senator Pete Harckham at ICL-IP's Tarrytown, NY facility. Senator Pete Harckham is a member of the Energy & Telecomm and Environmental Conservation Committees and was able to tour ICL-IP's facility to learn more about the innovation happening in his district. This facility employs nearly 20 workers focused on product development and innovation alone, providing a perfect example of how the business of chemistry is leading the market in solutions to meet the ever-changing needs of our global economy. For example, ICL is a leader in sustainable critical fire safety chemistries.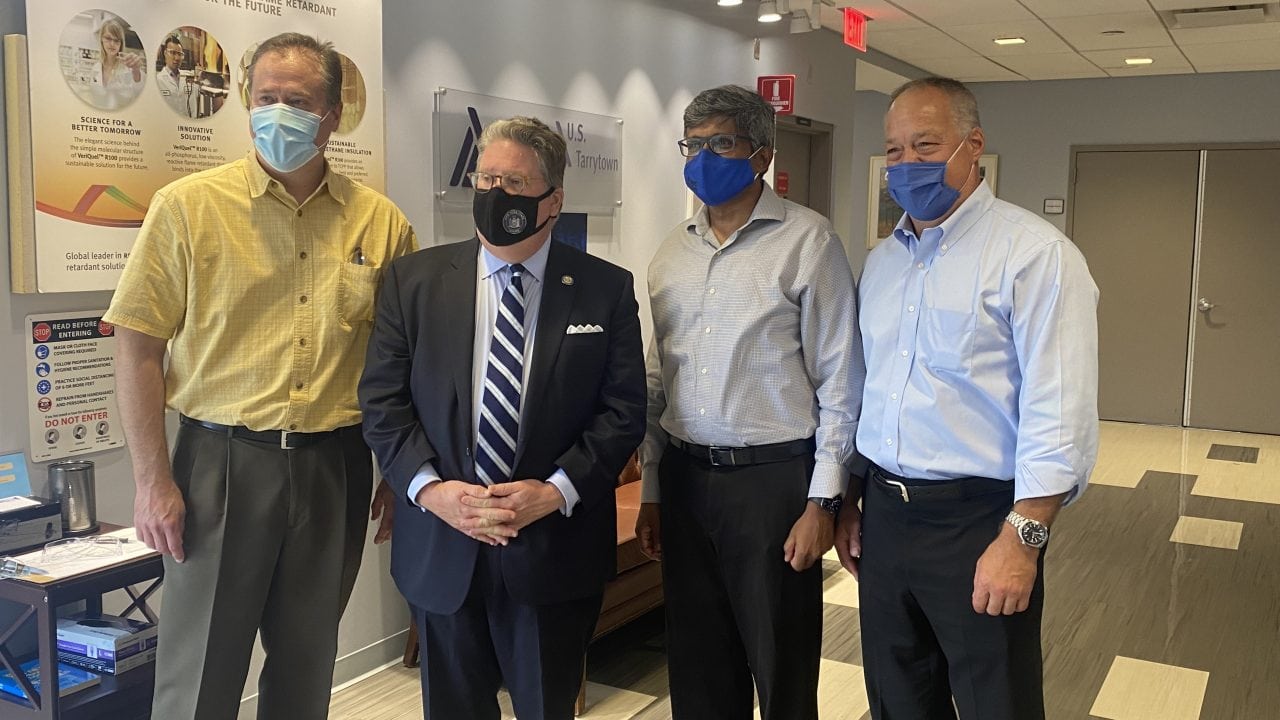 Dupont Tour with Rep. Dave Joyce - Aug 27
Stow, Ohio
Rep. Dave Joyce visited constituents at Dupont's Stow, Ohio site. This facility was acquired in 1992 and provides 40 jobs for hardworking Ohioans. Dupont provides 820 jobs in Ohio total across 8 locations. As the 3rd largest chemistry producing state, 40,280 are employed by the business of chemistry, which ships $7.01B in products to customers worldwide. The Stow site, alongside its nearby site in Valley View, Ohio, produces custom polyimide composite parts used in aircraft and aerospace applications. These products are a key material for jet engines and are present in 95% of commercial and military jets. During #NationalCompositesWeek, it was great to share the importance and value of these products during this tour.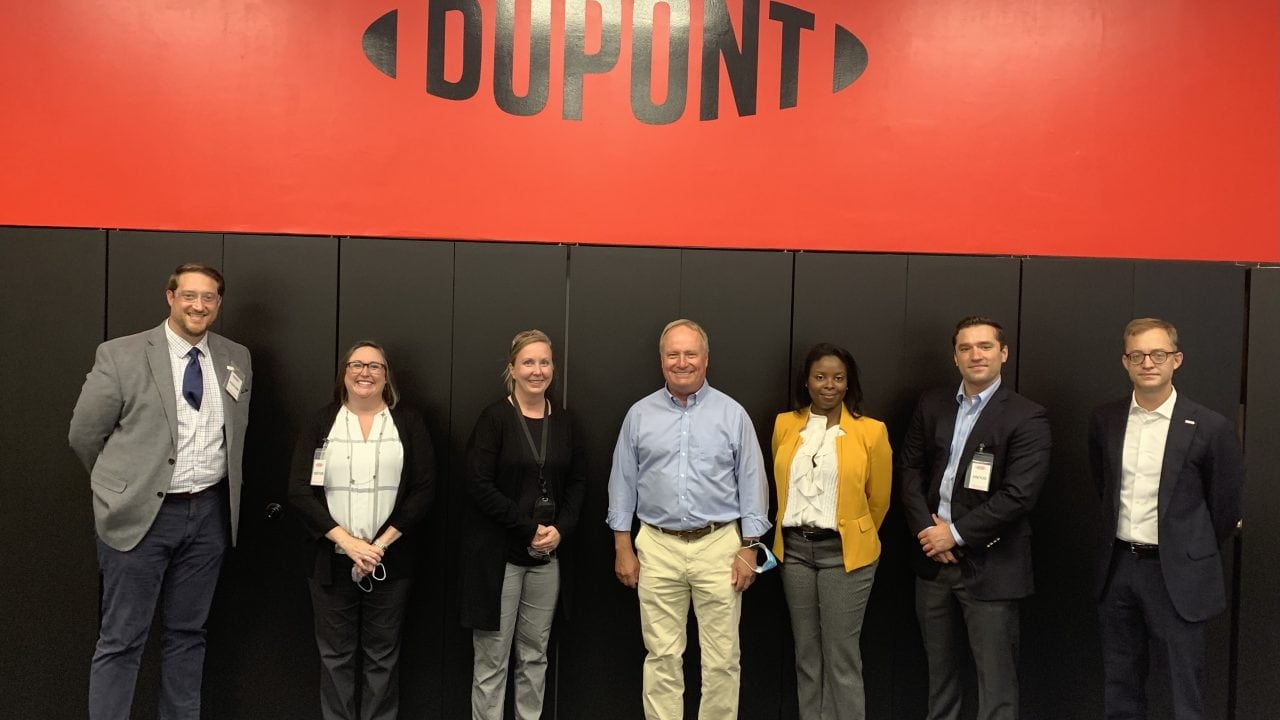 Arkema Virtual Tour with Rep. Julia Letlow - Aug 19
Pineville, LA
Congresswoman Julia Letlow for connected with constituents at Arkema's Pineville, LA location for a virtual tour as part of #ACCAugust! This location is one of the two producers of odorized gas in the U.S. and supplies natural gas and propane odorants for the entire continent. The Pineville plant was founded in 1994 and has an impressive safety record: 0 recordable injuries in the past 18 years. Arkema Inc. is dedicated to their employees and has made investments in health & environmental projects to ensure worker safety.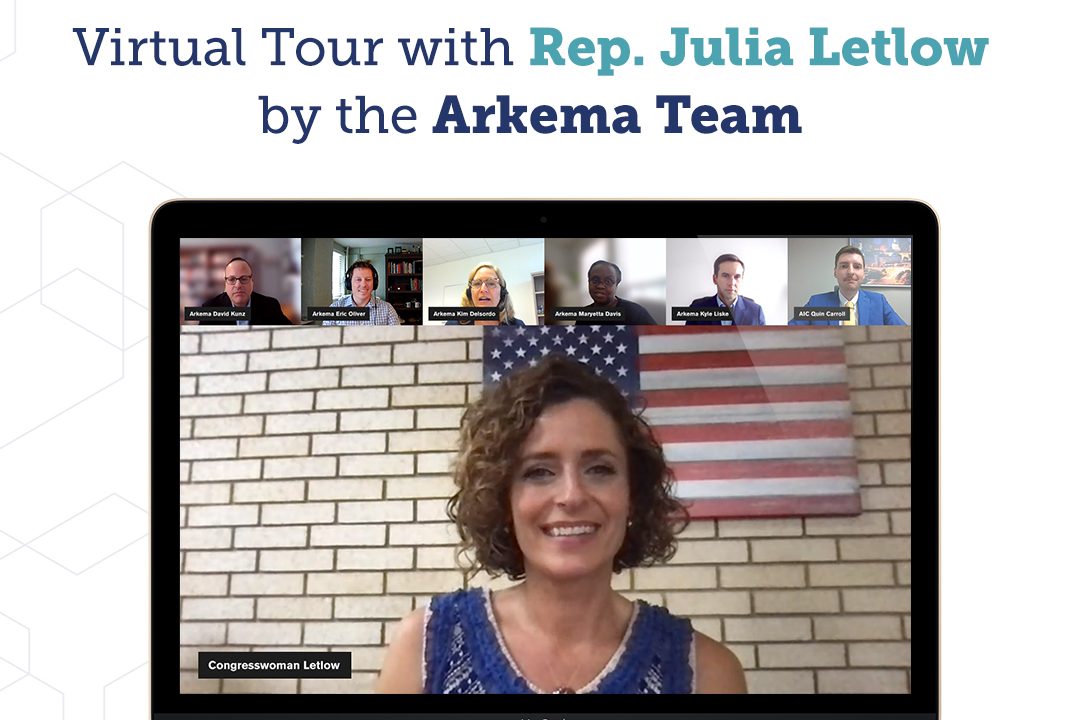 Koppers Tour with Rep. Austin Scott - Aug 19
Chauncey, GA
Rep. Austin Scott visited Dodge County, GA to take a tour of the Koppers Chauncey facility, which helps create utility and industrial products. With over 1,800 employees worldwide, Koppers creates carbon compounds, chemicals & treated wood. If you've ridden on a train in the U.S., chances are you've interacted with a Koppers product. Koppers is the largest supplier of railroad crossties in North America to the Class I and short-line railroads, which include Amtrak, Union Pacific, and Norfolk Southern. Georgia is the 12th largest chemistry-producing state, supporting 18,440 jobs with $1.28B in wages. Koppers gives back to GA citizens by protecting the environment with their sustainability initative: "Protecting What Matters. Preserving the Future."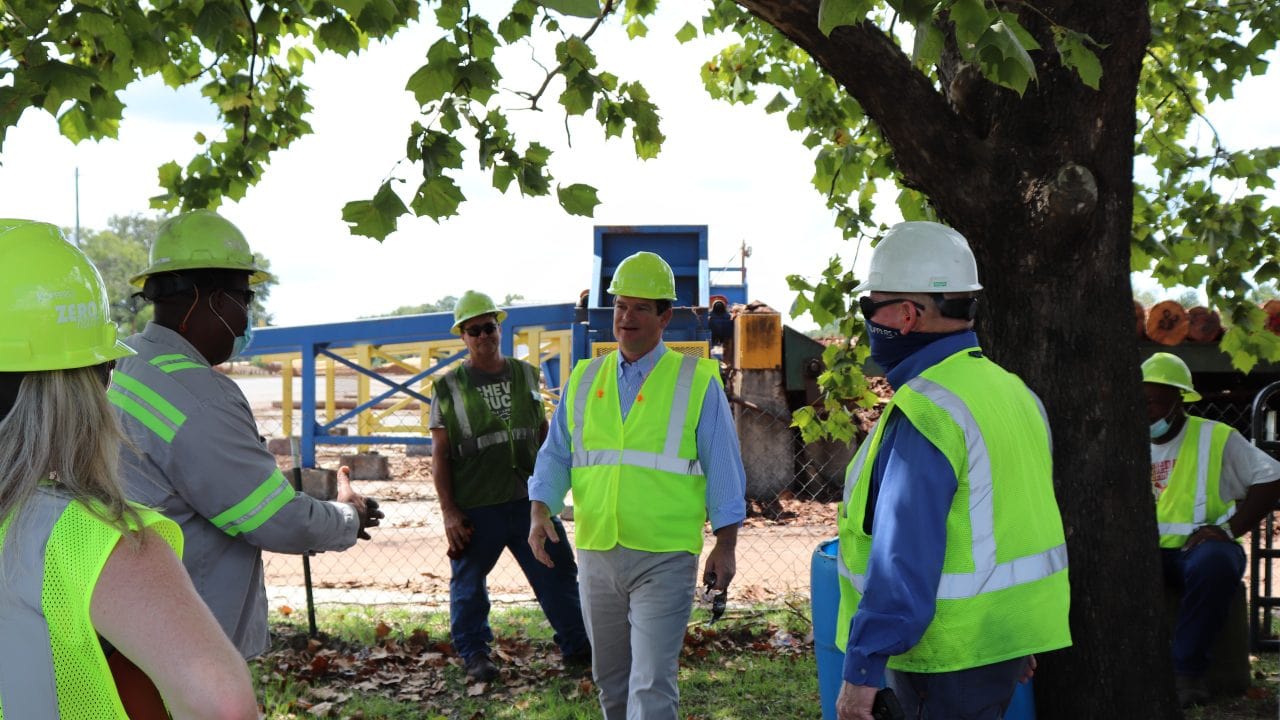 ICl Group Tour with Rep. Jake LaTurner - Aug 17
Lawrence, KS
Congressman Jake LaTurner visited ICL Group in Lawrence, KS. This site employs over 125 people to produce a wide range of phosphate-based chemistries that we use every day and is one of the largest producers of baking powder for the U.S. food industry. Phosphates are a building block of chemistry vital to the quality of our lives, and can be used in a broad range of end uses - even having industrial applications in helping manufacture semiconductors. ICL Group shared its strong focus on food security and safety, aiming to improve farm efficiency and help goods stay fresh. They manufacture several materials that support the agriculture industry at large: phosphates, which allow for better calcium absorption and keep food fresh longer, bromine, which can be used to repel pests in crops, and potash, which can be used in fertilizer to help plants grow strong while utilizing less water. With locations in 30 countries, ICL is able to create jobs for over 11,000 people.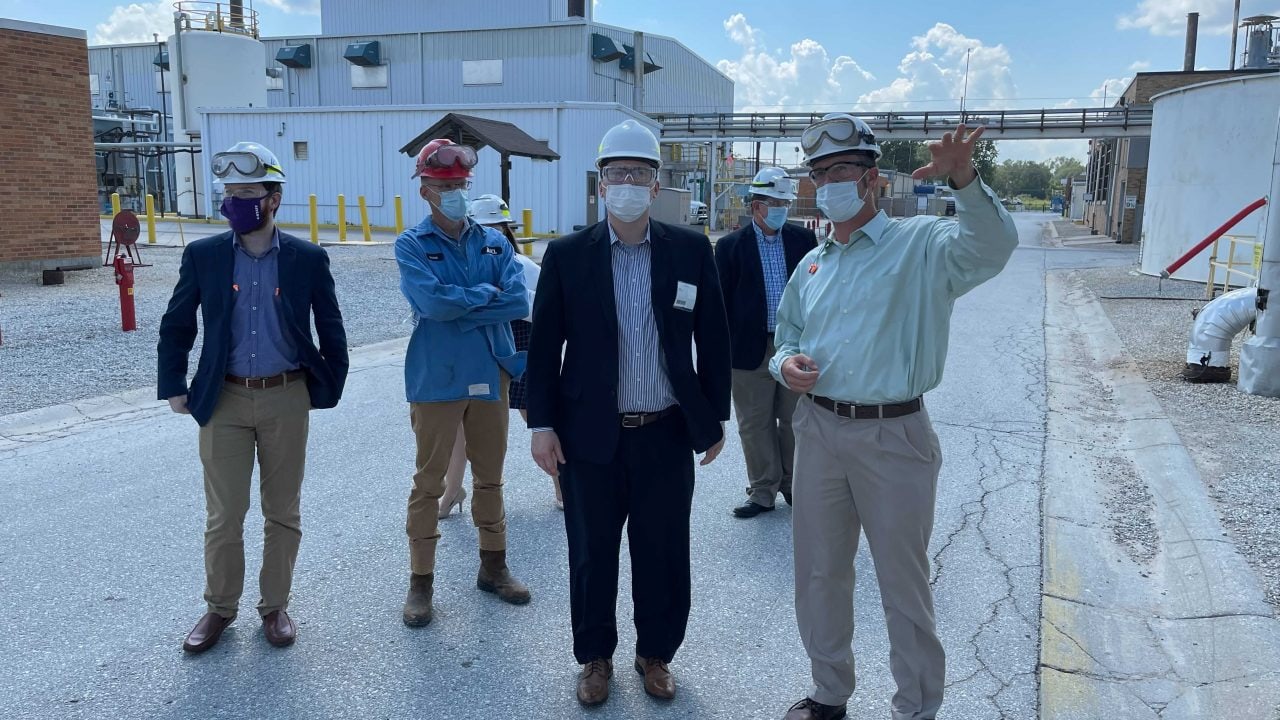 LANXESS Tour with Rep. Mikie Sherill - Aug 17
East Hanover, NJ
Rep. Mikie Sherrill visited the East Hanover site for LANXESS to tour and meet with some of the 55 workers employed there. At this facility, they produce the same types of lubricants used in military helicopters similar to those the Congresswoman flew during her service as a pilot in the United States Navy. The East Hanover plant has operated since 1941, and since then, LANXESS has grown their New Jersey footprint to 4 facilities with a strong economic impact on the localities they operate in. They've made a commitment to these communities by aiming to achieve carbon neutrality by 2040 - in addition to joining the Together for Sustainability Initiative, which combines Corporate Social Responsibility with sustainability.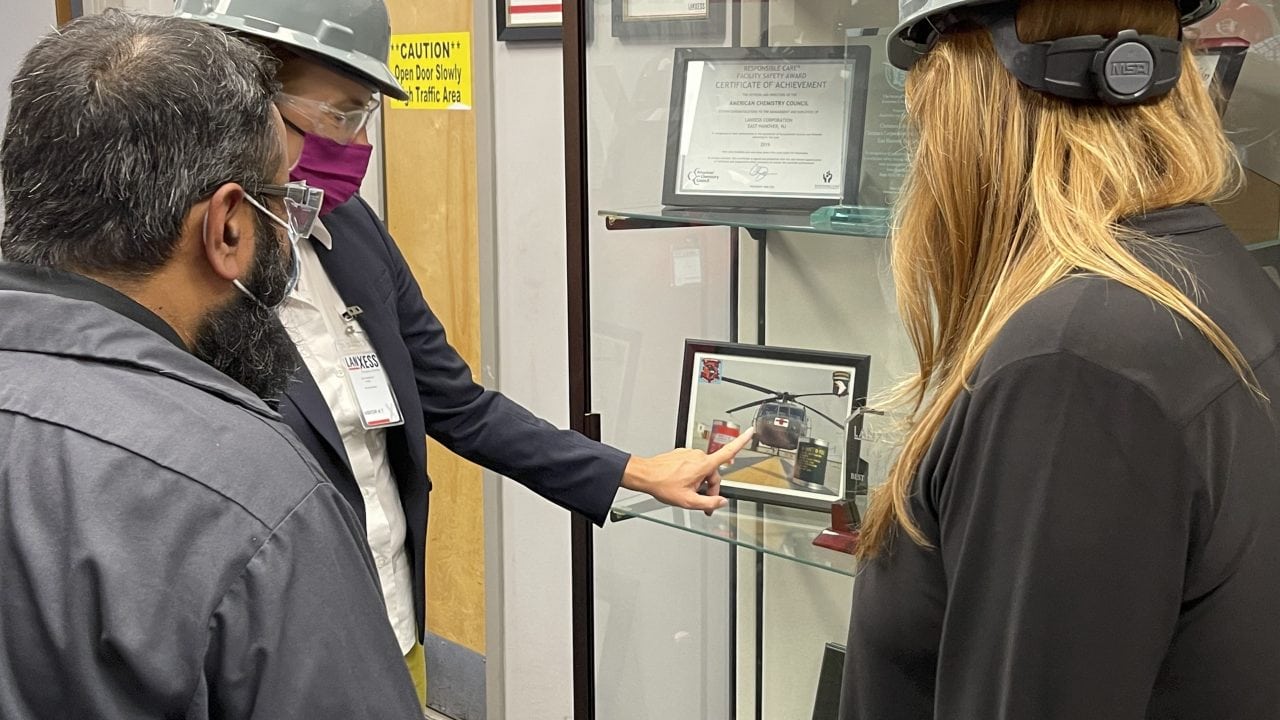 ICL Group Tour with Rep. Jake LaTurner - Aug 17
Lawrence, KS
Congressman Jake LaTurner visited ICL Group in Lawrence, KS. This site employs over 125 people to produce a wide range of phosphate-based chemistries that we use every day, and is one of the largest producers of baking powder for the U.S. food industry. Phosphates are a building block of chemistry vital to the quality of our lives, and can be used in a broad range of end uses - even having industrial applications in helping manufacture semiconductors. They manufacture several materials that support the agriculture industry at large including bromine and potash. With locations in 30 countries, ICL is able to create jobs for over 11,000 people.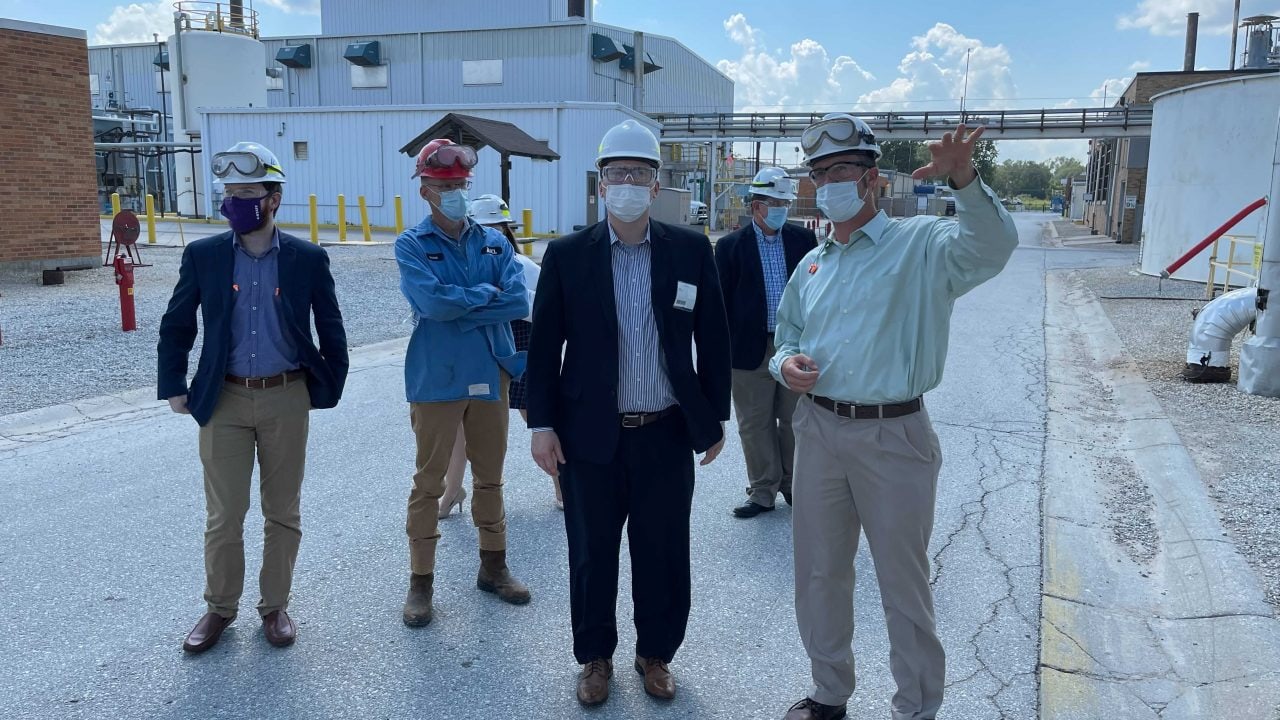 Chemours Tour with Rep. Jeff Van Drew - Aug 16
Deepwater, NJ
Rep. Van Drew toured Chemours' facility in Deepwater, NJ for ACC August. It's been home to many scientific accomplishments since opening in 1917: most notably being the discovery site of the Crown Ether Molecule, for which Charles J. Pedersen won a Nobel Prize in 1987. This site employs nearly 400 people working to manufacture products that impact healthcare, technology, and the way we move. End products range from barrier coatings for PPE, to oils and greases that enable safety, efficiency, and reliability in the medical and automotive spaces. Chemours works with Salem Community College to fund teacher training that impacts more than 4,000 students in Salem County, NJ as part of the Partners in Education program, and works with state and federal guidance to create a safe and healthy environment for local wildlife in the region.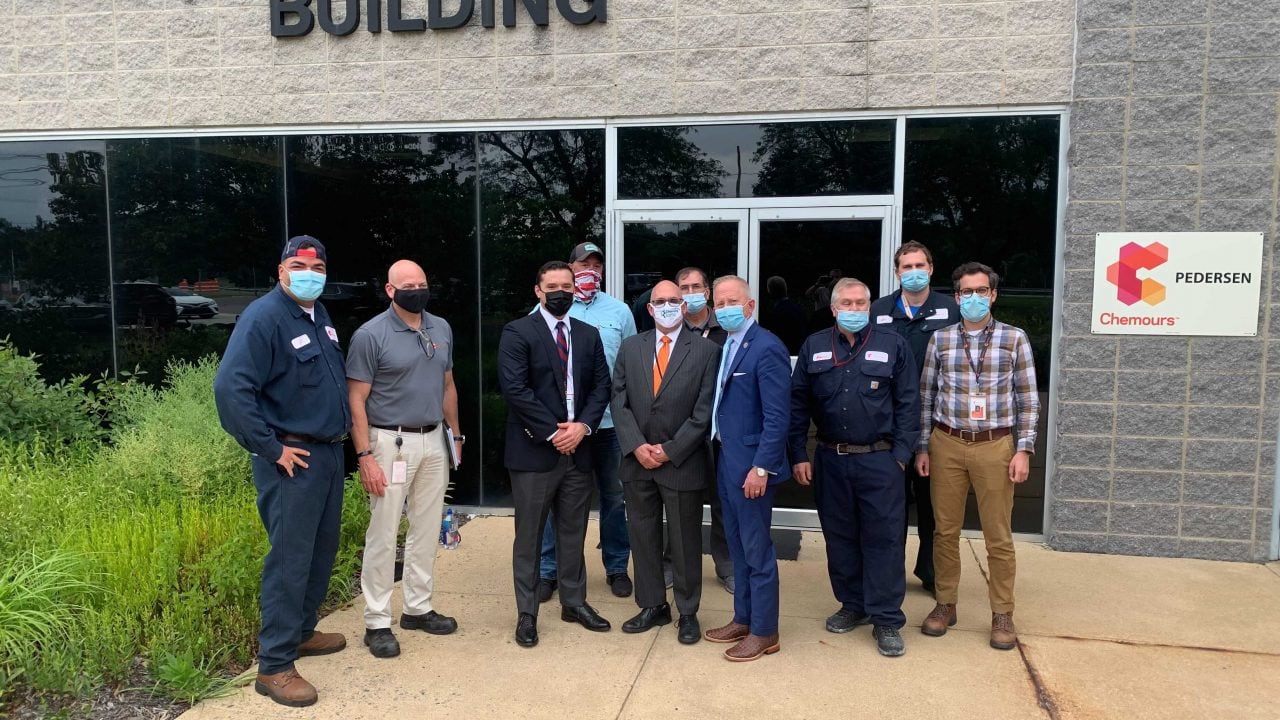 Arkema Tour with Rep. Peter Meijer - Aug 12
Grand Rapids, MI
U.S. Representative Peter Meijer toured Arkema Inc. Grand Rapids. This site produces high performance coatings used in consumer paint brands, resins sourced from bio-based raw materials, and commercial coatings used to reflect sunlight from the top of buildings to increase energy efficiency and protect roofing materials from the heat of the sun. We're grateful for the strides Arkema has taken to ensure their employees are safe: they have gone 2 years without a lost time injury, and have approved $1.59 million in capital investments for health, safety, and environmental projects.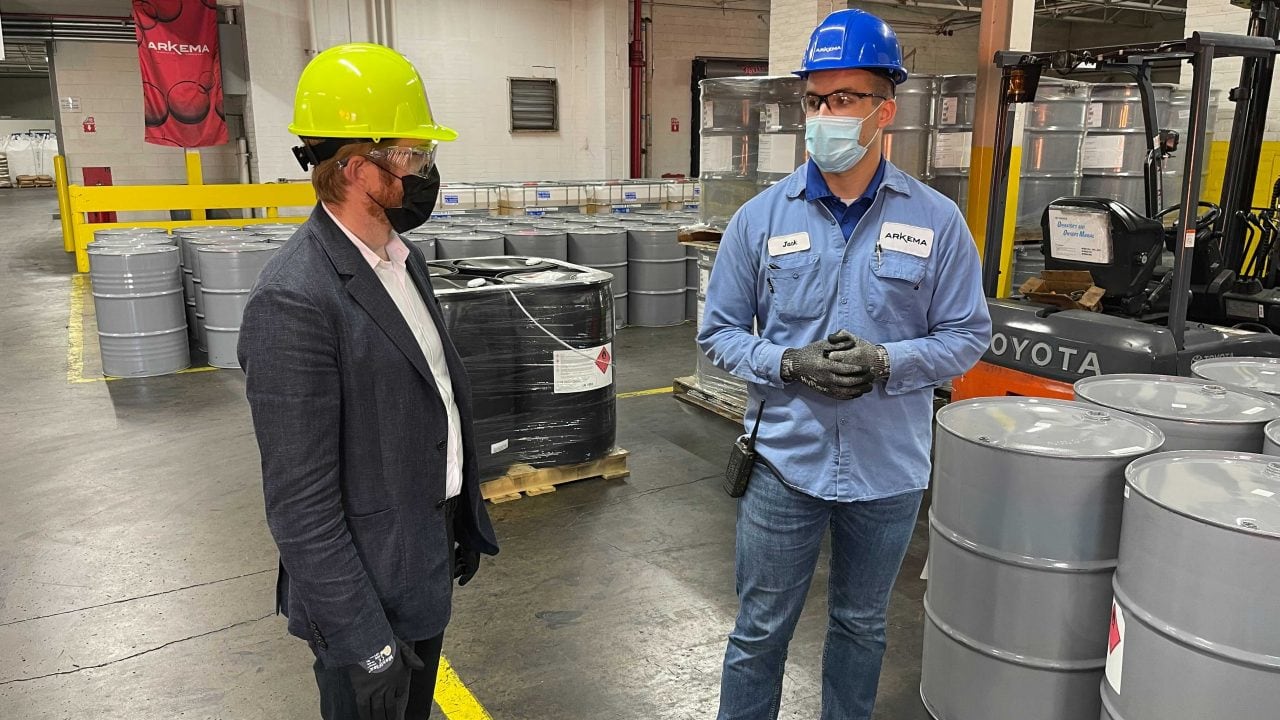 Visit with GA Governor Brian Kemp and Solvay Tour - Aug 11
Atlanta, GA
ACC CEO Chris Jahn met with Governor Brian Kemp in the Georgia Capitol to discuss the vital impact that the business of chemistry has on Georgia's economy. 18,000 high-paying jobs are created through the chemistry industry, which has committed to creating a more sustainable future by supporting Advanced Recycling and helping Georgia become the third state to pass this initiative. Solvay Group, who joined our discussion, is the 3rd largest company by headcount in the state, and innovates for a sustainable economy through helping develop EVs, batteries, and hydrogen.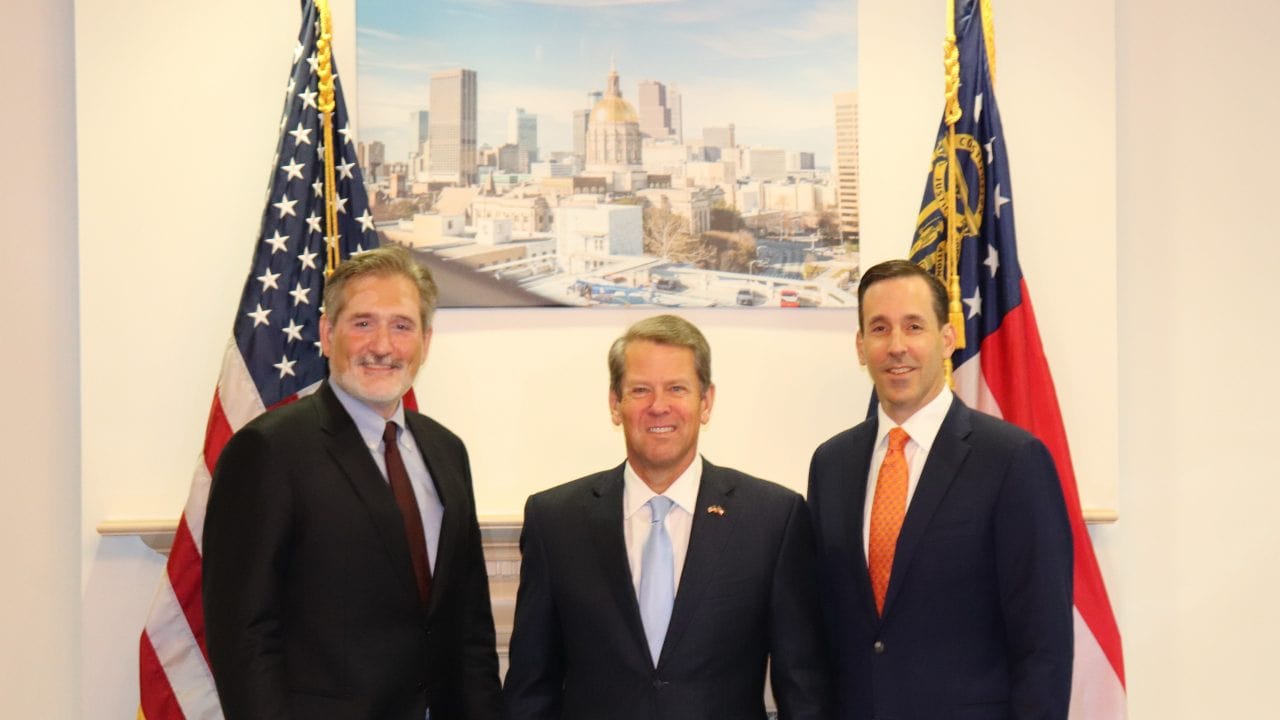 Celanese Tour with Rep. William Timmons - Aug 10
Enoree, SC
Rep. William Timmons visited Celanese Corporation's Enoree, SC plant. Celanese is based in Dallas, TX and has 7,500 employees worldwide. They produce engineered materials, acetyls, and acetate tow. As "the Chemistry Inside Innovation," these are the upstream inputs for a variety of household products including paint, glue, coatings, car door handles, and carpet.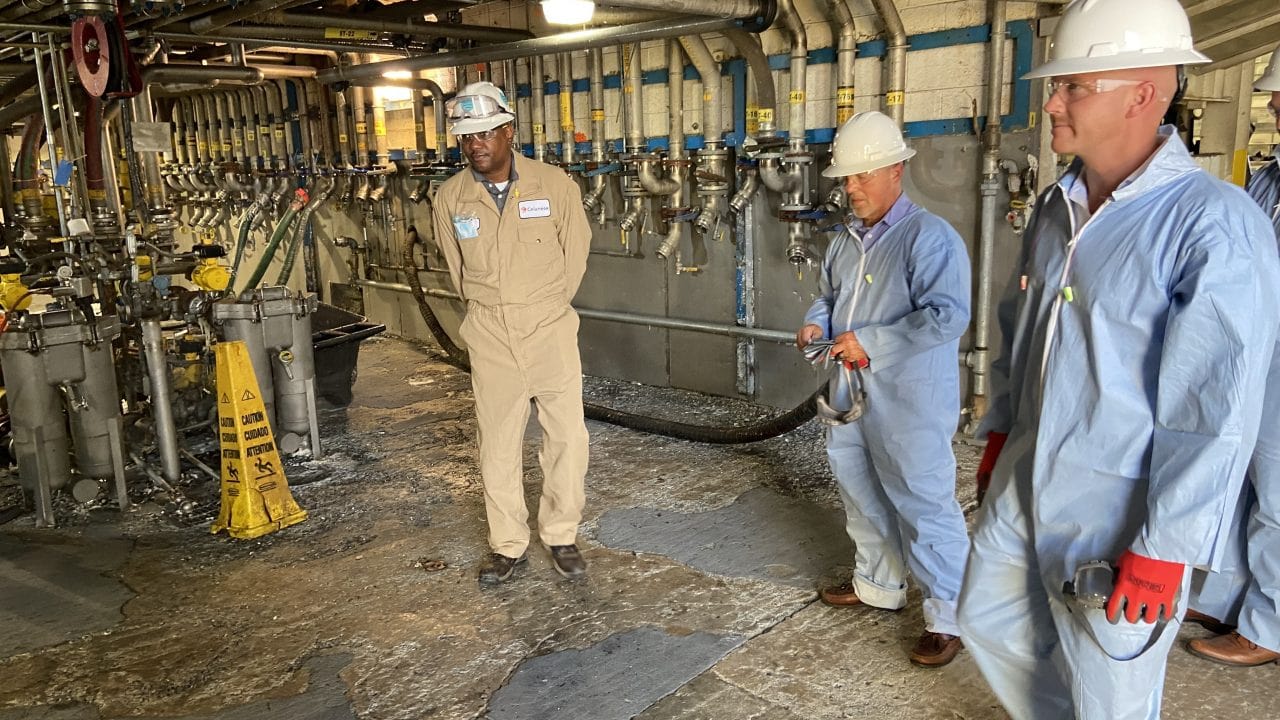 Nova Chemicals Tour with Rep. Garret Graves - Aug 9
Geismar, LA
We visited NOVA Chemicals in Geismar, Louisiana with Congressman Garret Graves. This facility is focused on products that help keep people healthy, including plastics for medical supplies as well as for grocery packaging. The wrap they help create for vegetables allows them to stay fresh for an average of 12 additional days, achieving goals of eliminating food waste. Nova Chemicals also gives back to their local community by donating technical equipment to local community colleges, as well as funding a $50,000 scholarship to River Parishes Community College.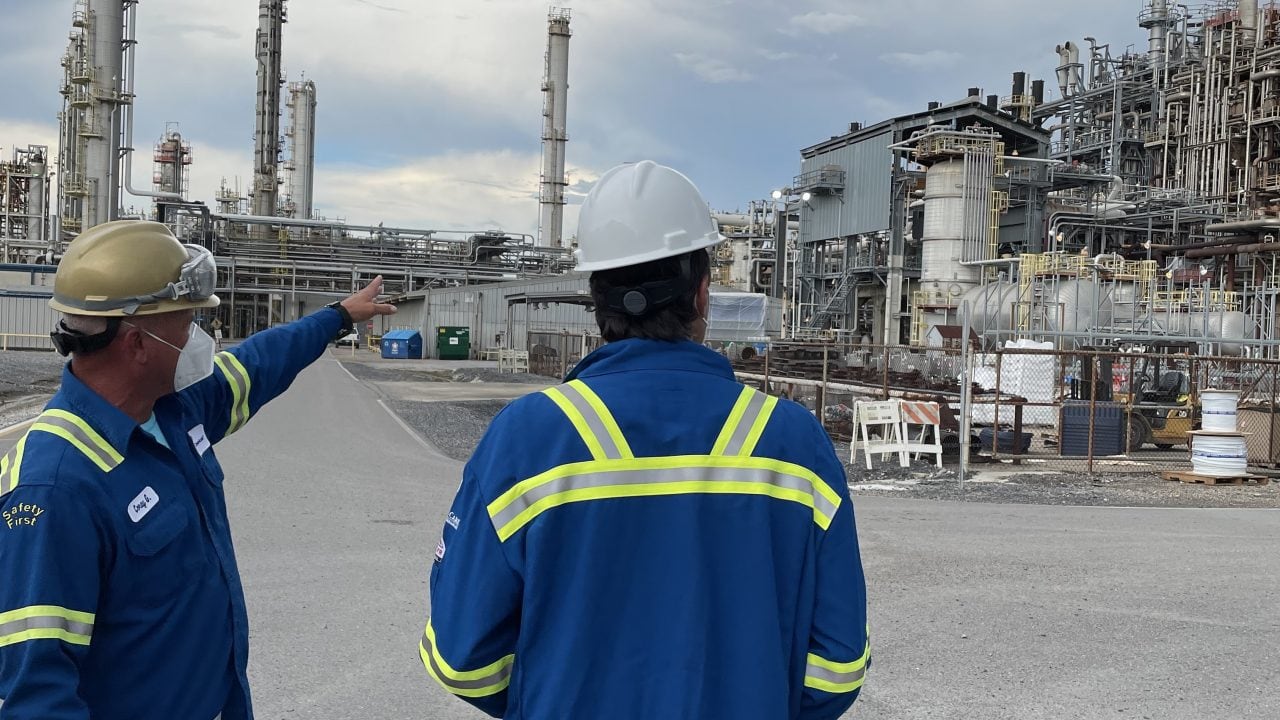 Carus Corp Tour with Rep. Adam Kinzinger - Aug 5
Peru, IL
We had the opportunity to meet with Congressman Adam Kinzinger during his stop to Carus Group in Peru, IL for a town hall with employees as part of #ACCAugust. Carus Group produces chemistries used in the treatment of water supplies, and controlling unwanted byproducts during manufacturing processes. The group covered topics ranging from American competitiveness in manufacturing, the economy as it responds to COVID-19, and our environment. Many thanks to him for taking the time to speak with the 50+ employees at Carus Group HQ!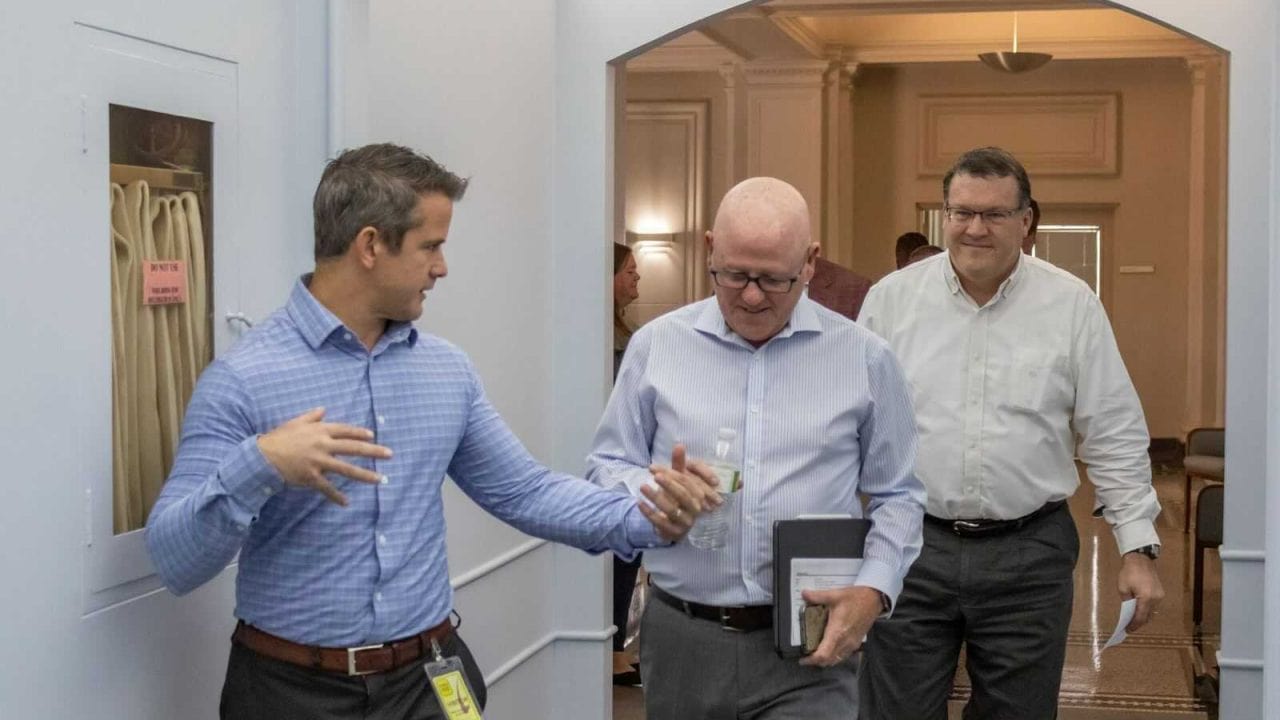 Arkema Tour with Rep. Chrissy Houlahan - Aug 4
Birdsboro, PA
Rep. Chrissy Houlahan visited Arkema's 70-employee plant in Birdsboro, PA for a tour and to learn about their zero-waste initiatives to create polyamide 11. This product is used in the creation of running shoes, watch bands, ski boots and other athletic products, as well as medical applications. This plant was established in 1971 and is committed to sustainability and circularity. Arkema has 47 total locations in the U.S. and has a wide range of products, with many that focus on a greener planet - including window coatings to lower energy costs and desalination of seawater to create drinking water.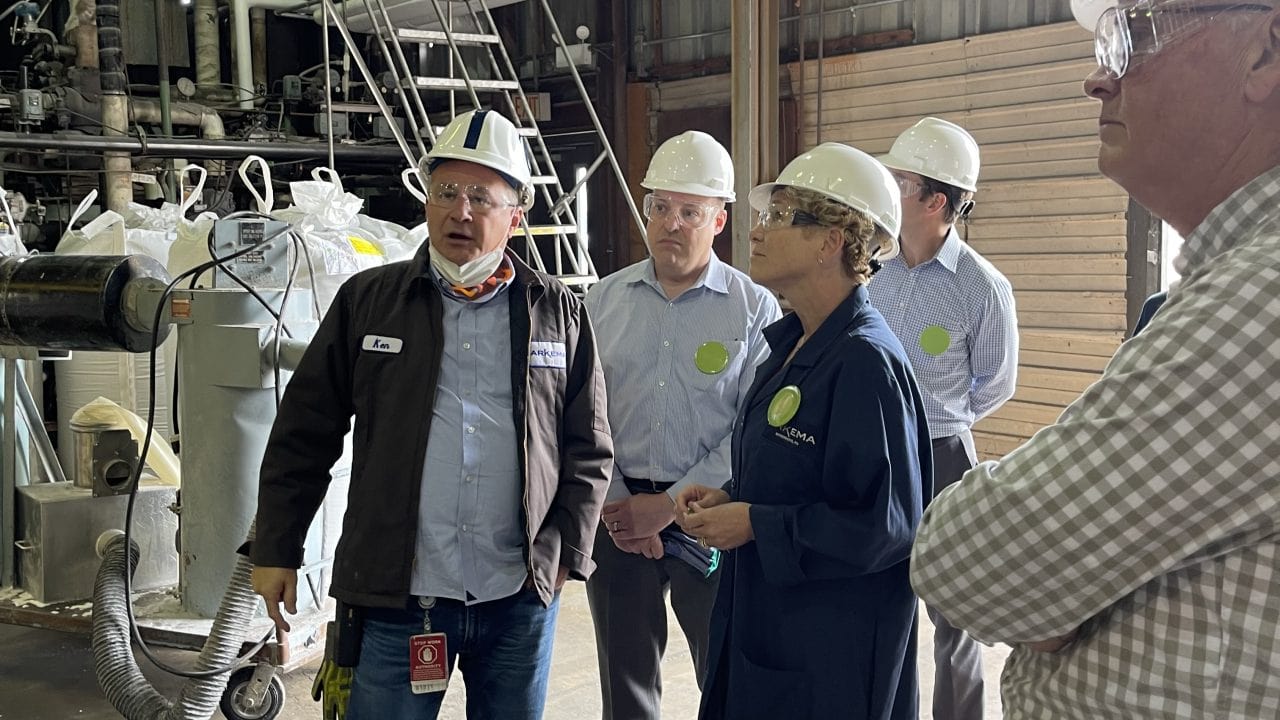 Ingevity Tour with Rep. Morgan Griffith - Aug 3
Covington, VA
We were joined at Ingevity's facility in Covington, Virginia by Congressman Morgan Griffith (VA-09). The site, which has been in operation since 1934, produces activated carbon, which has end uses in pharmaceuticals, water filtration, and food & beverage. This plant employs 193 people from the surrounding area and supports the community through their "IngeviCares" initiatives, which include giving to the Boys Home of Virginia and Meals on Wheels. At their other locations around the world, Ingevity also produces performance chemicals, used in pavement, adhesives, inks, coatings, and additives - purifying, protecting, and enhancing the world around us.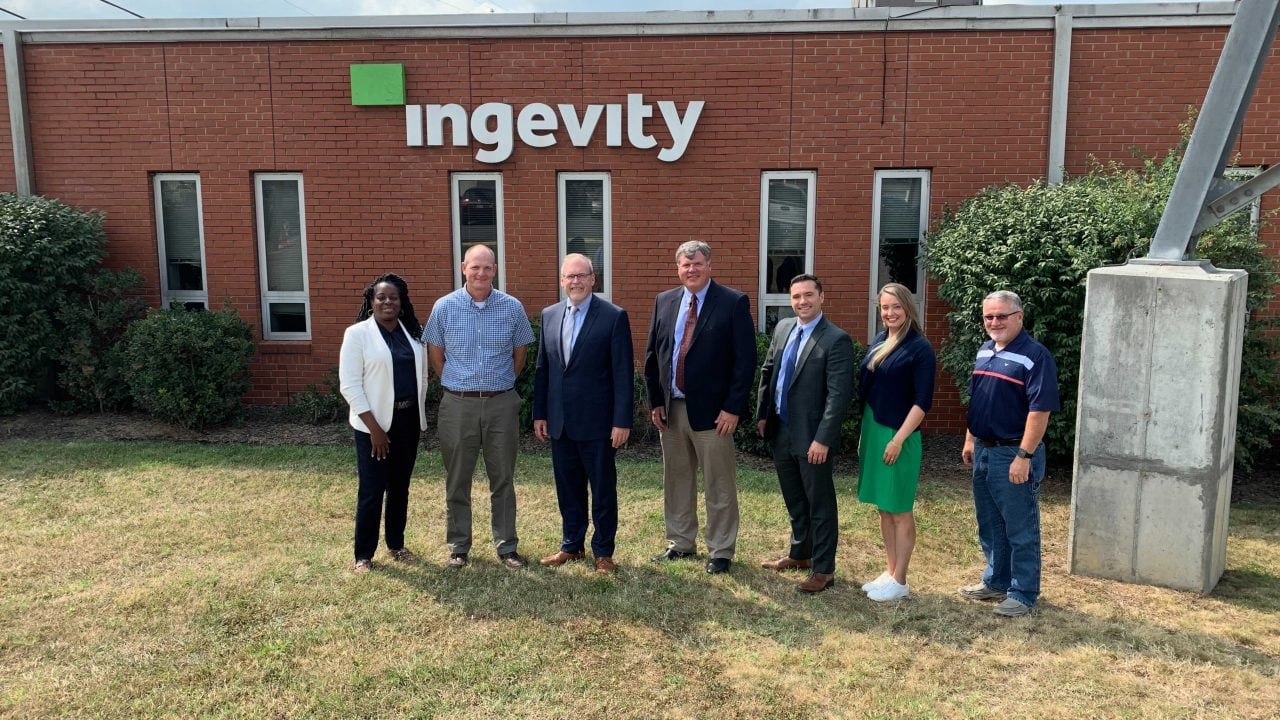 AdvanSix Tour with Rep. Brendan Boyle - Aug 2
Philadelphia, PA
Our team joined Rep. Brendan Boyle for a tour of AdvanSix, which has been operating the second oldest continuously running chemical manufacturing plant in the country since 1884 in Frankford, PA with over 200 employees.
AdvanSix produces acetone, phenol, and Alpha-methylstyrene, materials that have critical applications in products such as hand sanitizer, nylon production, and musical instruments. We also learned more about their involvement in their local community: from supporting first responders, to investing in STEM education, chemistry matters in creating a positive footprint on local communities.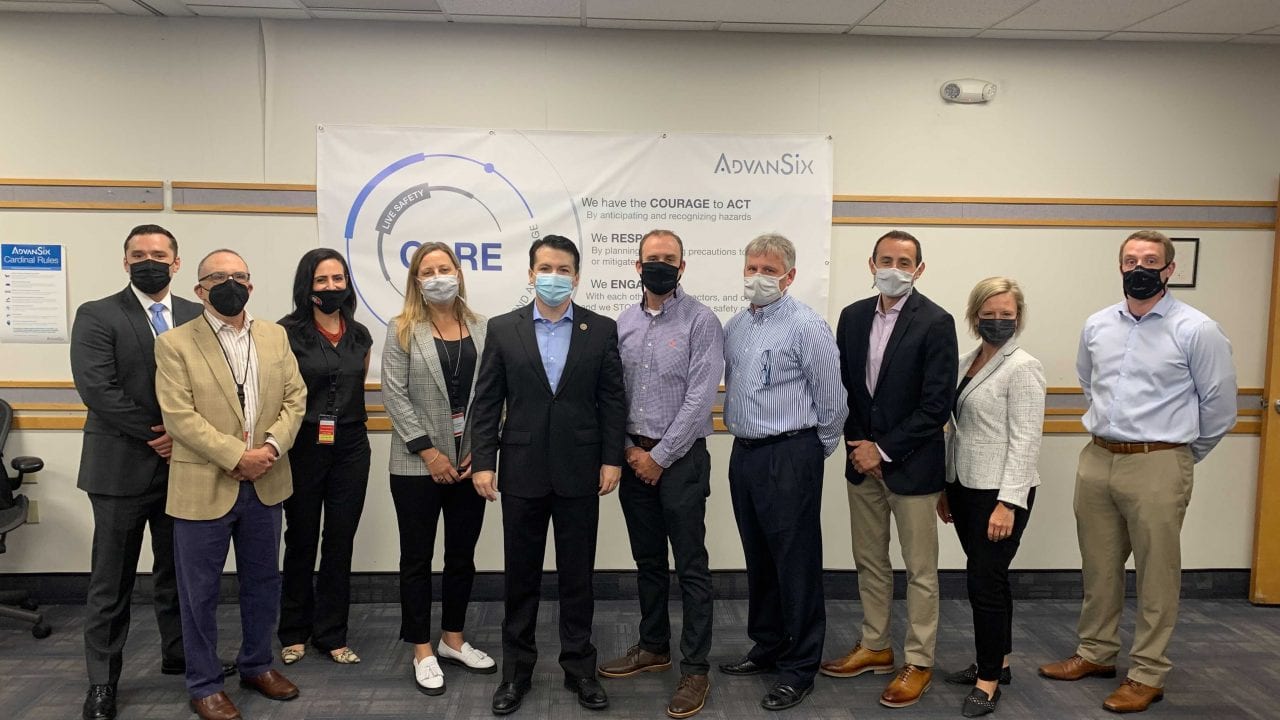 Clariant Tour with Rep. Tom Malinowski - July 9
New Providence, NJ
Congressman Tom Malinowski visited Clariant's Consumer Care Innovation Center in New Providence, NJ, where they develop specialty chemicals that make personal and home care products more sustainable and effective. We discussed the critical importance of rebuilding our nation's infrastructure and how smart trade policy will allow U.S. businesses to maintain their competitive advantage, create new American jobs and reinvest in new innovation. The Congressman complimented Clariant's sharp focus on sustainability and equated it to the next space race for businesses.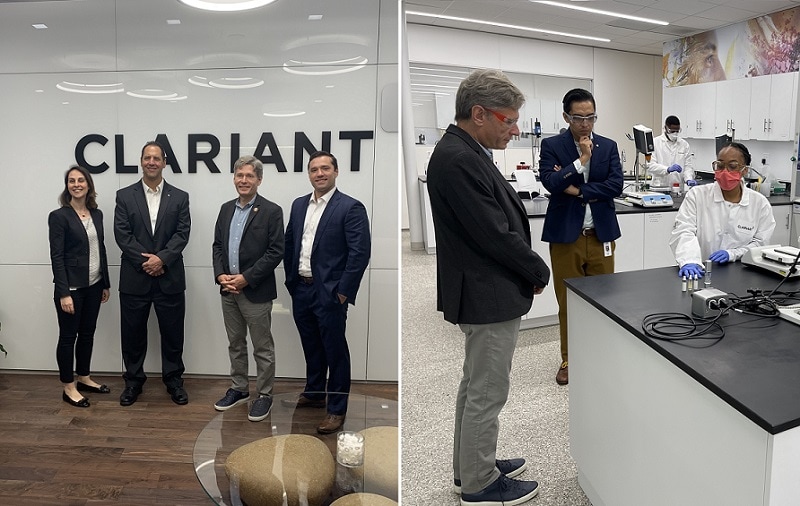 Arkema Tour with Rep. James Comer - July 7
Calvert City, KY
Arkema hosted Congressman James Comer for a tour of their Calvert City, KY facility, which manufactures resins used in wire insulation and high-tech applications such as computer chips. We discussed a variety of topics with the Congressman, including how the Superfund Tax on chemicals will make a broad range of products and goods more expensive for consumers and U.S. manufacturers less competitive.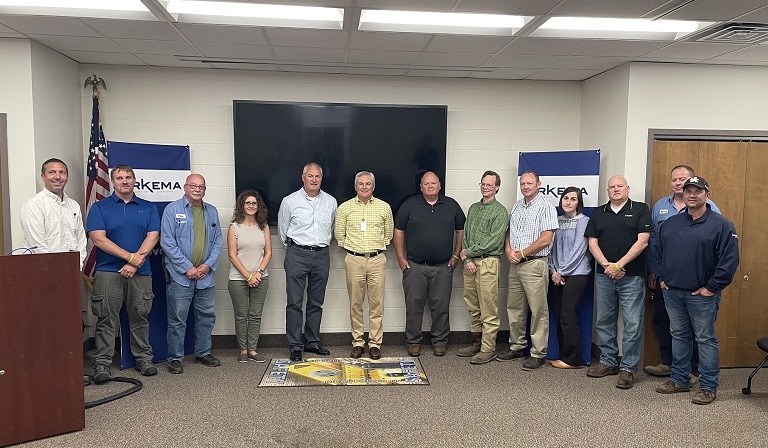 Berry Global Inc. Tour with Sen. John Thune - Jun 4
Muscatine, IA
Sen. John Thune visited Berry Global Inc. in Sioux Falls. We discussed the important role that plastics play in shrinking our environmental footprint and the innovative solutions being implemented to meet recycling goals for a more circular economy.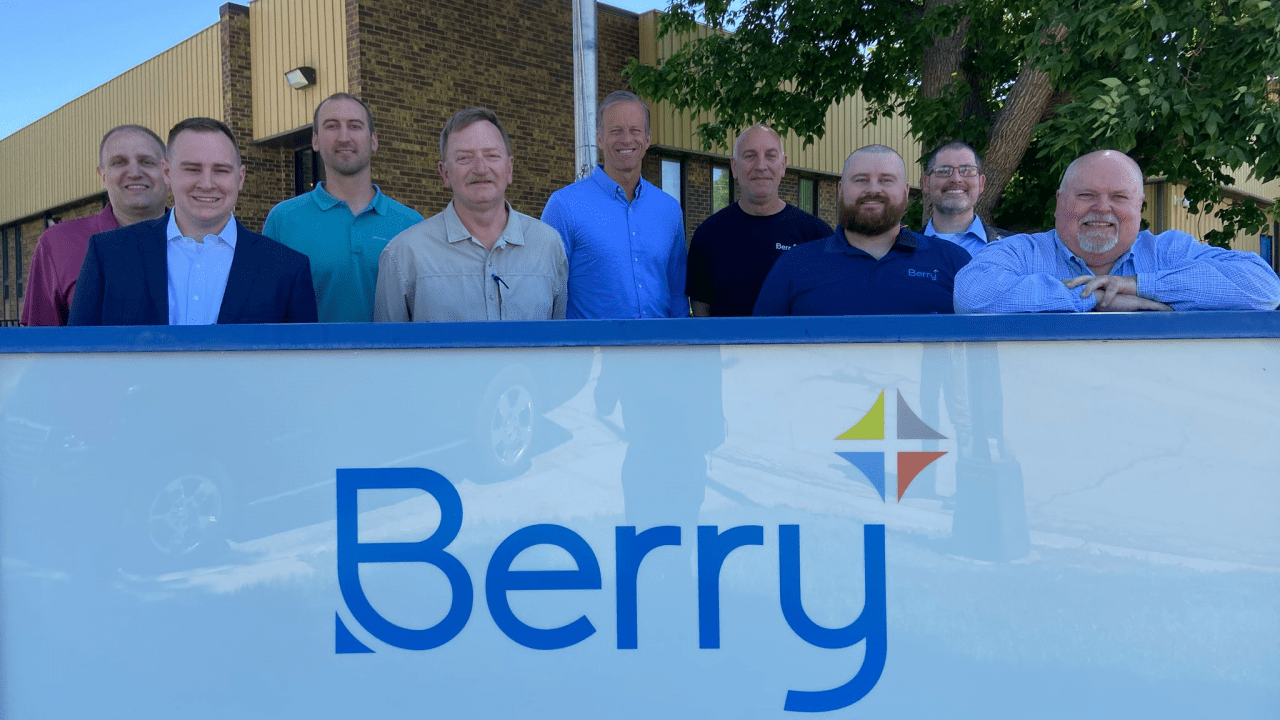 Virtual Roundtable with Sen. Shelley Moore Capito - May 13
Virtual
Senator Shelley Moore Capito for participating in our West Virginia Chemistry Roundtable, where we discussed the importance of modernizing our nation's infrastructure and addressing workforce shortage issues, as well as our industry's critical role in providing climate solutions. Participant companies included AC&S, Chemours, Covestro, Dow, DuPont, Solvay, Stockmeier Urethanes.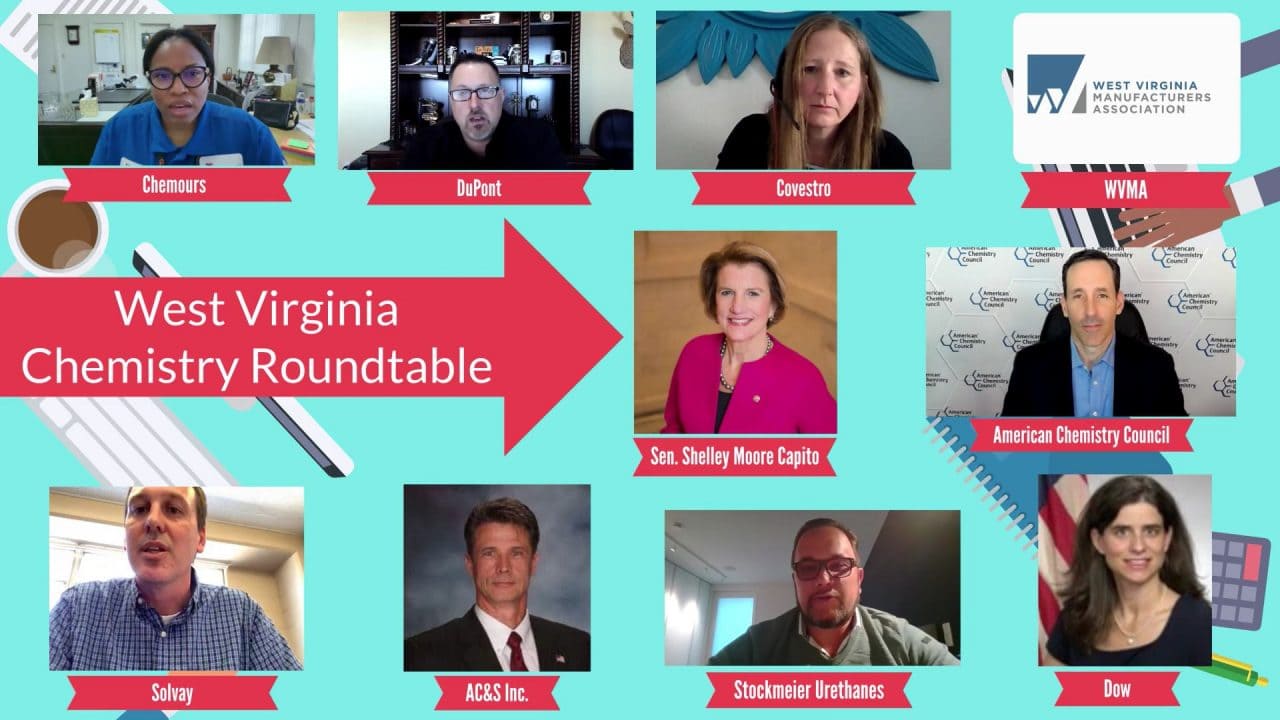 Virtual Roundtable with Rep. Lisa Blunt Rochester - May 4
Virtual
We had a great roundtable with Congresswoman Lisa Blunt Rochester, DuPont, Solvay Group, Corteva Agriscience, & the Chemical Industry Council of Delaware. We discussed the upcoming infrastructure bill, improving the global supply chain, & the companies' support of STEM education including the FOSSI Scholarship Initiative.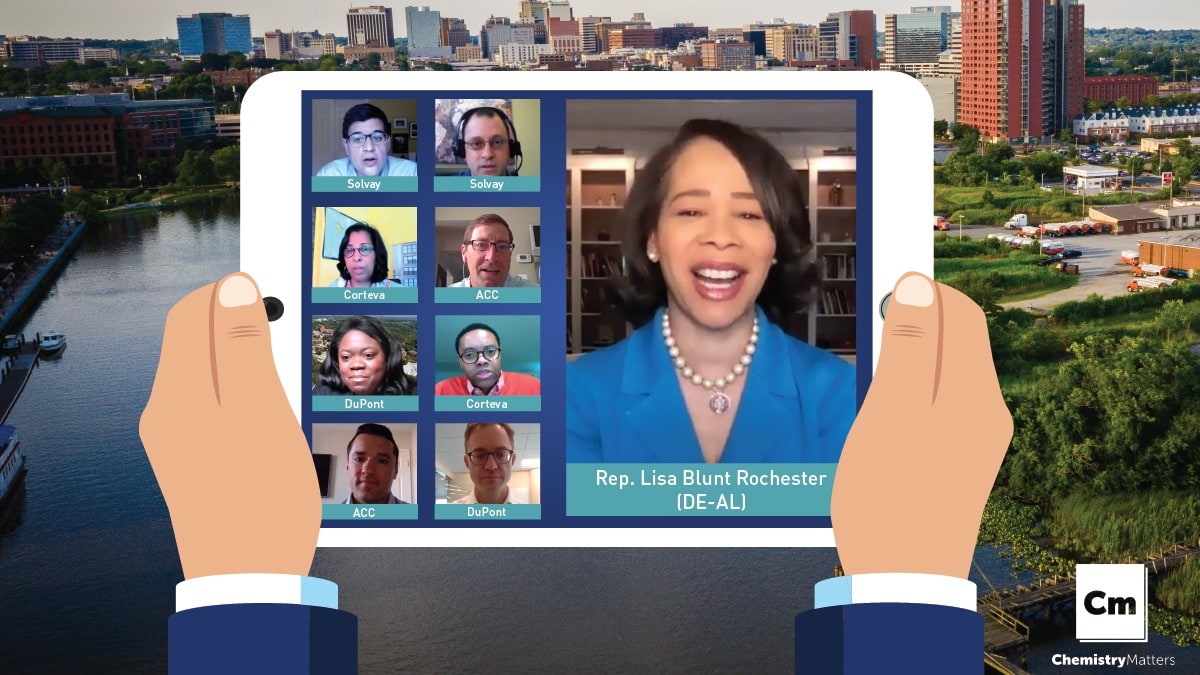 Wacker Chemical Corporation Tour with Sen. Jodi Ernst - April 6
Eddyville, IA
Senator Joni Ernst stopped by Wacker Chemical Corporation for a visit to their Eddyville, IA site. This facility manufactures cyclodextrins derived from corn starch. This biotechnology has many applications from food to pharmaceuticals and helps the body absorb vital nutrients!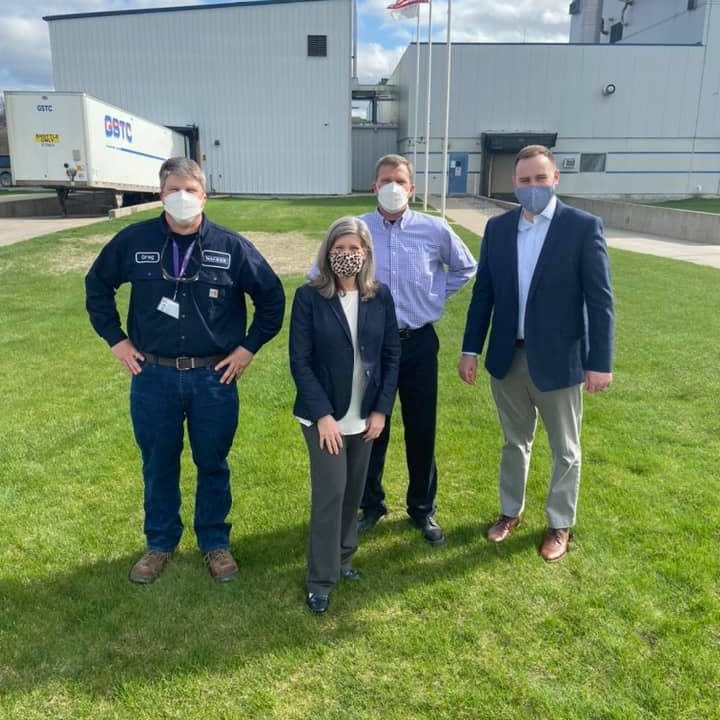 Stockmeier Urethanes Tour with Rep. David McKinley - Mar 31
Clarksburg, WV
Congressman David McKinley, Chris and Melissa Martinkat from Stockmeier Urethanes and Dean Cordle from AC&S Incorporated about the key role chemistry plays in providing climate solutions, the benefits of an Appalachian Storage and Transfer Hub and the importance of maintaining US competitiveness through trade policy.