2022 Plant Tours
During the year, we work to create opportunities for those employed by the business of chemistry to engage with their elected officials by hosting in-district events. Bookmark this page to follow along with us as we cross the country showcasing facilities and highlighting important issues for the chemistry industry.
Ingevity Tour with Rep. Jim Clyburn - October 17
North Charleston, SC
Whip Clyburn visited the Ingevity North Charleston Complex, which is home to their headquarters, Technology Center, and Manufacturing Facility! In total, Ingevity employs nearly 600 people in the area. This Ingevity manufacturing site produces #emulsifiers, #rosin, tall oil fatty acid (#TOFA), and #lignin that can be found in paints, soaps and detergent, publication inks and many more. Thank you for joining us, Whip Clyburn, to learn more about why #ChemistryMatters to SC!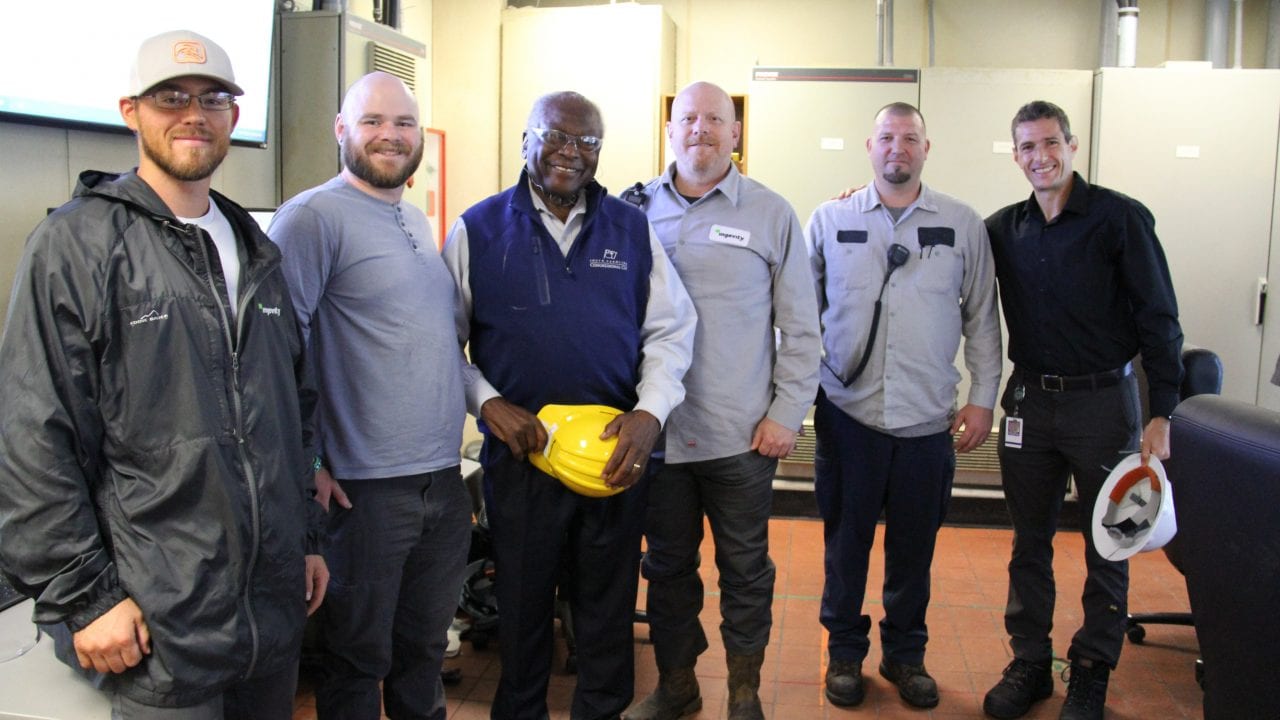 Univar Solutions Tour with Rep. Stephanie Bice - October 13
Oklahoma City, OK
Recently, we joined Representative Stephanie Bice on a visit to global #ChemicalDistribution company Univar Solutions in Oklahoma City, OK. Here, 15 full-time employees work each day to ensure a strong #SupplyChain, sending critical manufacturing building blocks where they need to go. Univar Solutions operates in several sectors, servicing both #organic & #inorganic chemistries ranging from industrial and refining processes to consumer solutions such as food ingredients and personal care products.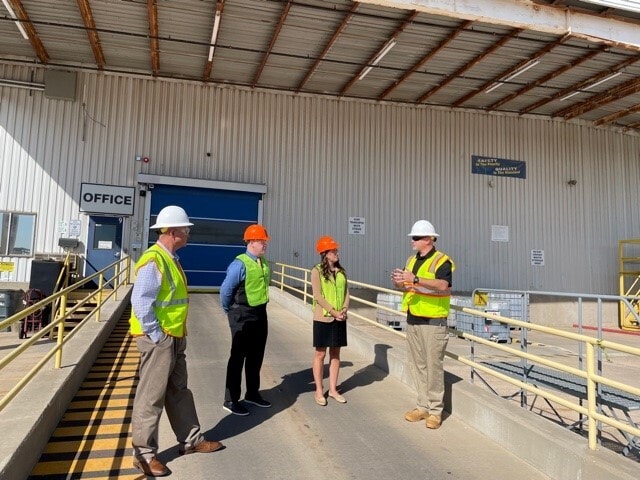 Tour of Koppers, Inc. with Rep. Carol Miller - October 12
Huntington, WV
Rep. Carol Miller toured the Koppers Inc. facility with Team Chemistry. This site employs 50 West Virginians & has been designing, manufacturing, & producing rail joint products since 1989.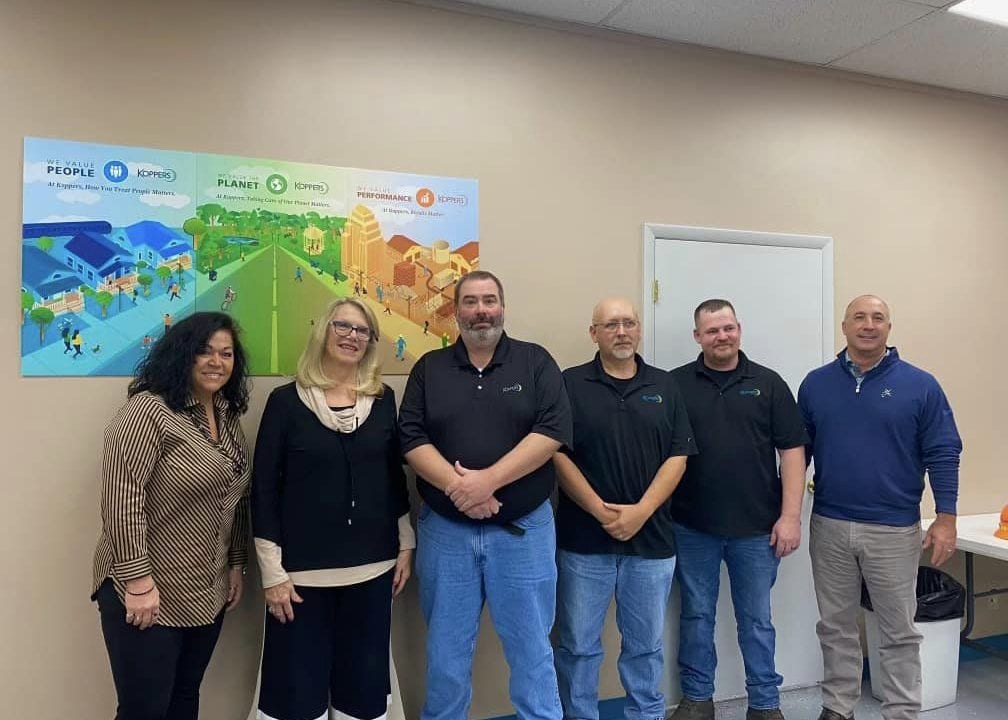 Dover Chemical Tour with Rep. Bill Johnson - October 5
Dover, OH
Recently, we were joined at Dover Chemical in Ohio by Congressman Bill Johnson! A community fixture in Tuscarawas County, Dover Chemical employs nearly 200 Ohioans, some of which have been working at Dover for 20+ years. This site produces chemicals that are critical to Ohio's #EnergyProduction, sending materials like drilling fluid additives directly to nearby production sites. During the visit, we discussed the importance of their role in domestic energy security with Congressman Johnson, who sits on the House Energy and Commerce Committee. As a leading producer of #alkylphenols, chlorinated #alkanes, #polymer additives, liquid and solid #antioxidants and more, this site is critical to Ohio's strong manufacturing sector.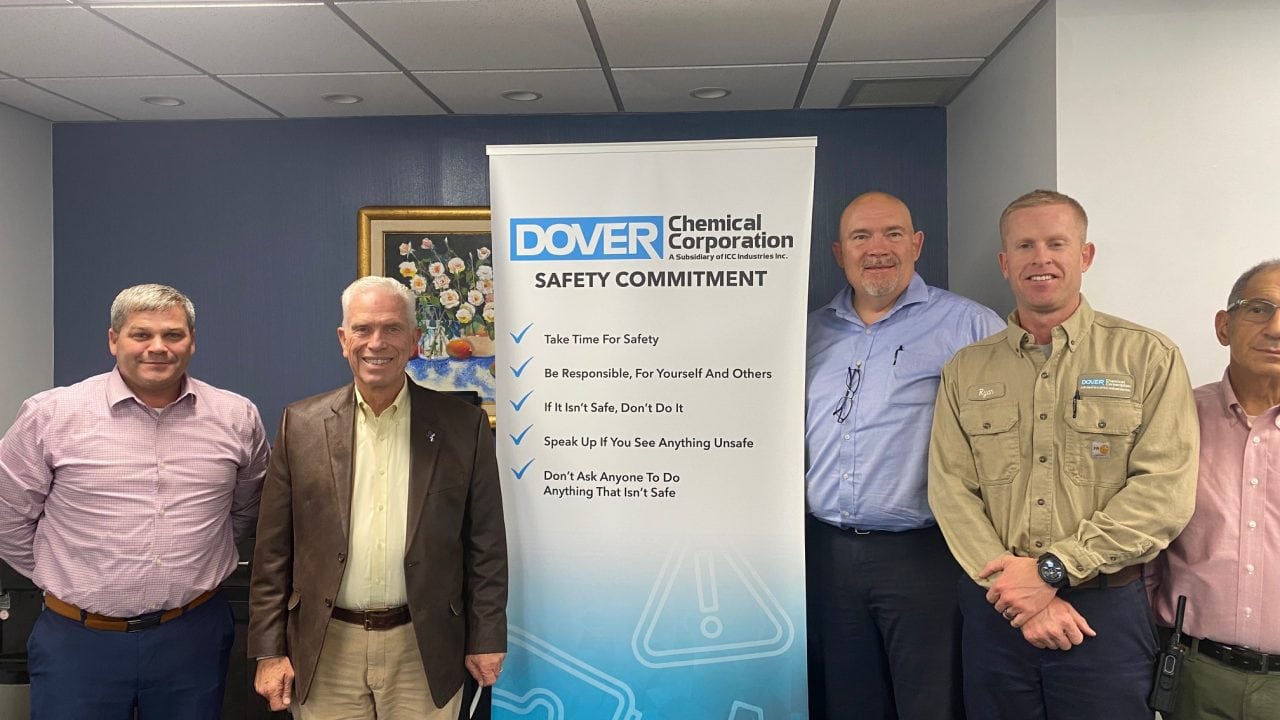 Tour of Ingevity with Rep. Mike Johnson - September 23
DeRidder, LA
We appreciate the team at Ingevity in DeRidder for hosting us alongside Rep. Johnson for a plant tour to see the incredible work they are doing to manufacture so many innovative and essential products. Louisiana is the 2nd largest chemical-producing state in the U.S., and this plant in Beauregard Parish is home to more than 200 employees.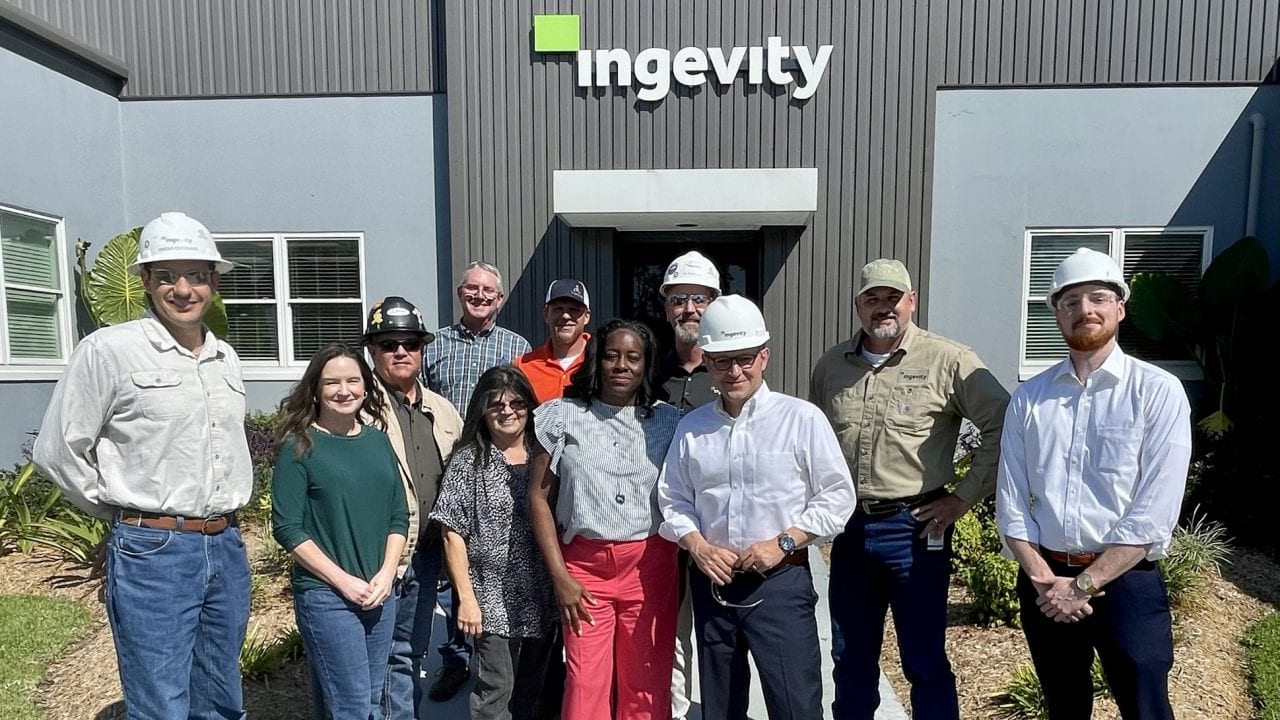 Huntsman Corporation Tour with Rep. Haley Stevens - August 31
Auburn Hills, MI
Thank you to Representative Haley Stevens for visiting Huntsman Corporation's technical development center for polyurethanes in Auburn Hills, Michigan! #Polyurethanes chemistry is extremely versatile and can be designed to be tough and rigid, such as impact-resistant glass, or soft and supporting for applications like the seats in our vehicles or cushioning in chairs. Here in Michigan, the polyurethanes industry as a whole supports nearly 40,000 direct jobs at an average salary of $95,000/year. Thanks for joining us to learn more about why #ChemistryMatters!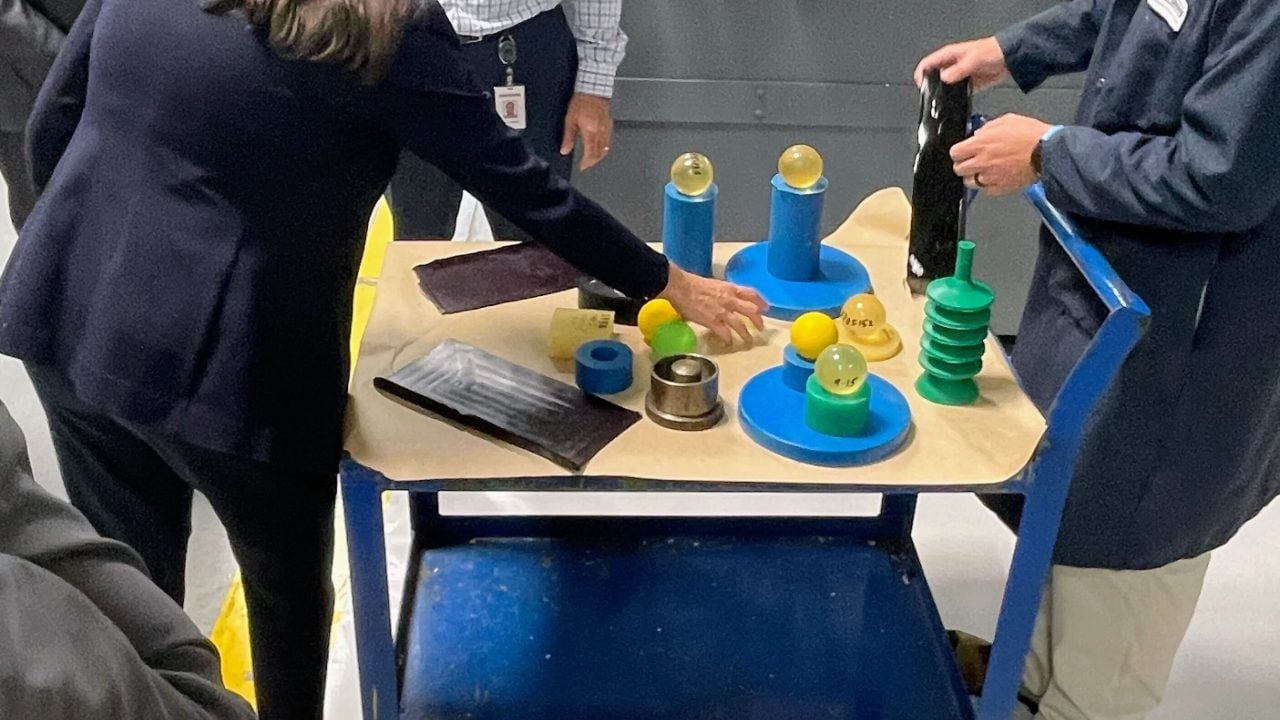 Chevron Phillips Chemical Tour with Rep. David Trone – August 30
Hagerstown, MD
Thank you to Congressman David Trone for your visit at Chevron Phillips Chemical! Just an hour away from Washington, DC, this pipe manufacturing facility employs 60+ Marylanders who make #CleanDrinkingWater and #EnergyDelivery possible in cities across the country. As part of #ACCAugust22, we went on the road - bringing members of Congress to meet the American workers behind the scenes of processes that make the world work every day.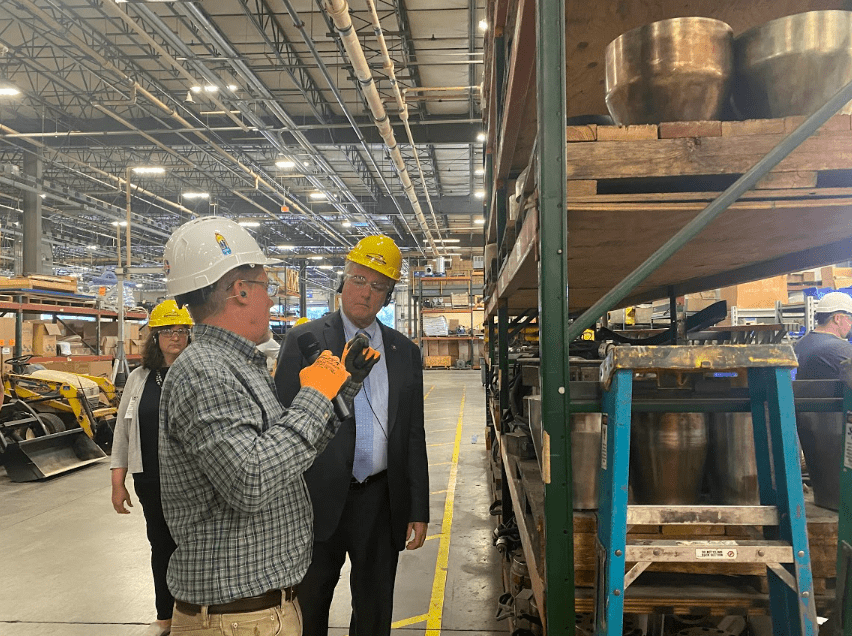 Shepherd Chemical Tour with Rep. Warren Davidson - August 29
Middletown, OH
Congressman Warren Davidson joined the American Chemistry Council and the Ohio Chemistry Technology Council for a tour of The Shepherd Chemical Company – a company with a compelling history. Started in Ohio over 100 years ago, The The Shepherd Chemical Company began by selling paint and ink dryers and lubricant additives for #ModelT Ford planetary transmissions. Now in its fourth generation of Shepherd family leadership, the company has expanded its footprint to include sales in 57 different countries. The Shepherd Chemical Company's Middletown, OH logistics and production site creates custom co-developed specialty and metal chemistry that serve as a critical building block for several different types of manufacturing, serving clients in the United States and around the world. The group discussed workforce development and the future of America's #SupplyChain.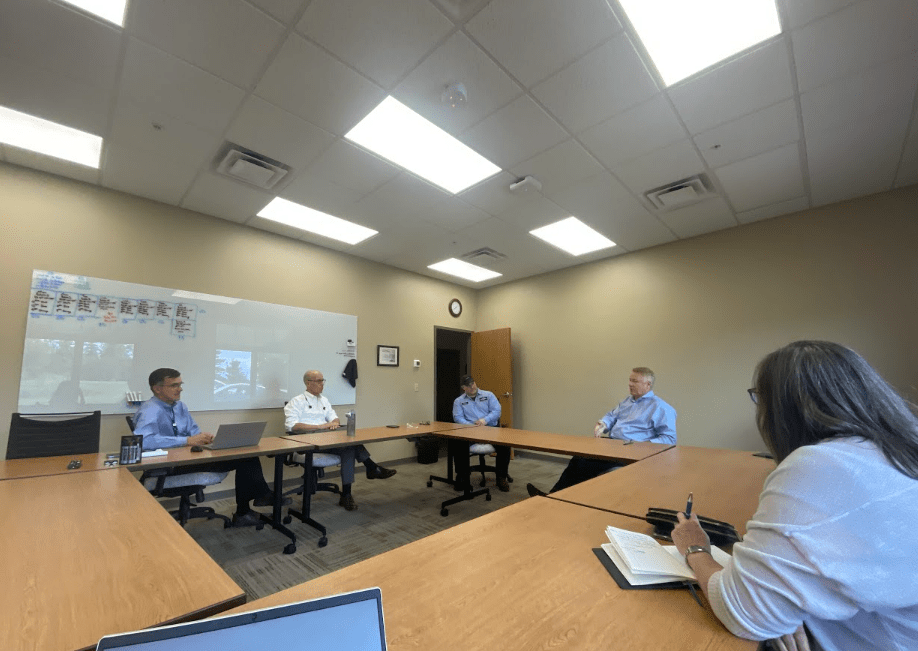 Huntsman Corporation Tour with Rep. Elissa Slotkin – August 24
East Lansing, MI
Thank you to Rep. Elissa Slotkin for joining us to tour Huntsman Corporation's East Lansing, Michigan production site as a part of #ACCAugust22! This site manufactures advanced materials used in a range of applications, including electrical, medical and automotive. During the visit, we discussed the importance of improving U.S. competitiveness and finding solutions to supply chain challenges. As the 14th-largest chemistry-producing state, Michigan is home to over 46,000 people employed in the #BusinessofChemistry at an average wage of $94,000 annually.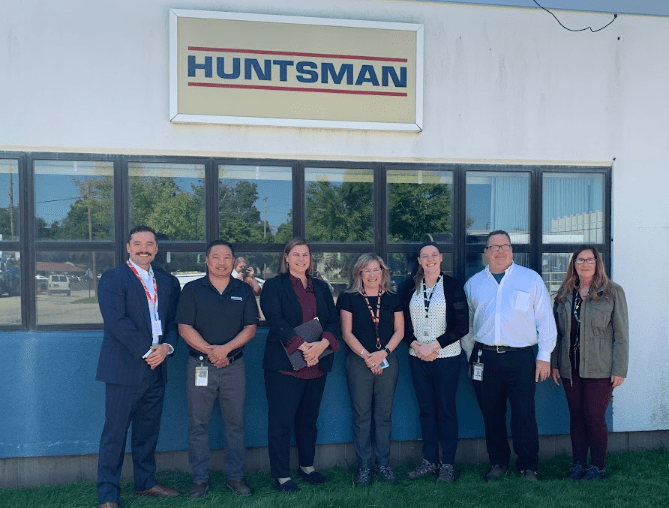 BASF Tour with Rep. Ann Wagner – August 24
Fenton, MO
Thank you to Congresswoman Ann Wagner for joining us to tour BASF in Fenton, Missouri! BASF has two sites across the St. Louis area that are focused on production and packaging of fungicides, insecticides and herbicides to help farmers more efficiently grow their crops. During the visit, team members at the Fenton site spoke with Congresswoman Wagner about BASF's North American footprint, current DEI initiatives and workforce recruitment. We also discussed safety and quality upgrades at the new site that opened in 2018. The #BuisnessofChemistry creates almost 40,000 jobs in the state of Missouri and is responsible for $2B in products shipped around the world.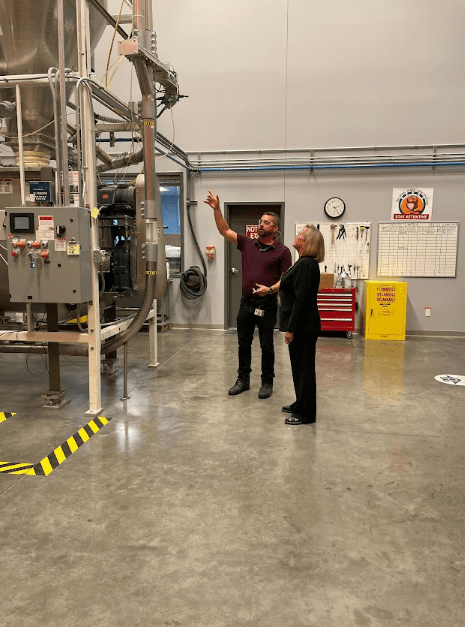 Arkema Inc. Tour with Rep. Bob Good – August 24
Chatham, VA
Congressman Bob Good joined us for a visit to Arkema Inc. in Chatham, VA, which employs more than 60 chemists, engineers, and skilled workers in Pittsylvania County. We toured their #monomer and #oligomer manufacturing plants, each with their own labs and researchers who work to create custom materials for customers around the world. The chemistries produced at Arkema Inc. can be found in unexpected places - including your dentist's office! The specialty chemical compounds this site creates are used in a myriad products, including model teeth and clear retainers.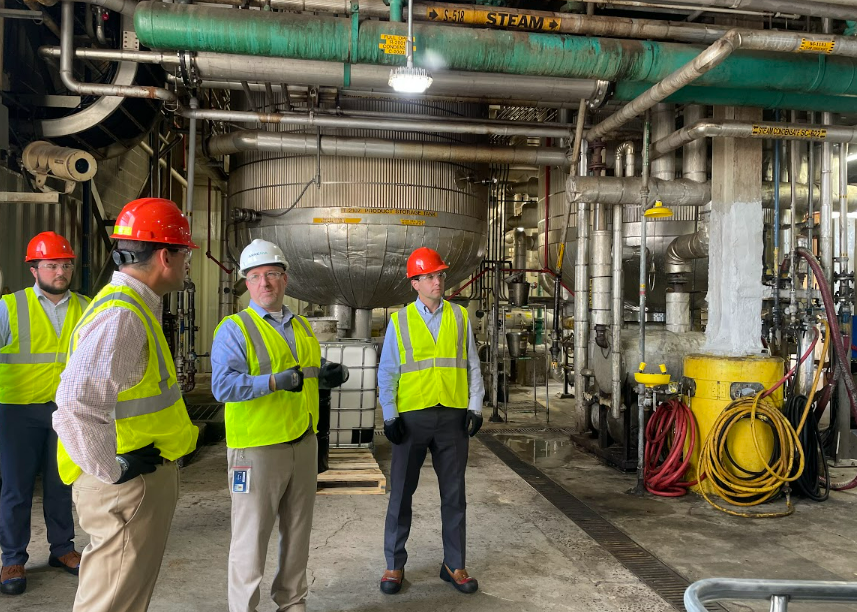 Tour of ICL GROUP with Sen. Roger Marshall, M.D. – August 24
Lawrence, KS
Thank you to U.S. Senator Roger Marshall, M.D. for joining us on a tour of ICL GROUP in Lawrence Kansas! ICL Group manufactures highly versatile phosphate chemistries that go into products we utilize everyday - from phosphoric acid in soft drinks and soda, to toothpaste. These chemistries can also be used in industrial applications like additives for asphalt on our roads to make them more malleable and last longer! This ICL Group site employs approximately 140 people and is manufacturing products that are used around the world.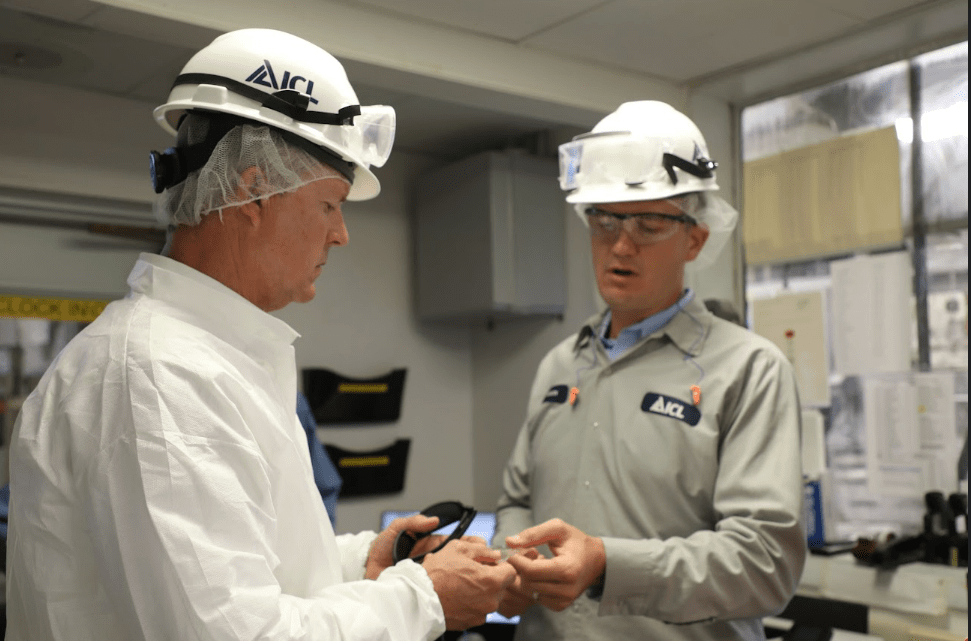 BASF Tour with Rep. Buddy Carter – August 24
Savannah, GA
Many thanks to House Energy & Commerce Committee member Congressman Buddy Carter for joining us on a tour of BASF in Savannah, GA as part of #ACCAugust22! During the visit, we learned more about the Georgia-made catalysts and additives that play a critical role in America's fuel production. The Savannah facility produces Fluid catalytic cracking (FCC) #catalysts, co-catalysts and additives used by petroleum #refiners to convert crude oil into gasoline, other transportation fuels, heating oil and petrochemical feedstocks. Chemistry plays a large role in Georgia's economy - employing nearly 45,000 with wages of $1.41B paid annually.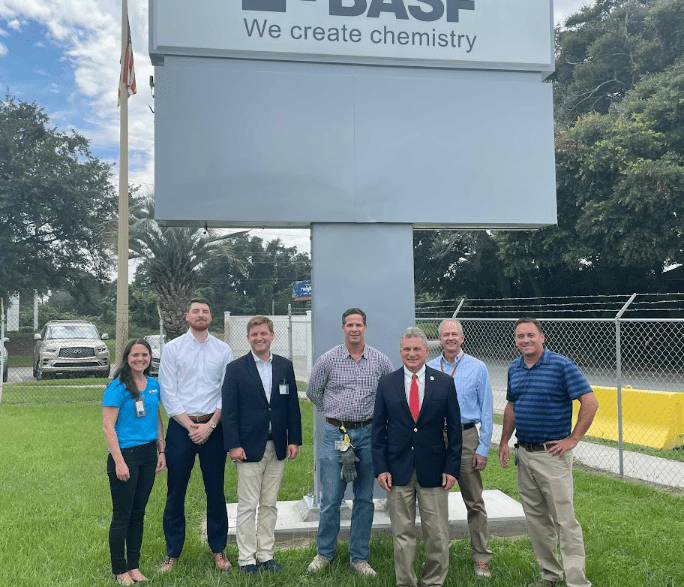 Croda Tour with Rep. Fred Keller – August 23
Lamar, PA
We were delighted to welcome Congressman Fred Keller on a tour of #Croda's new manufacturing site in Lamar, Pennsylvania, where we took the opportunity to brief the Congressman on plans for a state-of-the-art lipid R&D and production facility at the site. Earlier this summer, Croda announced that the facility at Lamar would benefit from a cooperative agreement with the U.S. government, in which the government will provide up to $75 million to expand U.S. manufacturing capacity of ingredients for lipid systems used in novel therapeutic drugs such as mRNA vaccines. The new site, which will be Croda's third manufacturing site for lipid systems, further expands manufacturing capacity for these vital components, which are used in novel therapeutic drugs and mRNA vaccines.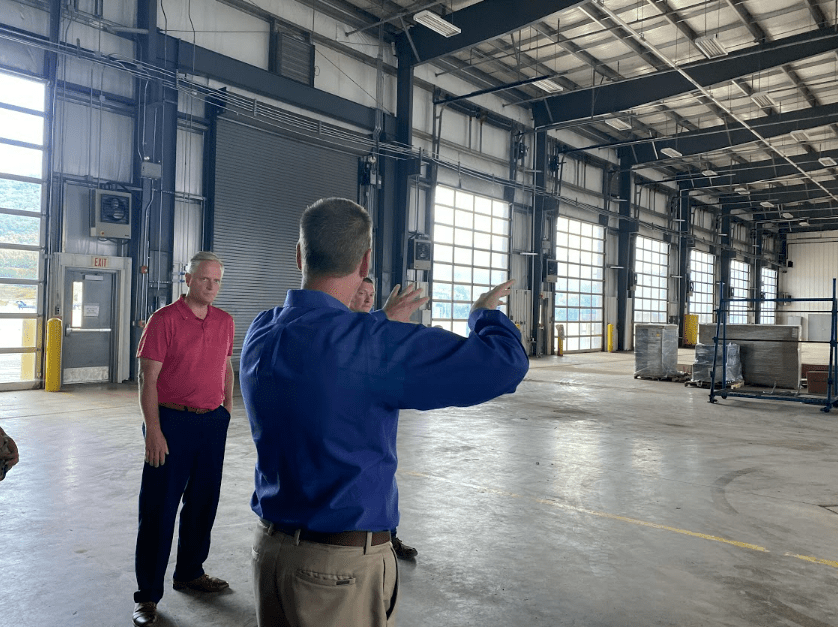 BASF Tour with Rep. Jerry Carl – August 22
McIntosh, AL
Thank you to U.S. Representative Jerry Carl for joining us at BASF during #ACCAugust22! The BASF McIntosh, AL site employs over 600 people and produces antioxidants and light stabilizers that help create higher durability plastics.
This BASF McIntosh facility contributes in several ways to improve the quality of life through community involvement – including participating in community advisory panels, Manufacture Alabama, and assisting with scholarships at Coastal Alabama Community College and the The University of South Alabama.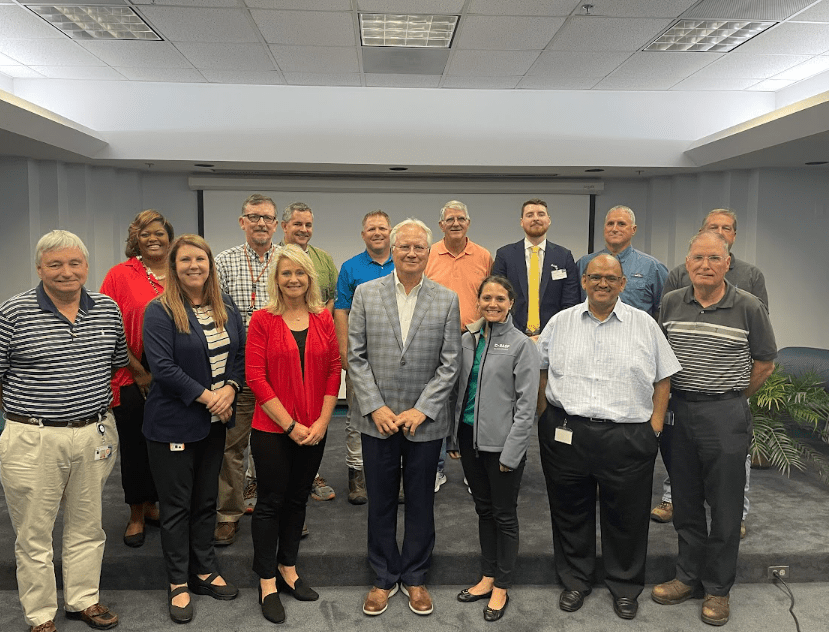 Tour of Chevron Phillips Chemical with Rep. Frank Lucas – August 19
Bartlesville, OK
As part of #ACCAugust22, Congressman Frank Lucas toured Chevron Phillips Chemical's Bartlesville, Oklahoma Research and Technology Center. Originally built by Phillips 66 in 1950, this site is their largest research center, employing more than 190 chemists, scientists and technicians. The skilled Oklahomans at this center support the global polyethylene, normal alpha olefins, drilling specialties and specialty chemicals product lines for Chevron Phillips Chemical. They're not alone - nearly 7,000 people are employed by the #BusinessofChemistry statewide. Being good neighbors is important to Chevron Phillips Chemical Company - as supporters of the Bartlesville regional United Way and local STEM education programs, they're investing in their community and in the future.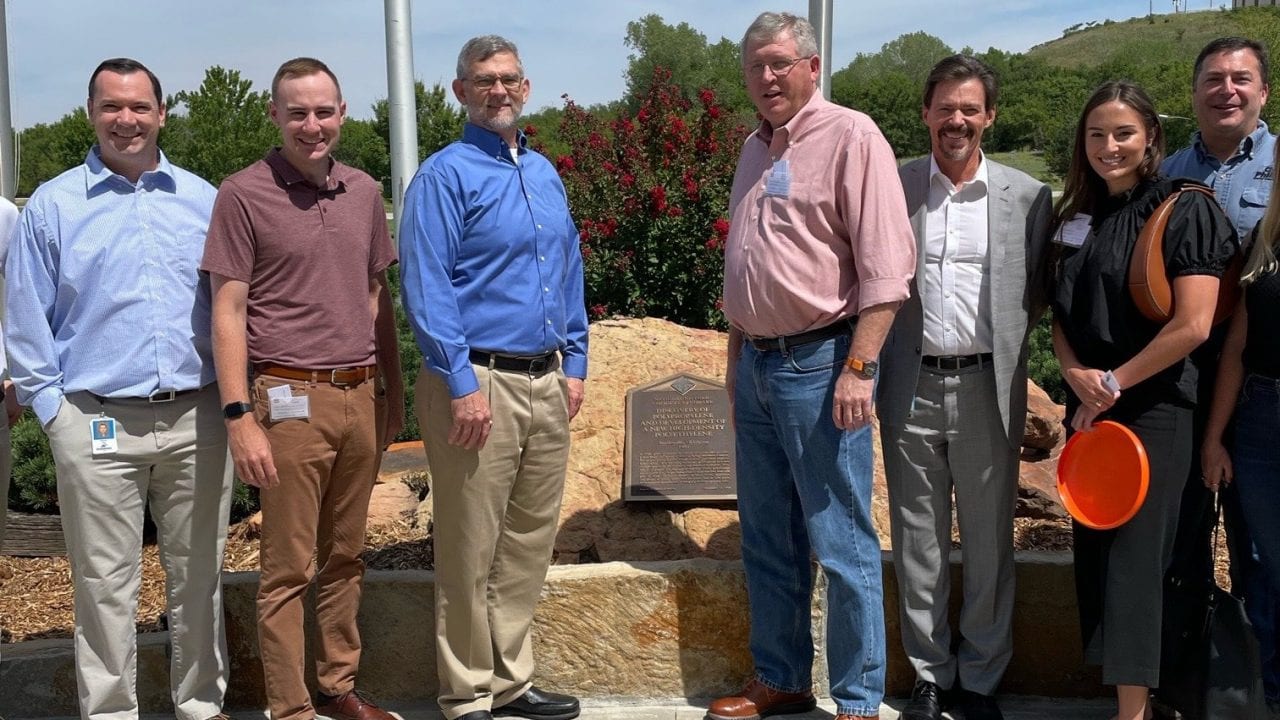 Wacker Chemical Tour with Rep. Debbie Dingell – August 17
Ann Arbor, MI
We were glad to be joined by Rep. Debbie Dingell at Wacker's newly opened Innovation Center and Regional Headquarters in Ann Arbor, Michigan as part of #ACCAugust22! Wacker has over 1,600 employees in the U.S. and nearly 650 in Michigan alone. At this site, they perform research & development of new #silicones and #polysilicon products. Applications include automotive, #biotechnology, #semiconductors, personal care, pharmaceuticals, and much more. Thank you, Rep. Debbie Dingell for meeting with your constituents to learn more about why #ChemistryMatters to Michiganders!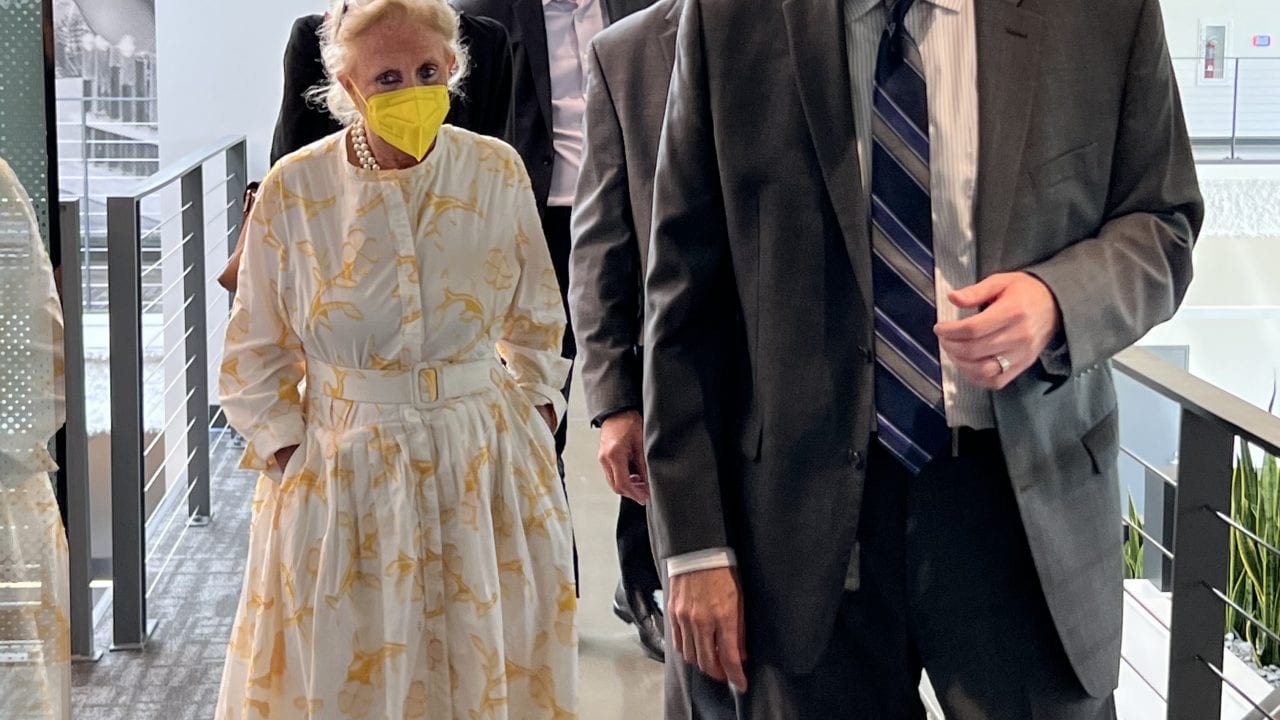 Tour of Chemours with Sen. Roger Wicker - August 17
De Lisle, MS
The Chemours Company employees in De Lisle, MS were greeted by a special visitor, Senator Roger Wicker, as part of #ACCAugust22! Chemours Titanium Technologies is the world's largest producer of titanium dioxide (TiO₂), a key component in some of the whitest, brightest, and most efficient applications for architectural and durable automotive and aerospace coatings, plastics, laminates, and paper. The Chemours Company's manufacturing facility in DeLisle, Mississippi was established in 1979 on 2,600 acres. The site is home to approximately 1,000 acres of Certified Wildlife Habitat. The site employs almost 600 Chemours employees and nearly 1100 total employees. With the #BusinessofChemistry as a significant employer and supplier for manufactured goods in the state, it's clear that #ChemistryMatters to Mississippi!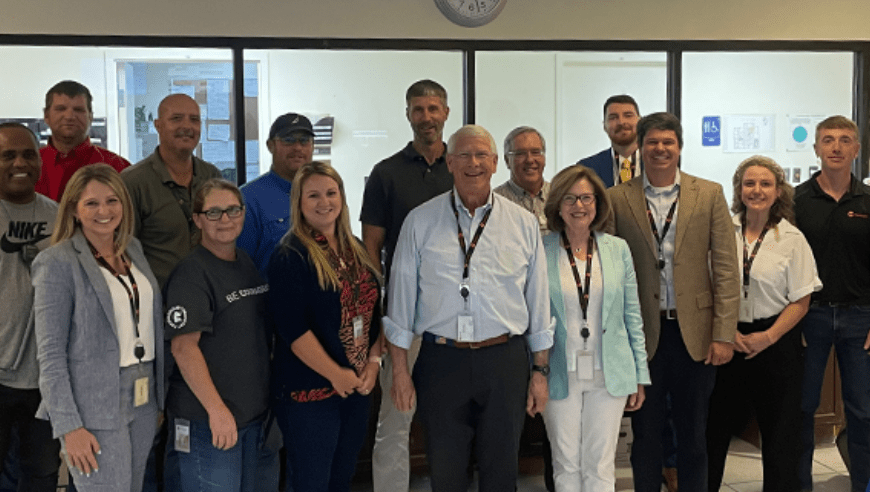 Tour of LyondellBasell with Rep. Susan Wild – August 17
Allentown, PA
Congresswoman Susan Wild joined us for a tour of LyondellBasell's Allentown plant! Here, we spoke about workforce development and the hard work of recruiting talent during these times. It was great to share the story of why #ChemistryMatters.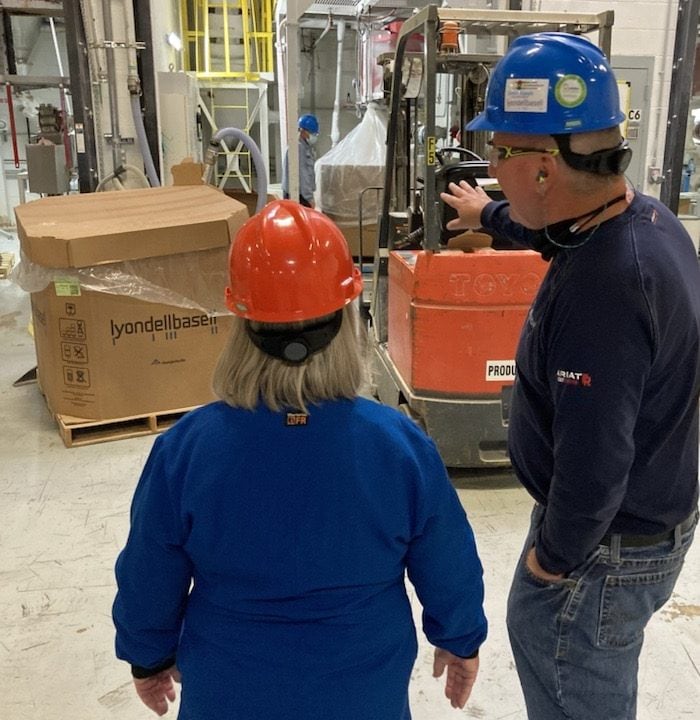 BASF Tour with Rep. Jodey Arrington - August 16
Lubbock, TX
Thank you to Rep. Jodey Arrington for visiting BASF in Lubbock, TX! Situated right on Texas Tech's Campus, BASF's Seeds Innovation Center is a world leader for trait development platforms for cotton and soybeans. BASF employs more than 120 people in the Lubbock area to conduct R&D activities, lab analysis, seed production and processing, portfolio sales and technical support.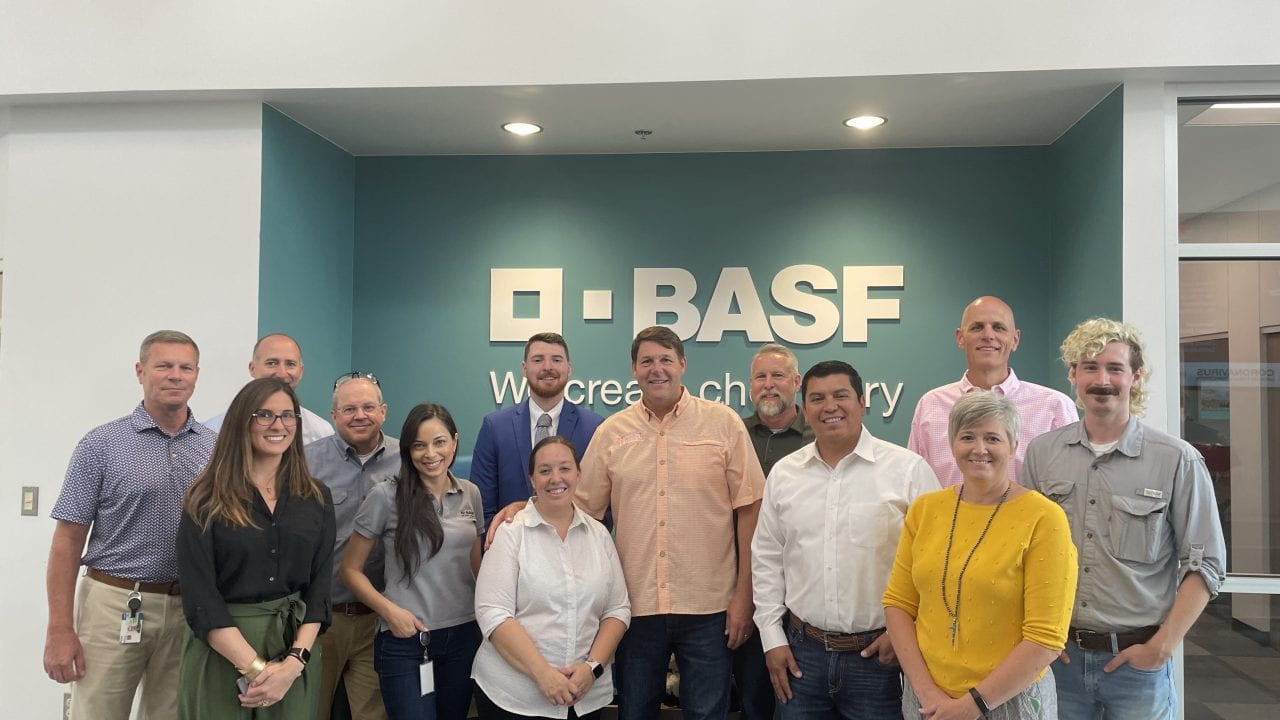 ICL Group Tour with State Rep. Bridget Walsh Moore - August 15
Carondelet, MO
Thank you to State Rep. Bridget Walsh Moore for visiting the ICL Group Facility in Carondelet, MO. ICL Group is a global specialty-minerals company that manufactures several different products that can be found in a numerous industries, ranging from alternative proteins to leavening agents. The ICL site in Carondelet employs around 300 people in the St. Louis area.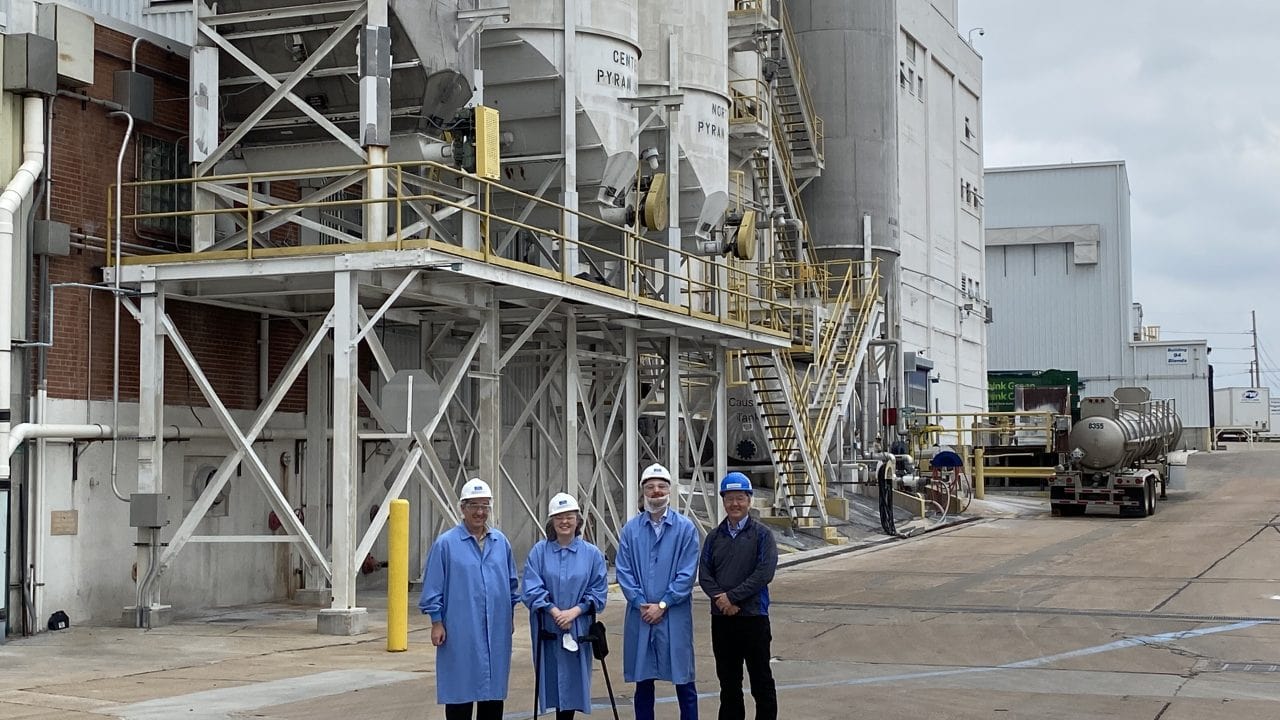 PPG Tour with Rep. Andrew Clyde and State Rep. Matt Dubnik - August 15
Oakwood, GA
Thank you to Congressman Andrew Clyde and State Representative Matt Dubnik for visiting PPG's Oakwood, GA facility as part of #ACCAugust22! This site specializes in architectural coatings, producing interior and exterior paints and coatings as well as solvent- and latex-based caulk and adhesives products for domestic and international customers. The PPG Oakwood site employs over 100 Georgians. Overall, PPG has approximately 300 employees between their 3 facilities statewide. The #BusinessofChemistry is the third largest manufacturing industry in Georgia, providing over 40,000 jobs and shipping $2.92B in products to customers around the world. Thank you to Congressman Clyde and State Rep. Dubnik for visiting with your constituents to see just how much #ChemistryMatters to Georgians.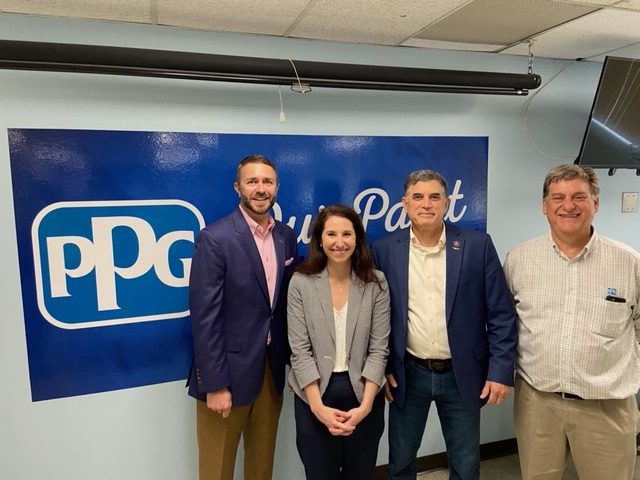 LyondellBasell Tour with Rep. Mariannette Miller-Meeks - August 9
Clinton, IA
Thank you Rep. Miller-Meeks for visiting LyondellBasell in Clinton, Iowa as part of #ACCAugust22! LyondellBasell's Clinton site is one of the largest chemical plants in Iowa, employing over 400 people and producing critical blocks for industrial and household chemicals, packaging that protects our food from spoilage and contamination, and children's toys that are safe and durable. This August, Rep. Miller-Meeks has visited sites that produce chemical building blocks for a wide range of products - from detergents to health supplements and more. We appreciate her taking the time to tour three different companies that employ nearly 500 Iowans in the #BusinessofChemistry! As the 6th-largest chemistry-producing state, Iowa plays a critical role in American manufacturing and competitiveness. #ChemistryMatters to IA!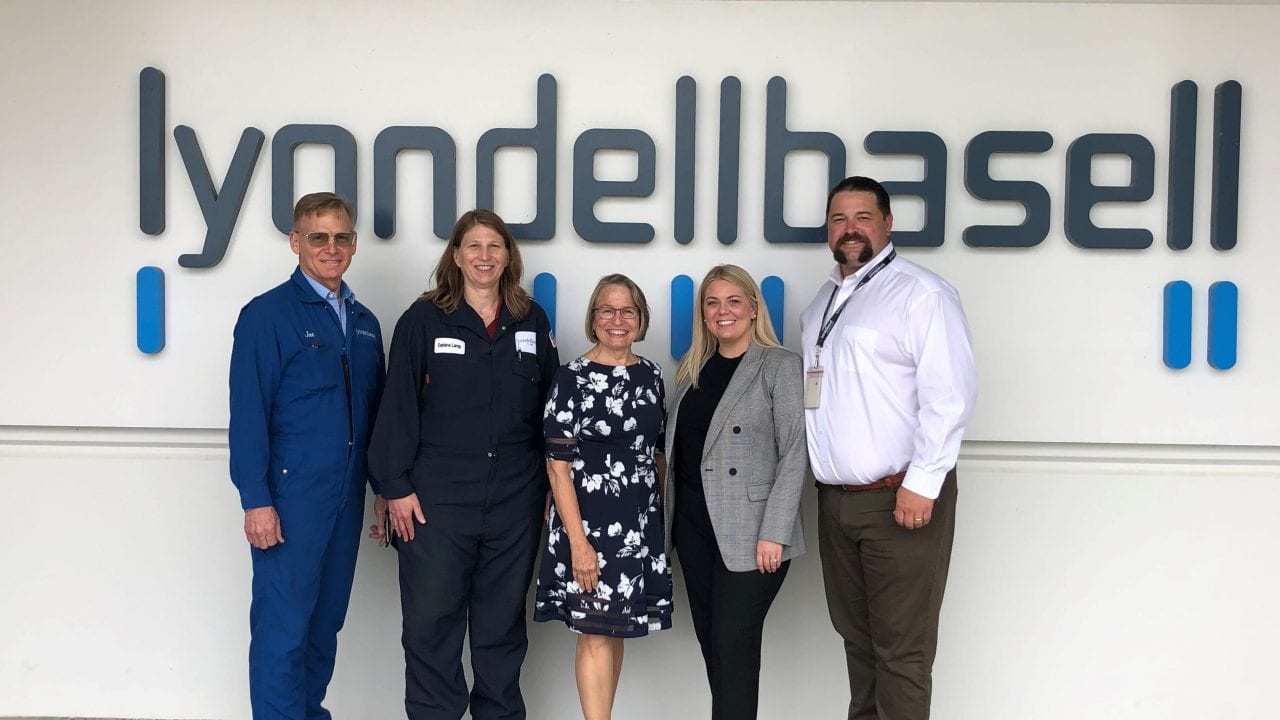 Wacker Tour with Rep. Mariannette Miller-Meeks - August 8
Eddyville, IA
Thank you to Rep. Miller-Meeks for joining us to tour Wacker in Eddyville, IA as part of #ACCAugust22! This site manufactures cyclodextrins from corn that are used to capture odor molecules in the air, improving solubility and bioavailability of supplements to improve our health. This site is one of many chemistry sites in Iowa that help make it the 6th-largest chemistry-producing state in the nation.
Hear more about Rep. Miller-Meeks' visit here: https://bit.ly/3C1MGVH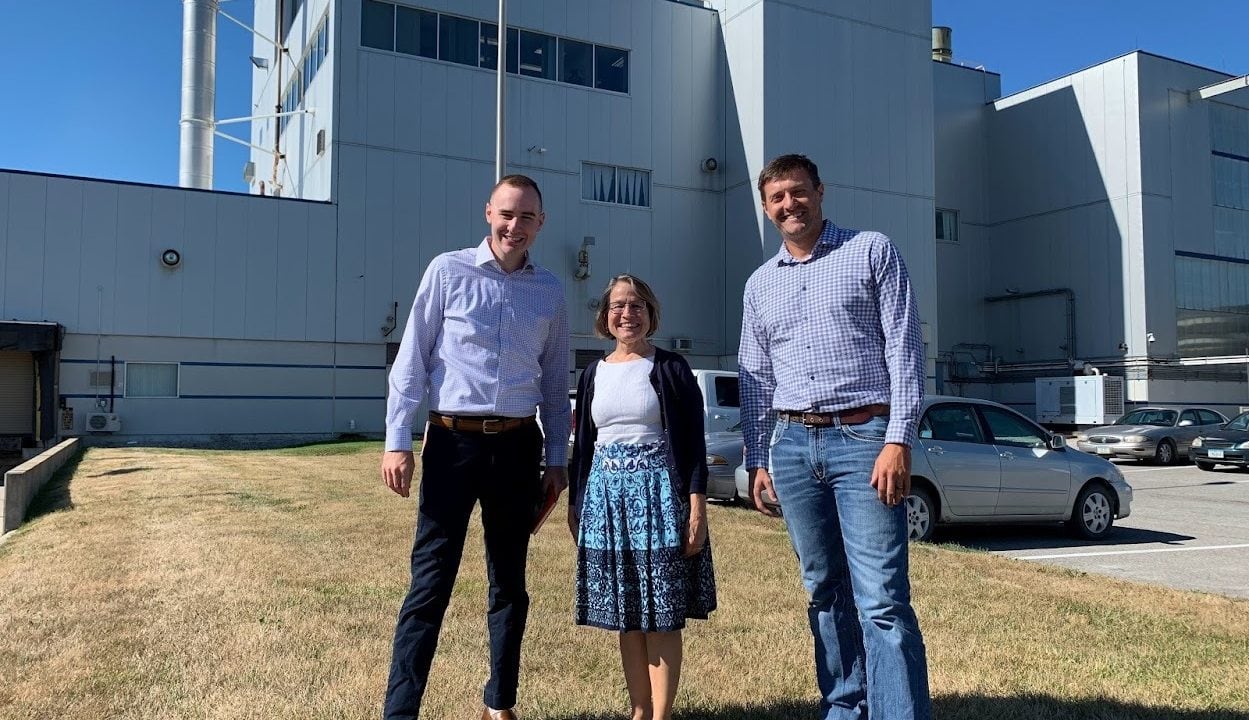 DuPont Tour with Rep. Mariannette Miller-Meeks - August 3
Malcom, IA
Thank you to Rep. Mariannette Miller-Meeks for visiting DuPont in Fort Madison, Iowa! This plant manufactures millions of liters of inks used in several of the most popular printer brands around the world as well as colors applied to Kevlar fabrics used to protect the military, firefighters, and police officers. At the height of the pandemic, the plant supplied 240 business and organizations with hand sanitizer in the region of the state.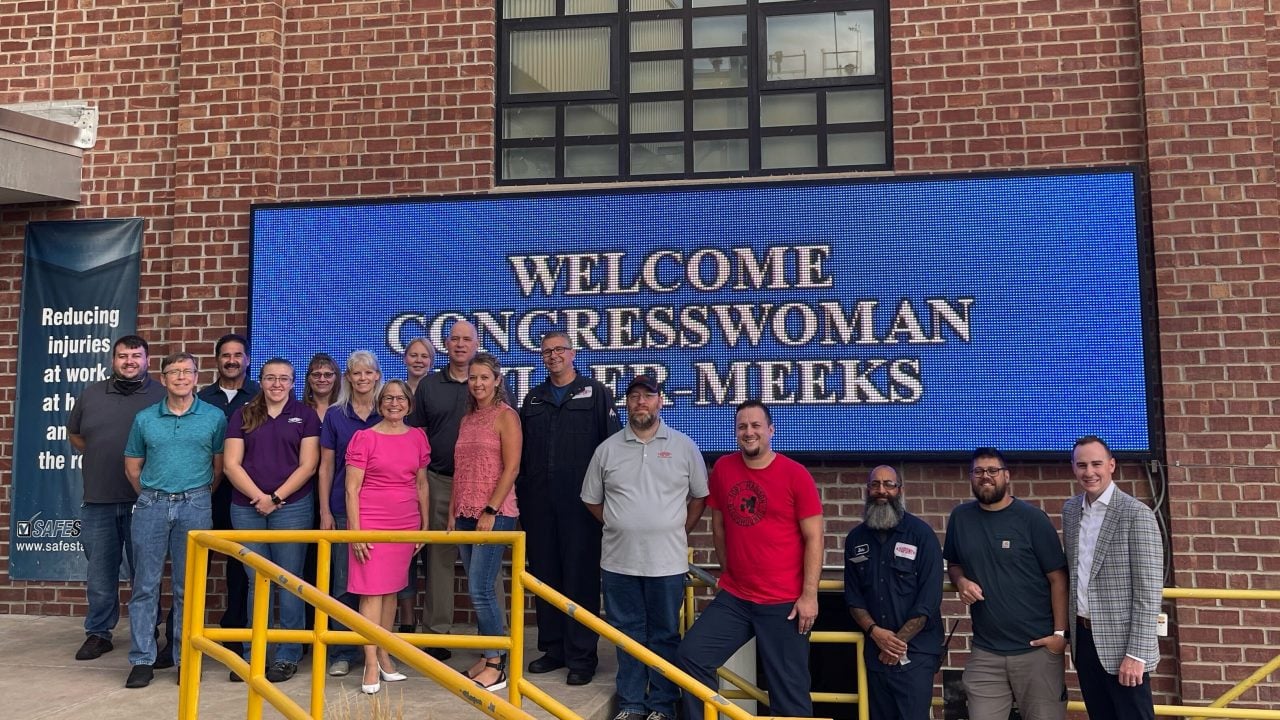 Roundtable with Iowa Governor Kim Reynolds & 3M, BASF, Corteva, DuPont and LyondellBasell - July 27
Des Moines, IA
Thank you Iowa Governor Kim Reynolds for taking time to hear from the American Chemistry Council's CEO Chris Jahn and Iowa-based plant managers from 3M, BASF, Corteva Agriscience, DuPont, and LyondellBasell at the Iowa State Capitol! We had a very valuable conversation on the #BusinessofChemistry's $18.5B economic impact on the state of Iowa, which is the 6th-largest chemistry-producing state in the United States!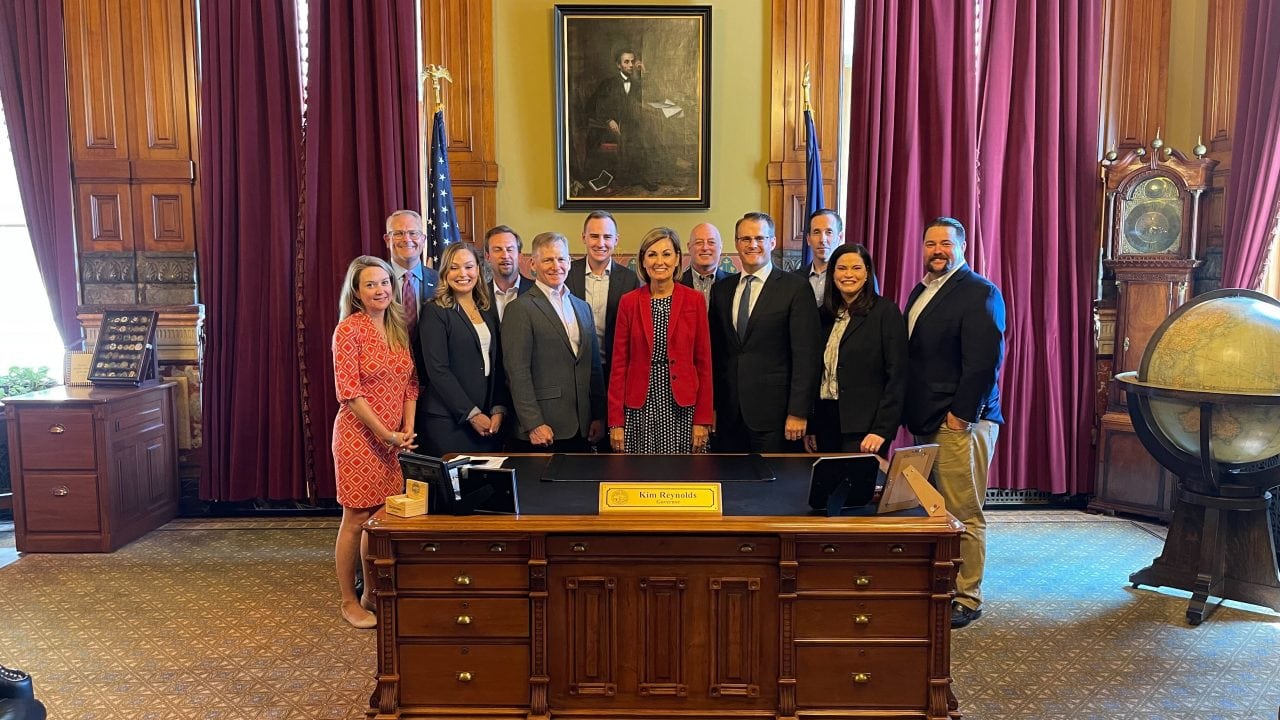 BASF Tour with Rep. Ashley Hinson - July 27
Malcom, IA
Thank you to Congresswoman Ashley Hinson for visiting BASF in Malcom, IA! This site manufactures a wide range of polyurethane chemistries used in products like wheels for heavy-duty forklifts and many other applications.
At $18.51B, the #BusinessofChemistry is the 3rd largest manufacturing industry in the state of Iowa, shipping $1.37B in products to customers around the world annually. Thank you to Congresswoman Ashley Hinson for meeting with her constituents to learn how #ChemistryMatters to Iowa!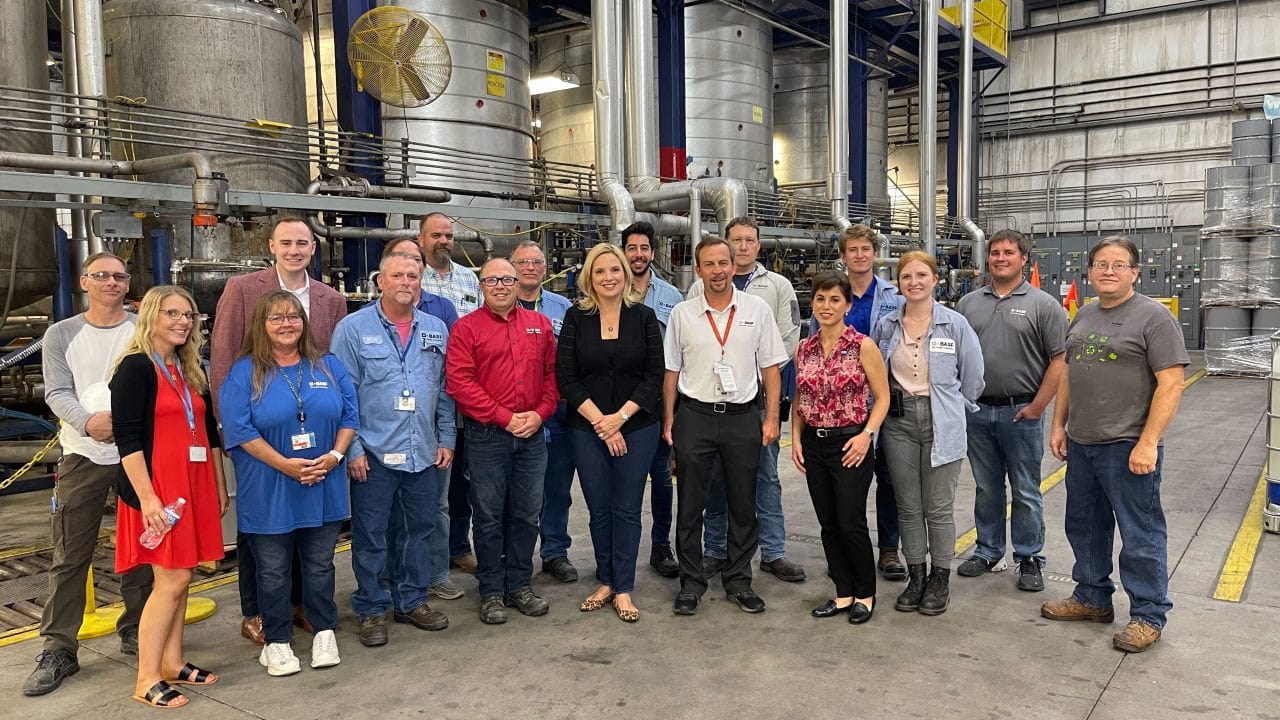 Huntsman Corporation Tour with Rep. Randy Weber - June 28
Freeport, Texas
Congressman Randy Weber visited Huntsman Corporation's Performance Products Division's site in Freeport, Texas. This site generates $12M in economic output annually and proudly employs 100 Texans. Two units at this site produce ethyleneamines – a "building block" in many chemistries, with end-uses in energy and fuels, construction, food production, coatings and more. As ranking member of the Energy Subcommittee for the House Science, Space, & Technology Committee, Congressman Weber understands the importance of energy that's produced using American materials. Most important to this site, however, is safety. Their commitment to safety is clear, given the many safety awards won by this site, including recognition by the Texas Commission on Environmental Quality and the Billy D. Forbes II Award for Environmental, Health and Safety Excellence.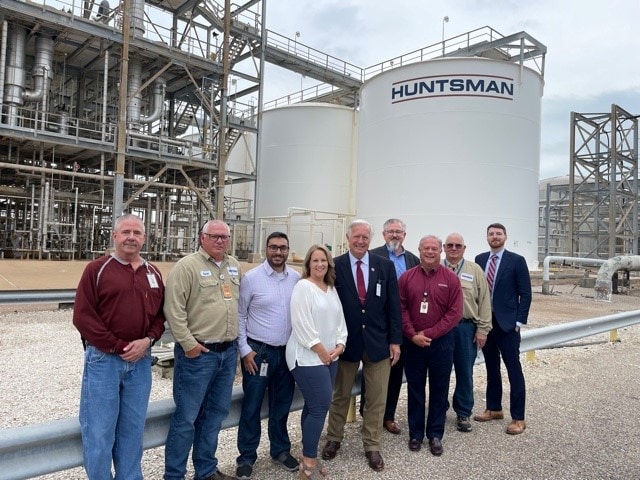 FMC Corp's Stine Research Center Tour with DE Sec. of Agriculture Michael Scuse - June 16
Newark, DE
It was a pleasure to join Delaware Secretary of Agriculture Michael Scuse, the Delaware FFA Association, and the Delaware State University MANRRS to learn more about FMC Corporation's work in the state at their Stine Research Center in Newark.
The 515-acre R&D site is investing $50 million in capital improvement projects and features state-of-the-art technology focused on crop health. The site has over 400 FMC employees that are passionately focused on finding effective solutions to make farmers' jobs easier - from improving yield to negating weeds. FMC Corporation's crop scientists use advanced methods to duplicate the different growing conditions farmers face worldwide, to better serve their global customer base. They also serve as good stewards of their space in the Newark, DE community in unique ways. In addition to working with local students to provide internships, they also designate portions of their test farm as nature reserves and plant sunflowers along the border of their property.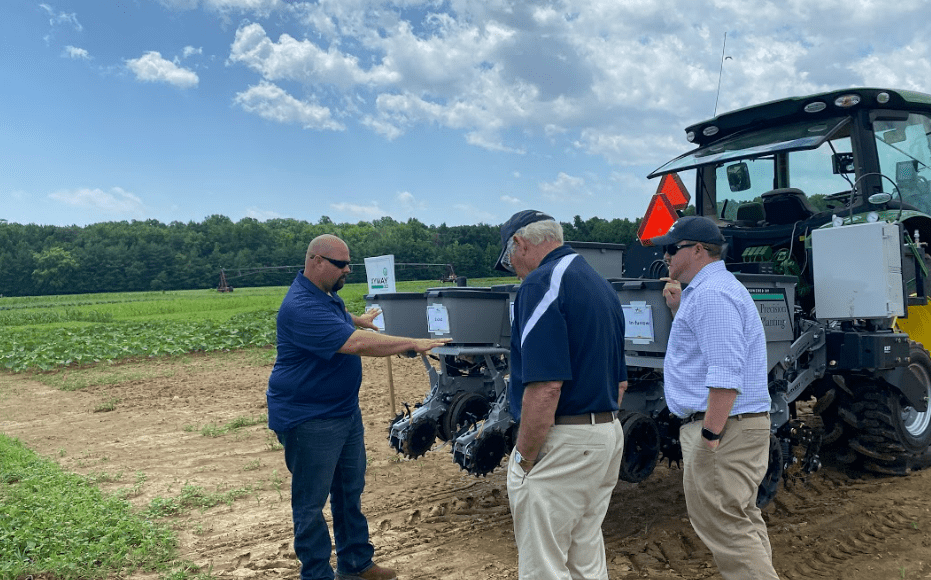 BASF Tour with Senator Joni Ernst - June 10
Malcom, IA
Senator Joni Ernst visited BASF in Malcom, IA: where the site manufactures a wide range of polyurethane chemistries used in products like wheels for heavy-duty forklifts and many other applications. The site had the opportunity to highlight its Veterans Employee Resource Group. The group gives veterans an opportunity to build community within the organization with fellow veterans and allies and other employee resource groups across BASF. Senator Joni Ernst is a retired Lieutenant Colonel of the Iowa Army National Guard. Iowa State Senator Annette Sweeney and Representative Dean Fisher also joined for the tour and town hall event where employees offered their perspectives on issues most important to them- ranging from supply chain challenges, to recruiting talent to the site.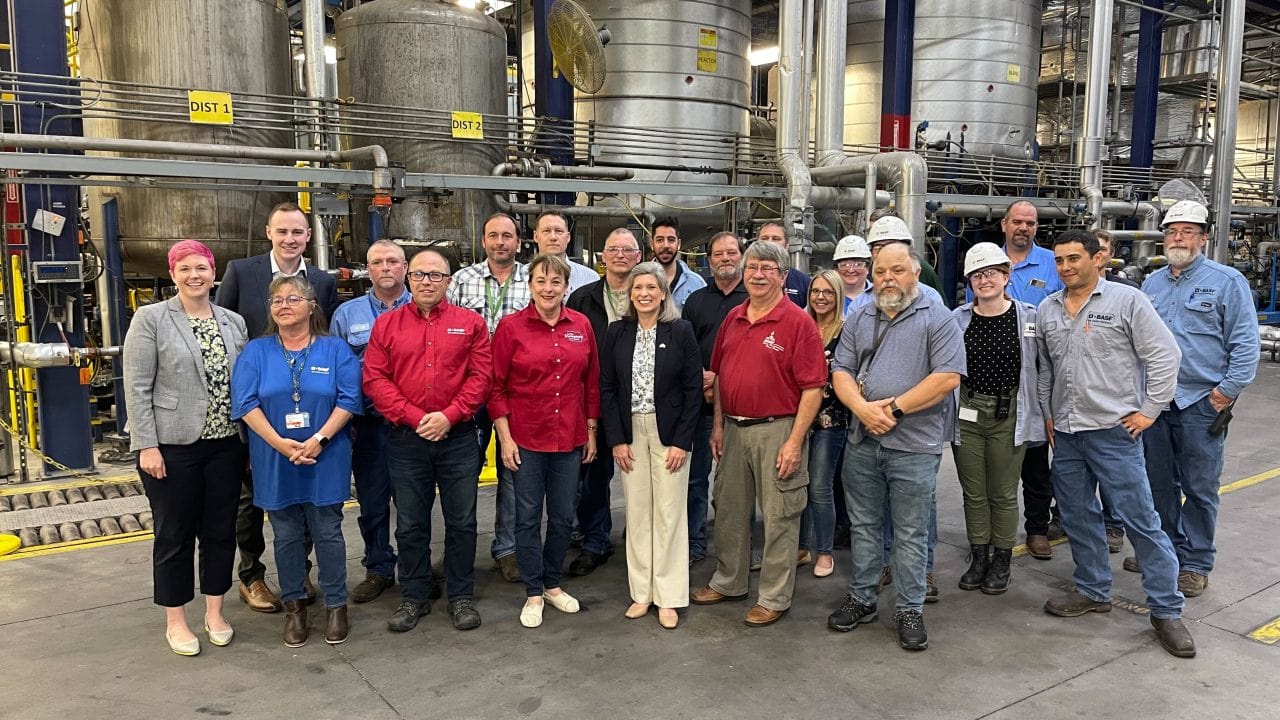 Ashland Tour with Senator Tom Carper - June 10
Wilmington, DE
We were lucky to be joined by Senator Tom Carper on a tour of Ashland at their headquarters in Wilmington, DE, where we toured the company's state-of-the art R&D facilities and learned about the impressive work they've done to align their technology portfolio and integrate environment, social and governance (ESG) into their business plans. This Ashland site is home to nearly 175 solvers focused on R&D innovations in pharmaceuticals, nutrition, nutraceuticals, architectural coatings, and energy. With the changes the company has made over the last two years, 80% of its consumer market-focused portfolio is natural, nature-derived, biodegradable, or sustainable in use. Ashland is also partnering with the communities in which they operate around the globe to improve quality of life. Recently the company announced a program in India using science, technology, engineering, and math (STEM) to educate about sustainable farming practices while increasing farmers' production by over 30%, thereby increasing the local economy in small farming villages. Ashland has continued as the title sponsor for the Delaware STEM Educator's Awards, now in its eighth year. The company is also sponsoring the Wilmington Urban STEM initiative to expose young talent to STEM in the region.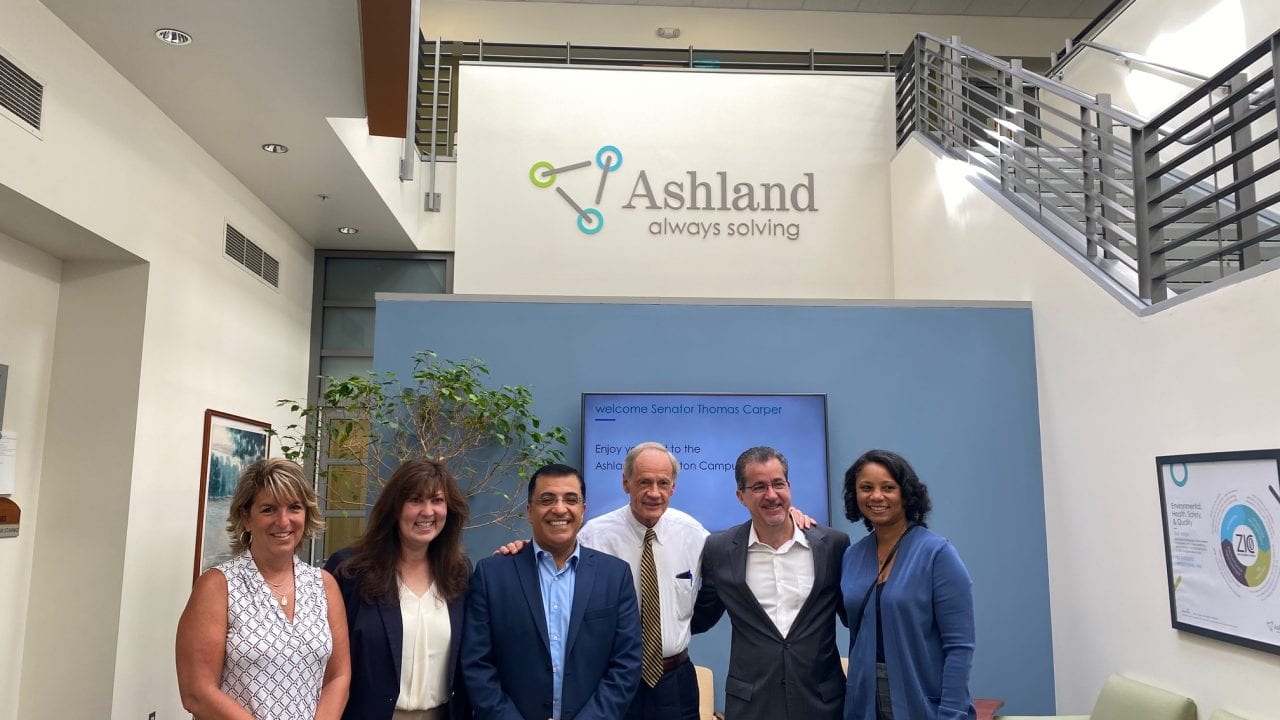 Ingevity Tour with Rep. Rick Allen - June 10
Waynesboro, GA
Thank you Congressman Rick Allen for visiting with your constituents employed at Ingevity in Waynesboro, Georgia to see why #ChemistryMatters! Here, 215 hardworking Georgians help to create honeycombs manufactured with specialized activated carbon. These honeycombs are used in automobile and air purification applications. Ingevity, with its nearly 10 locations across the U.S., gives back to its local communities through The Y, United Way, and other groups!
Chemistry is critical to Georgia, which is the 13th largest chemistry-producing state. The #BusinessofChemistry provides nearly 45k jobs and pays $1.41B in wages in the state.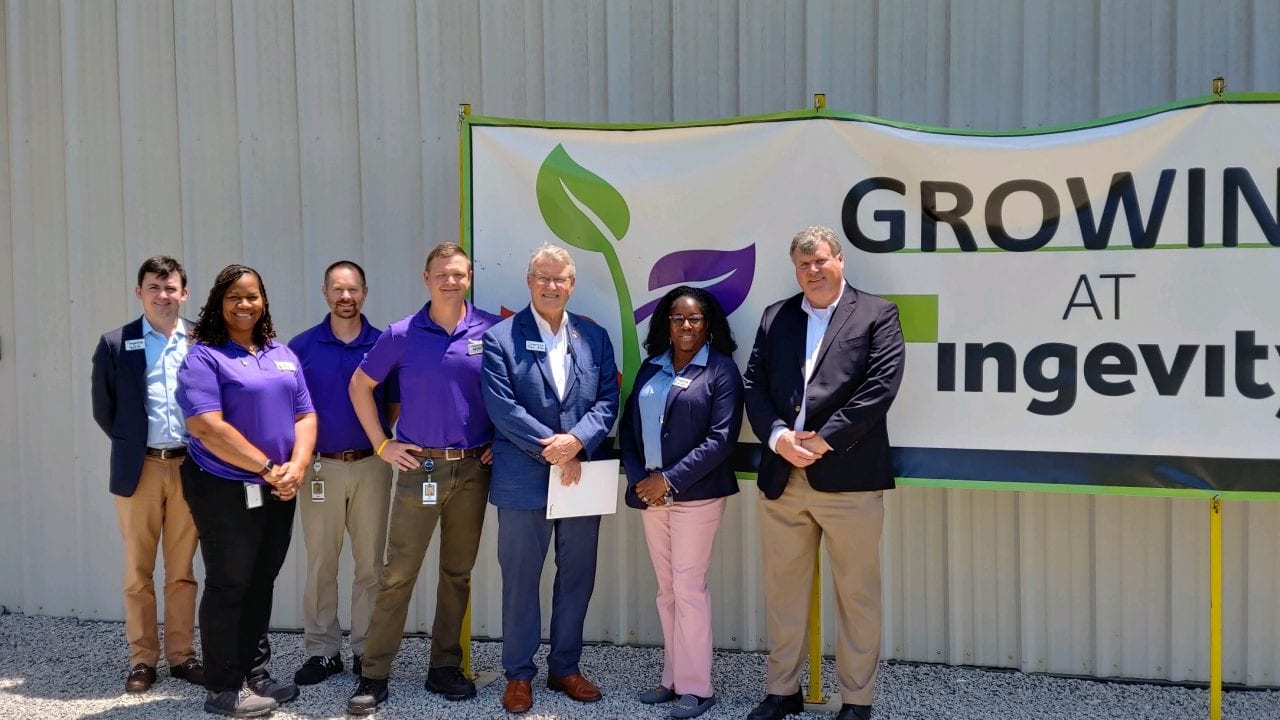 Berry Global Tour with Rep. Ben Cline - June 3
Waynesboro, VA
Congressman Ben Cline joined us to tour Berry Global in Waynesboro, VA! This Berry Global site specializes in spun bond and melt-blown polypropylene manufacturing processes utilized in personal care, medical, household, and building/construction applications. It's clear the nearly 175+ employees at this site value the work they do, averaging a tenure of 9 years at Berry Global. The #BusinessofChemistry is critical to Virginia as the 4th manufacturing industry statewide, providing 21,000+ jobs to Virginians and generating $122M in state and local taxes. Thanks, Congressman, for seeing how much #ChemistryMatters to VA.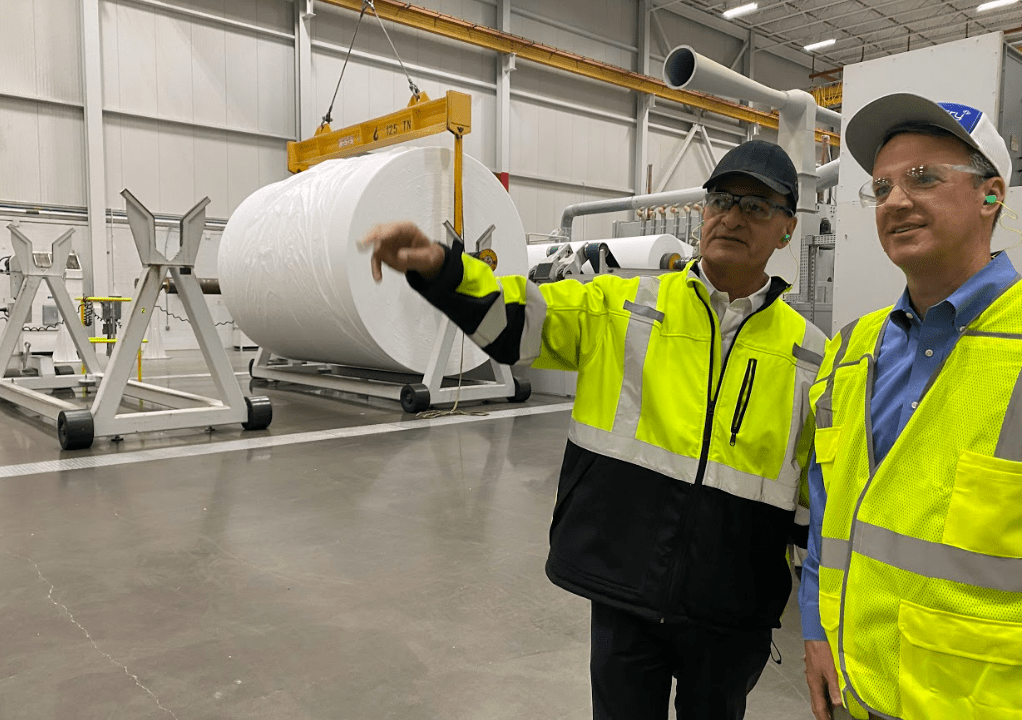 ICL Group Tour with Rep. Frank Mrvan
Hammond, IN
Congressman Frank J. Mrvan visited ICL GROUP in Hammond, IN! The skilled Indianans at this site manufacture phosphate chemistries used in paints & coatings to inhibit corrosion and tannin staining.
The #BusinessofChemistry employs over 30,000 statewide & ships $1.94B in goods annually.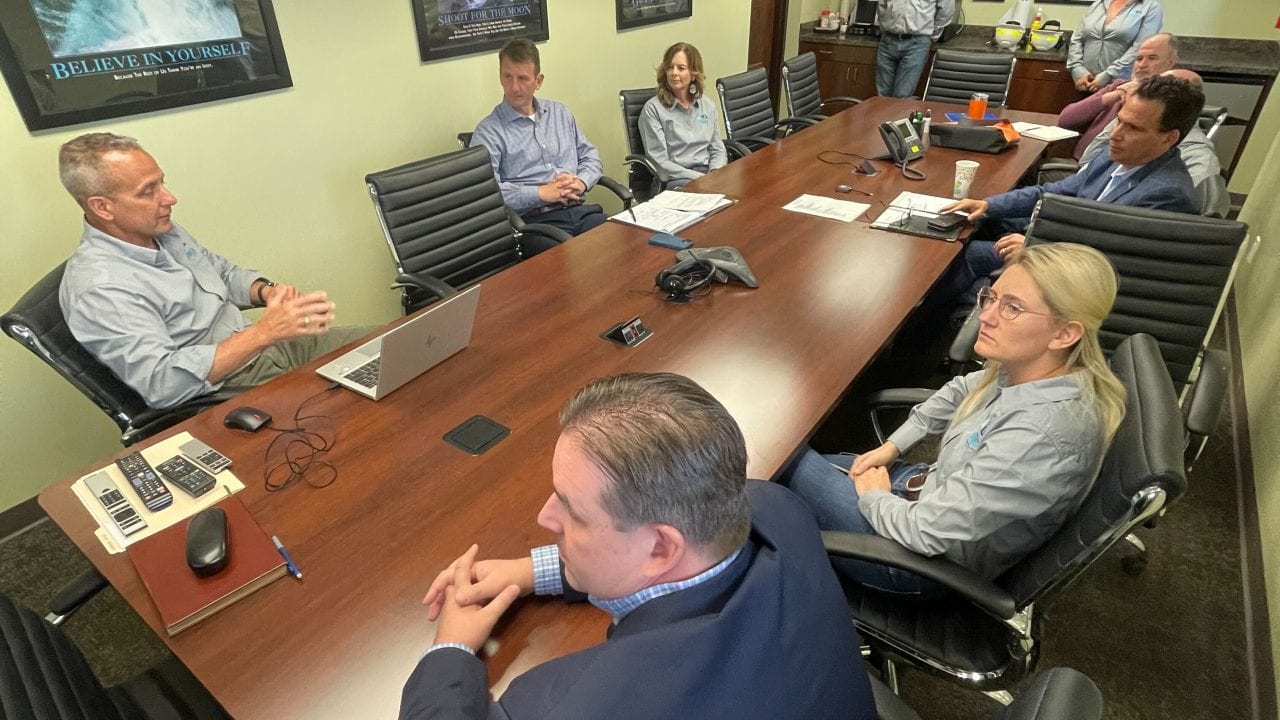 LyondellBasell Tour with U.S. Surface Transportation Board Members - May 27
Morris, IL
Chairman Oberman, Vice Chairman Schultz, and Board Member Fuchs of the Surface Transportation Board toured the LyondellBasell facility in Morris, Illinois to see firsthand how important reliable & competitive #FreightRail service is to U.S. #manufacturing. We commend the STB for taking the time to get a real-world account of our operations. The #BusinessofChemistry is the 4th largest manufacturing industry in IL supporting 25,000 jobs. Solving ongoing rail issues are central to the growth of manufacturing in the state. We urge Congress to support the STB's efforts to help get #freightrail back on track.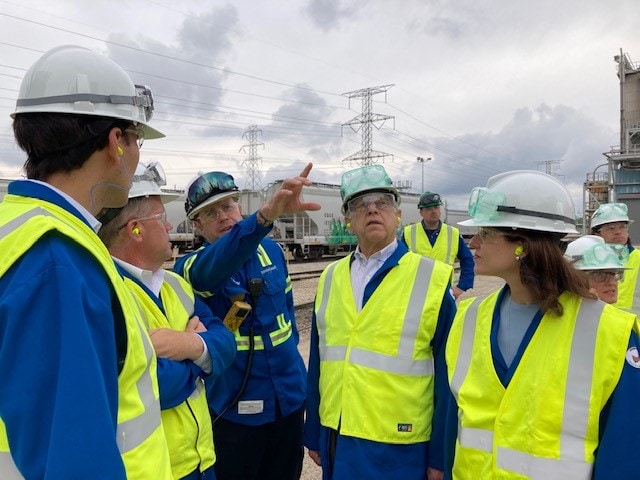 Wacker Chemical Tour with MI Gov. Gretchen Whitmer
Ann Arbor, MI
American Chemistry member Wacker Chemical opened an 18-acre Innovation Center and Regional Headquarters in Ann Arbor, Michigan. Governor Gretchen Whitmer and other elected officials joined to celebrate the opening of this facility, which will ultimately house 300 Wacker Chemical employees that are leading scientific efforts in the automotive, healthcare, personal care, and construction industries. The site was initially chosen with the community's strong research and education backbone in mind and was built following the successful establishment of a Silicones R&D Center in Ann Arbor in 2017. Said the Governor, "Let's keep working together to grow the economy, create good-paying jobs, and conduct groundbreaking research that will define the future—right here in Michigan."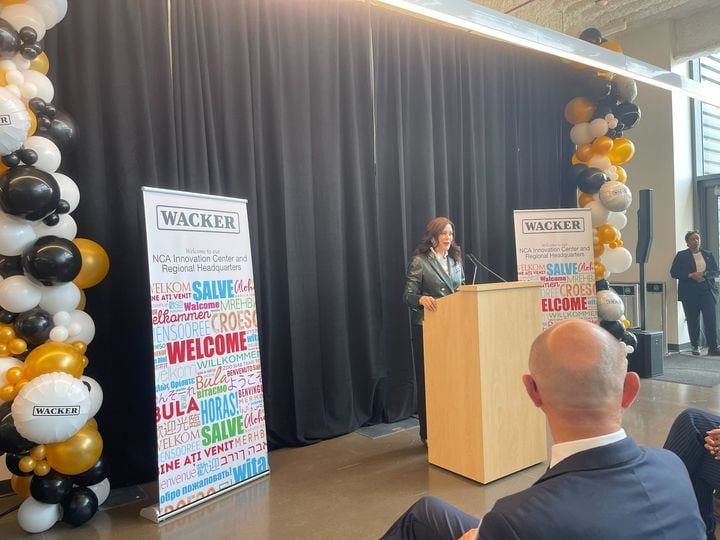 Merck Tour with Rep. Lisa Blunt-Rochester
Millsboro, DE
Congresswoman Lisa Blunt Rochester visited Merck Animal Health in Millsboro, DE. This site employs nearly 380 skilled Delawareans, who work each day to ensure animals of many shapes and sizes stay healthy through vaccine research and production. Right in Millsboro, they're able to produce billions of vaccine vials a year that are shipped to over 70 countries. The work done at this site contributes to the health of animals around the world by preventing, treating, and in some cases, even eradicating diseases. In addition to their impressive global footprint, Merck gives back to the local community. Currently, they sponsor the college education of 4 college students through the Future of STEM Scholars program (FOSSI), which serves students studying STEM at Historically Black Colleges and Universities. The #BusinessofChemistry's footprint in Delaware is critical to its economy - as the 2nd largest manufacturing industry statewide, chemistry companies generate $588M in products annually that are shipped worldwide. Over 3,500 Delawareans are directly employed in this sector, earning an average annual wage that is 59% higher than peers in standard manufacturing roles.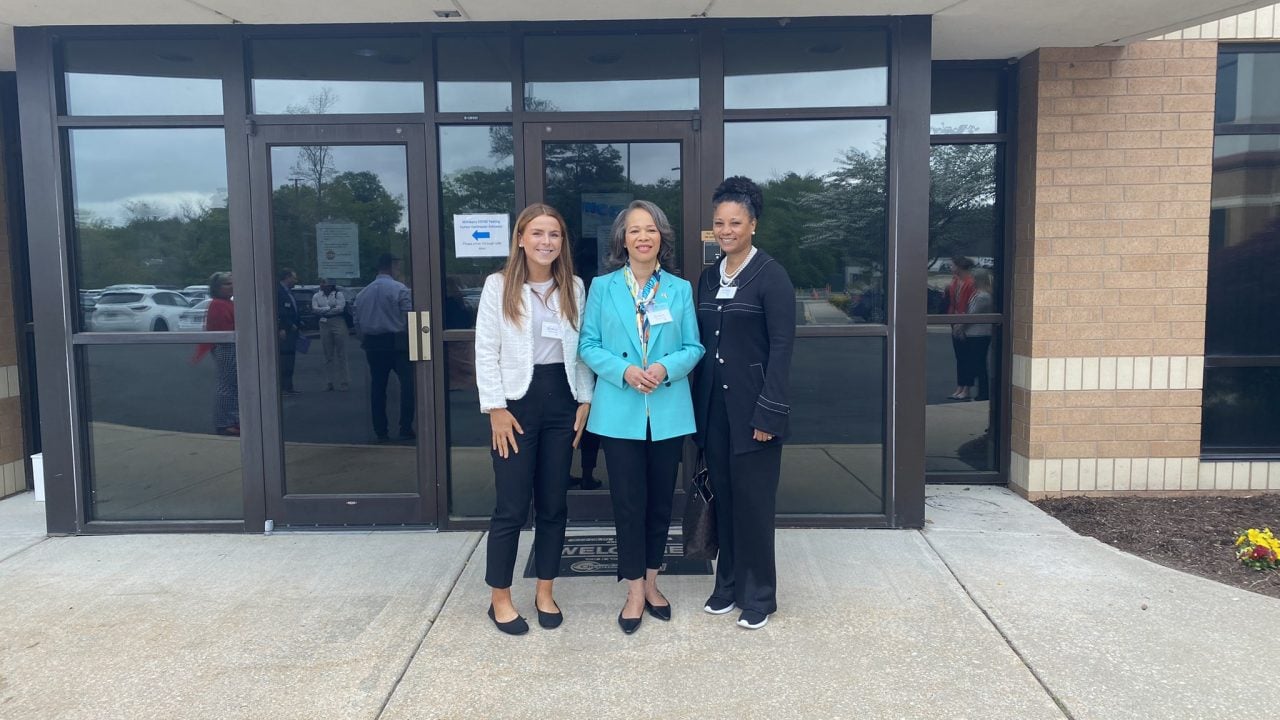 LyondellBasell Tour with Rep. Jake Ellzey
Mansfield, TX
Thank you to Rep. Jake Ellzey for visiting LyondellBasell in Mansfield, Texas, where 90 skilled Texans work to produce compounds used in many auto body parts! LyondellBasell's Mansfield Plant, located just outside Fort Worth, has been operating for nearly 30 years at this location. The facility produces compounds of polypropylene known as thermoplastic polyolefins which are used to manufacture items like bumper covers, bodyside moldings, and grills. As the largest chemistry-producing state, Texas chemistry pays $8.13B in wages annually and ships $38.21B in products to customers worldwide. Thanks again to Congressman Ellzey for seeing how #ChemistryMatters to Texas.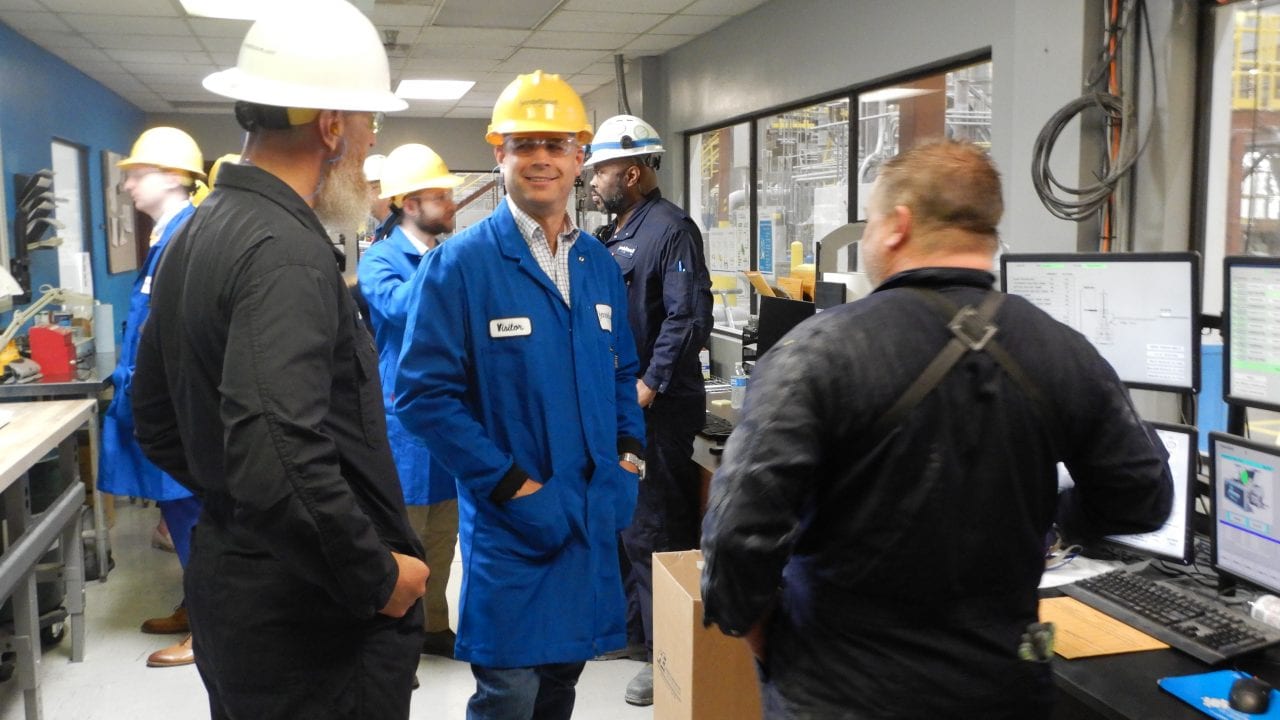 Chevron Phillips Chemical Tour with Rep. August Pfluger - May 2
Brownwood, TX
Thank you Congressman August Pfluger for visiting Chevron Phillips Chemical Company in Brownwood TX! This site was acquired in 2000 and employs 70 hardworking Texans, who help produce high-density #polyethylene products commonly used for safe, durable pipes in the oil & gas industry. Texas is the largest chemistry-producing state, employing nearly 375,000 skilled workers in the state at an average annual salary of $118,000. The #BusinessofChemistry invests $5.95B across Texas to build & update equipment and facilities and ships $38.21B in products to customers around the world.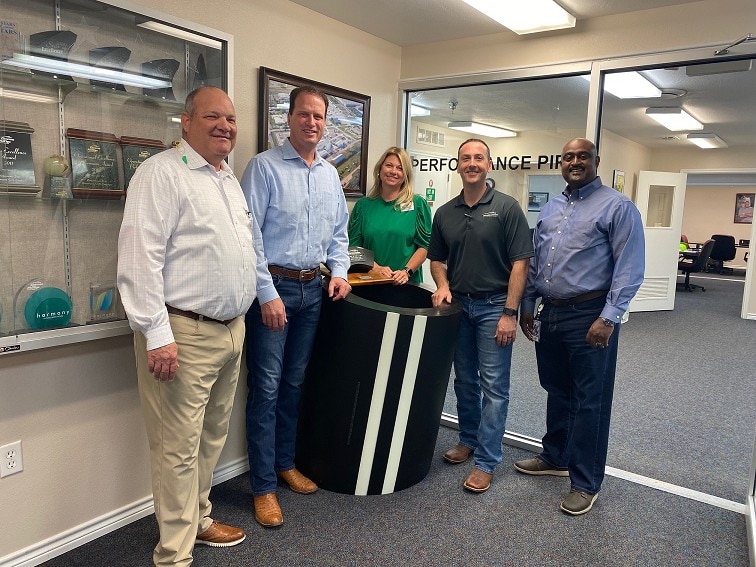 Powell Fabrication & Manufacturing Event with Rep. John Moolenaar
St. Louis, MI
The Michigan Chemistry Council hosted their annual Mid-Michigan Update at Powell Fabrication & Manufacturing LLC, which manufactures chlorine chemistry processing equipment to be sent around the world.
We were joined by Congressman John Moolenaar, Michigan Senator Ken Horn, Michigan Representative Ben Frederick, and representatives from the office of Governor Gretchen Whitmer and Senator Gary Peters.
Thank you to the panel of elected officials and staff for providing an update to attendees on the important work happening in state and federal government.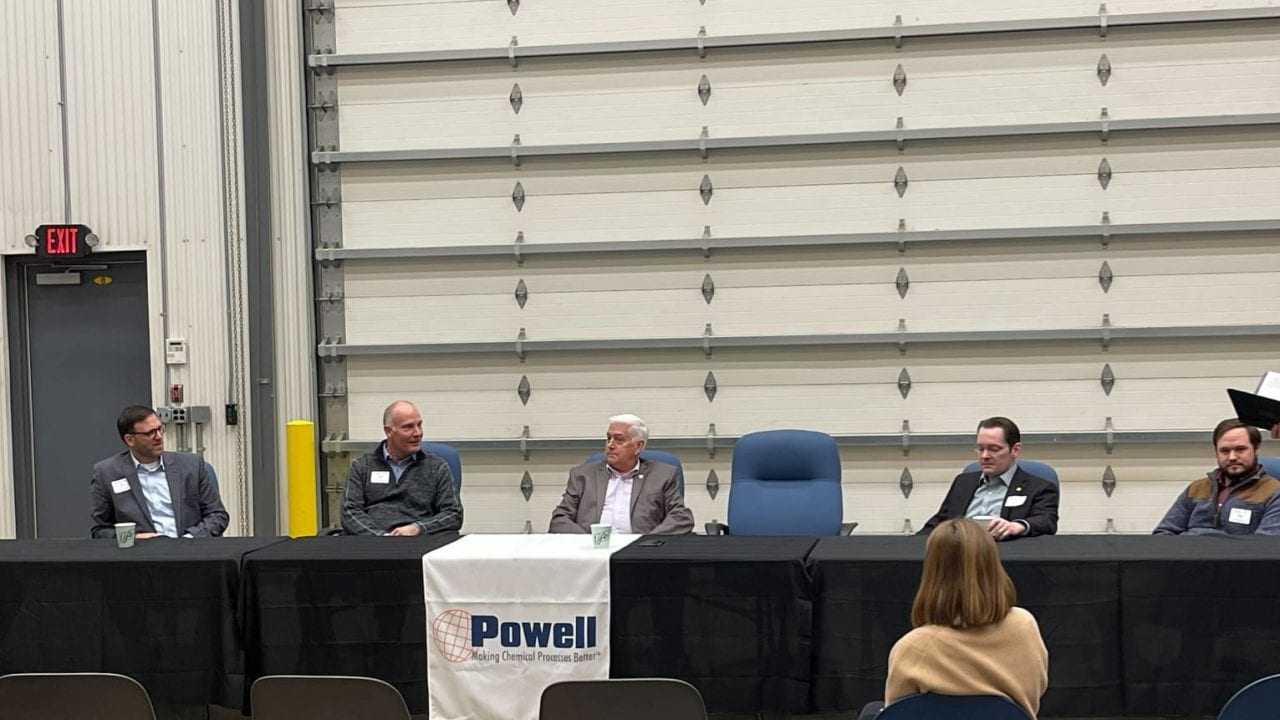 KAO Specialties Americas LLC Tour with Rep. Kathy Manning - Apr 20
High Point, NC
Thank you to Congresswoman Kathy Manning for visiting with your constituents at Kao Specialties Americas LLC (KSA) in High Point, NC!
KSA is headquartered and has a manufacturing site here, where they produce materials found in everything from beauty products to copier/printer toners, to asphalt and road-building materials. Their High Point location employs 150 North Carolinians after Kao Corporation Japan's purchase of the site from High Point Chemical in 1987. KSA operates in three target industries, Oleo Chemicals, Performance Chemicals, and Specialty Chemicals. The business of chemistry is critical to North Carolina, which is the 7th-largest chemistry-producing state. Nearly 50,000 North Carolinians are employed by this industry, which ships $3.15B in products around the world annually. Thank you, Congresswoman, for learning how #ChemistryMatters to NC!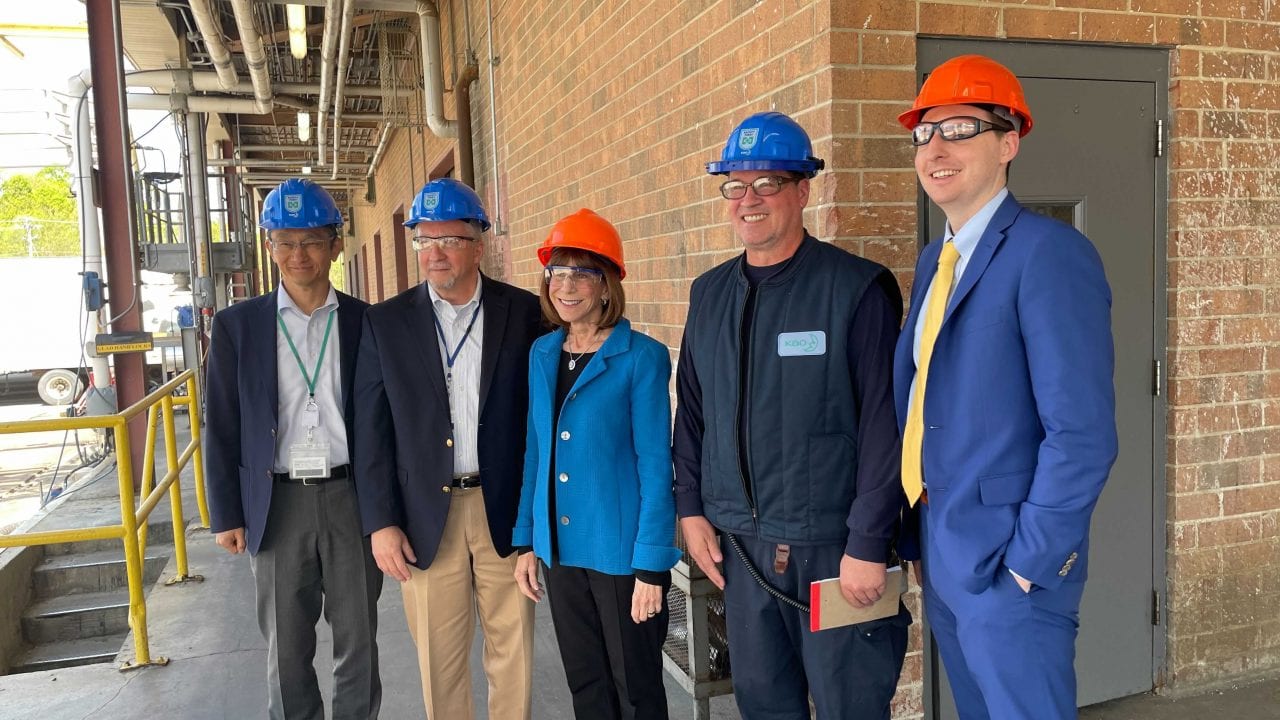 Pilot Chemical Company Tour with Rep. Brad Wenstrup - Apr 8
Lockland, OH
Thank you to Congressman Brad Wenstrup for visiting with your hardworking constituents at the family-owned Pilot Chemical Company in Lockland, Ohio! This company started 70 years ago with a patent in Ice-Cold Sulfonation technology and now creates the materials behind household essentials like body soap, laundry detergent, cleaning products, and even nitrile gloves. A former combat surgeon in the U.S. Army, Congressman Wenstrup understood firsthand the importance of products like PPE, including nitrile gloves, in stopping the spread of disease. He also noted that keeping the manufacture of critical products like these in the U.S. will ensure Americans can always have access to the items they need. In OH alone, nearly 85,000 Ohioans are employed in the #BusinessofChemistry at an average wage of over $102,000 a year - making it the 3rd largest chemistry-producing state.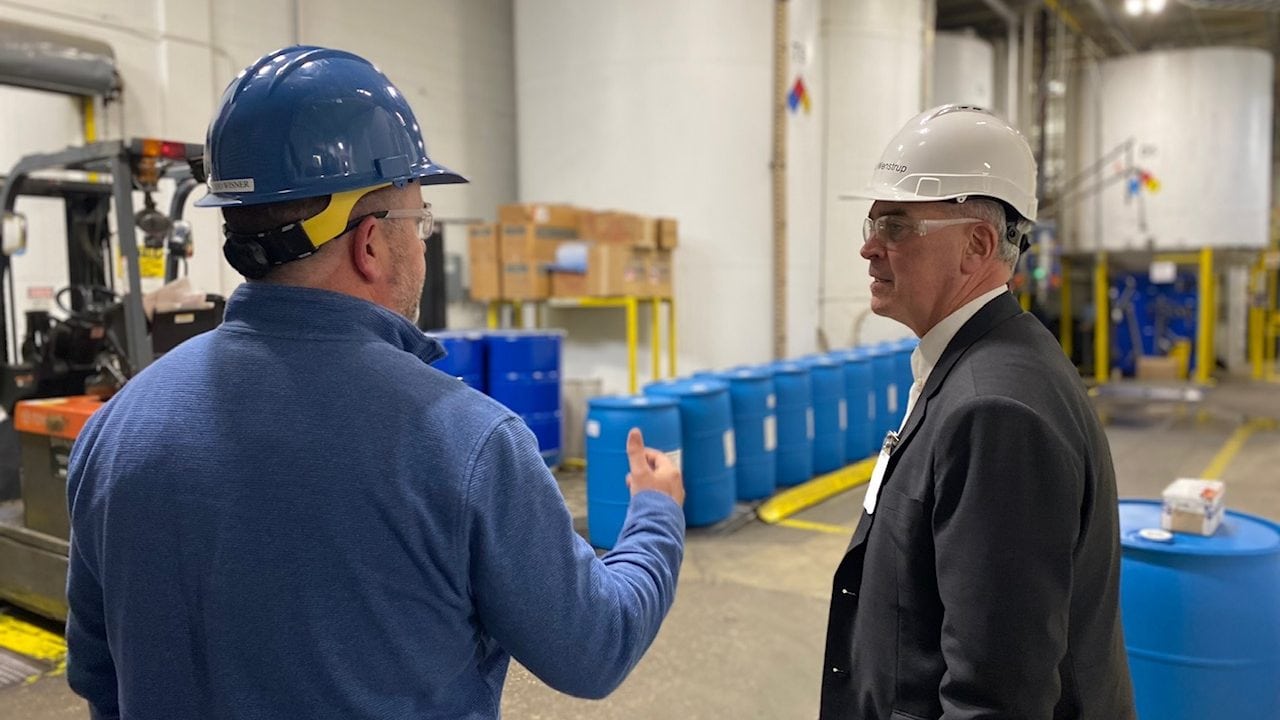 Huntsman Tour with Rep. Ralph Norman - Mar 22
Rock Hill, SC
Thank you to Congressman Ralph Norman for visiting Huntsman Corporation in Rock Hill, South Carolina! This site employs 40 South Carolinians who help manufacture resins for automotive, aerospace and infrastructure industries that hold difficult-to-adhere products together while providing flexibility and strength. This facility produces more than 5 million pounds of materials every year. In South Carolina, the business of chemistry is the third largest manufacturing industry in the state, offering nearly 35,000 jobs and generating $196 million in state and local taxes.Thanks for visiting the Huntsman Corporation site to see how much #ChemistryMatters to South Carolina!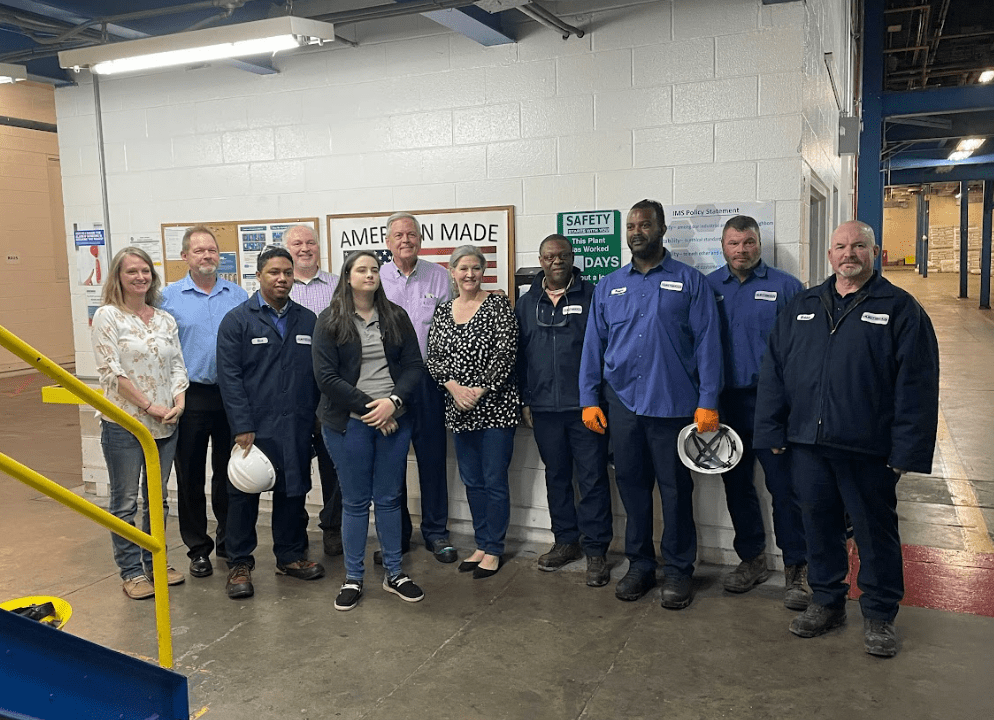 Huntsman Tour with Rep. Jerry Carl - Feb 21
McIntosh, AL
Thank you to Congressman Jerry Carl for visiting Huntsman's Advanced Materials facility in McIntosh, AL. This site employs over 170 skilled Alabamans who create specialty epoxy resins that are used in demanding applications including automotive, aerospace, and oil and gas exploration. This site sits on 34 acres of land, having undergone expansions in 2012. The workers here take safety very seriously - going an impressive 2 years without a health or safety violation. The business of chemistry is a major employer in the state, providing over 23,000 jobs and paying $890M in wages annually. Alabama chemistry generates $141M in state & local taxes and ships $2.00B to customers around the world.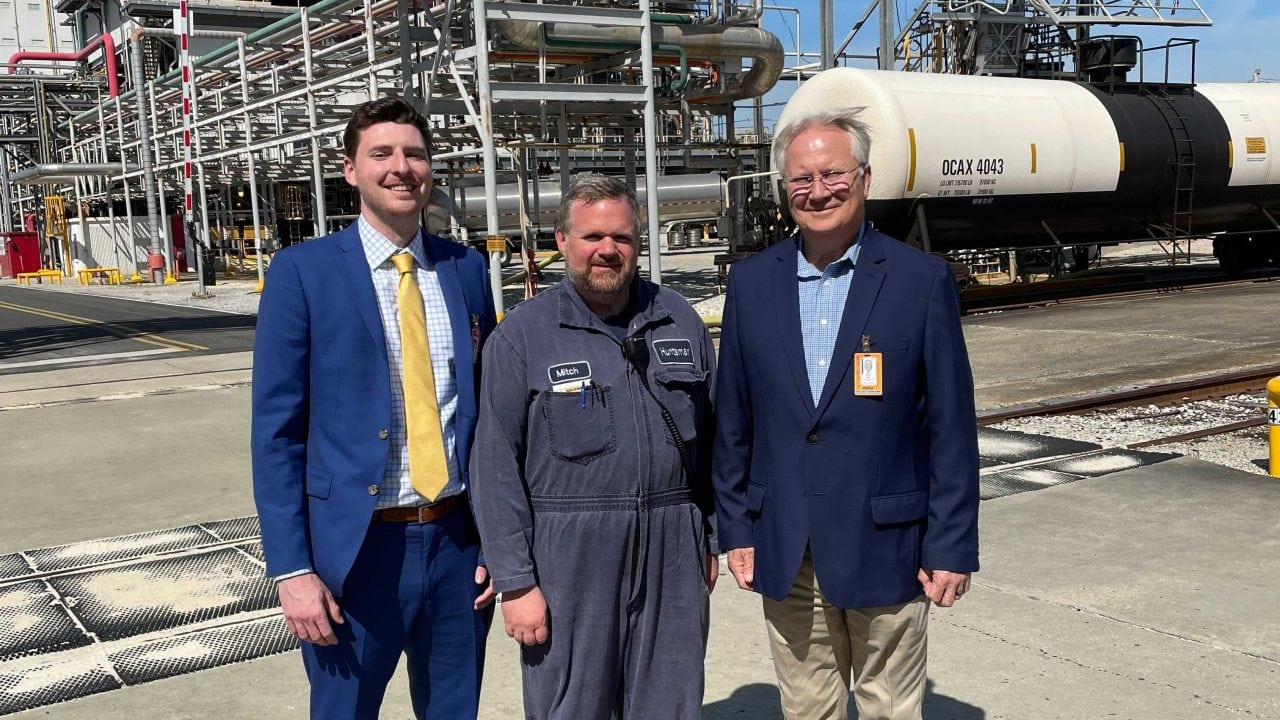 Solvay Tour with Rep. Steve Chabot - Mar 4
Cincinnati, OH
Thank you to Congressman Steve Chabot for visiting Solvay in Cincinnati, Ohio! This site was established 80 years ago and employs 30+ Ohioans, who produce a variety of alumina powders that are shipped worldwide. These compounds are used in catalytic converters, most commonly used in vehicles to control & reduce emissions, resulting in greener cars on the road. This site also creates pastes and paints for aluminum brazing.
This facility is a great example of Ohio's importance in helping our country create greener transportation options - nearly 100,000 people are employed in the
business of chemistry in the state, and they produce a number of chemistry solutions across Ohio daily.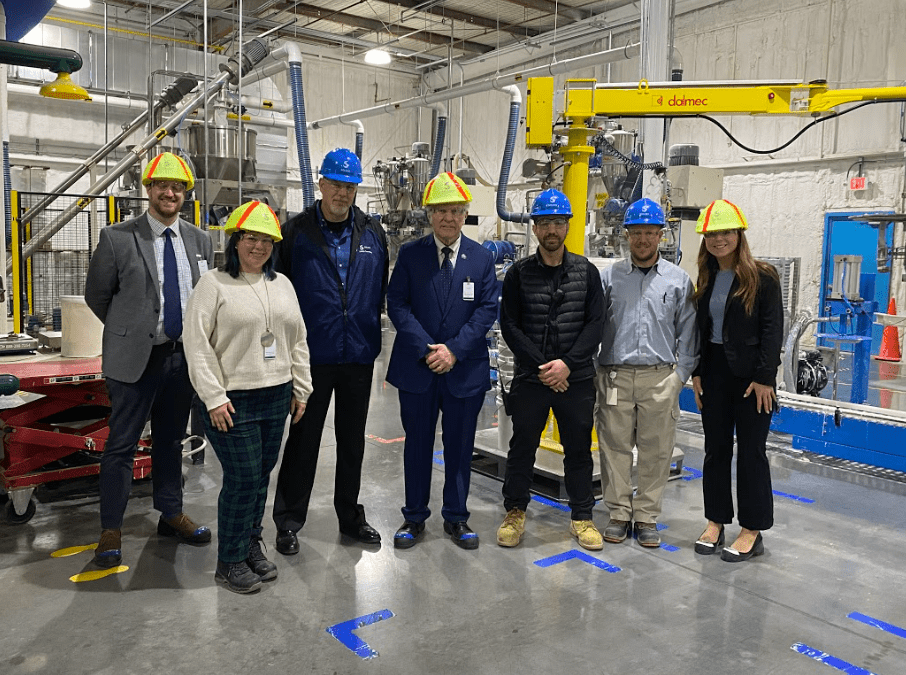 Huntsman Building Solutions Tour with Rep. Jake Ellzey - Feb 22
Arlington, TX
Thank you to Congressman Jake Ellzey for taking time during a busy work period to visit with his 70+ constituents employed at Huntsman Building Solutions in Arlington, TX. This business produces energy-saving spray foam insulation used in commercial, residential and industrial buildings. Huntsman is able to divert over 250 million recycled PET bottles every year in the creation of their spray foam insulation - which can provide homeowners up to 50% savings on their energy costs. This site also gives back: Huntsman trains almost 900 contractors a year in the effective application of spray foam insulation to maximize energy savings - helping to make Texas greener.