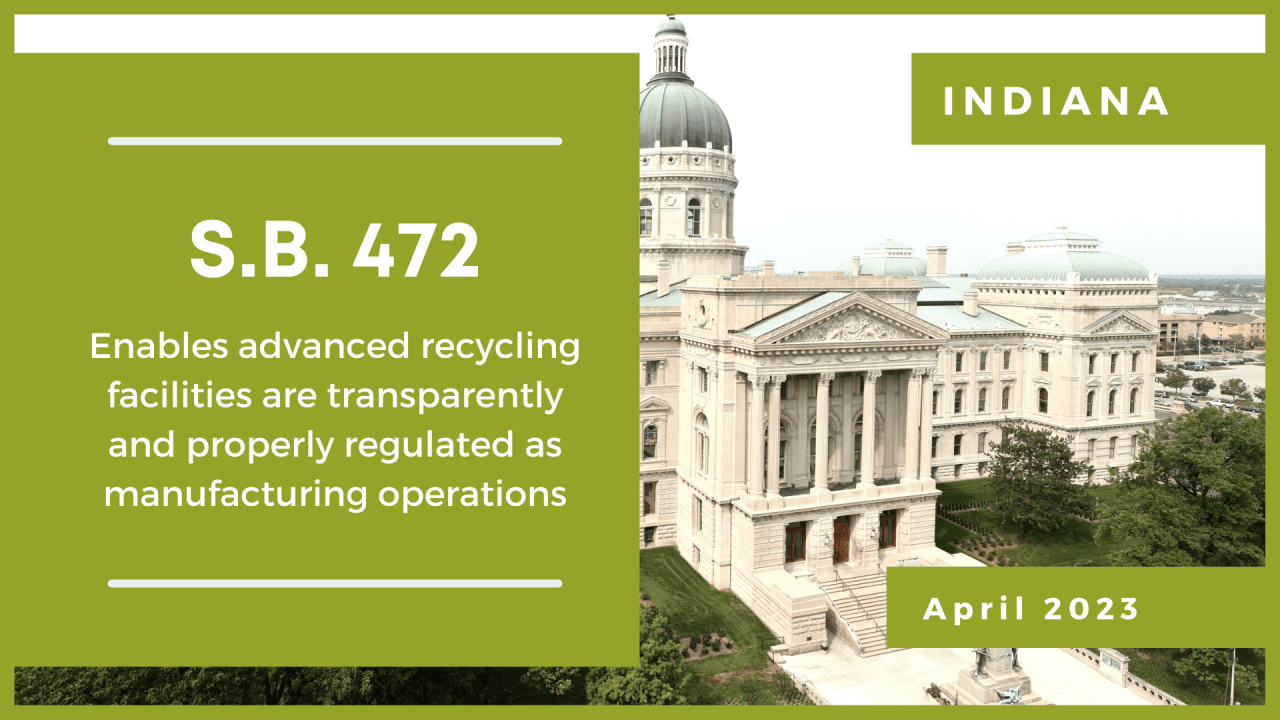 Recycling Progress in the States: Celebrating Earth Day 2023
April 20, 2023
Since last Earth Day, an amazing six additional states have passed legislation enabling advanced recycling – nearly half the country has welcomed these innovative technologies that can improve recycling rates and offer economic opportunities for local communities.
Advanced recycling is a manufacturing process that uses chemistry to enable significantly more plastics to be recycled than traditional recycling technologies, including often hard-to-recycle films and mixed plastics. This helps displace the need for virgin resources to produce new plastics and reduces the amount of plastics destined for landfill and incineration.
A 2021 report by Closed Loop Partners estimated that advanced recycling could double the plastics packaging recycling rate in the U.S. and Canada by 2030.
Given this statistic, enabling six new states to fully utilize this technology is a game changer. So which states led the charge on passing legislation this year?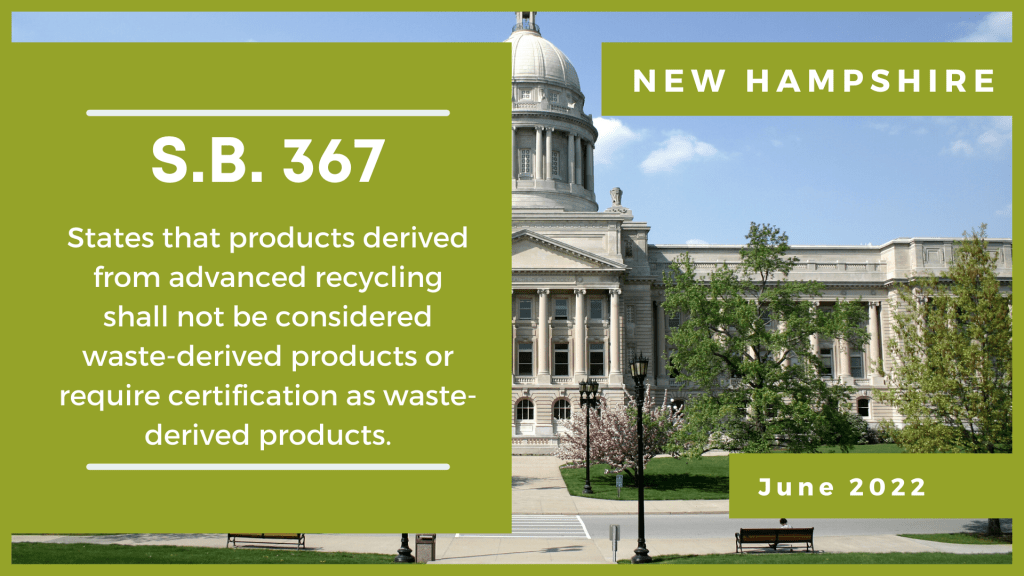 New Hampshire
In June 2022, New Hampshire Governor Chris Sununu signed S.B. 367 into law, which helped create a more circular economy for plastics while attracting new jobs to the state.
New Hampshire was the first New England state to enact legislation to recognize the economic and environmental benefits of advanced recycling. S.B. 367 regulated advanced recycling technologies as manufacturing operations rather than solid waste disposal, supporting investments in advanced recycling facilities and new manufacturing jobs for New Hampshire residents.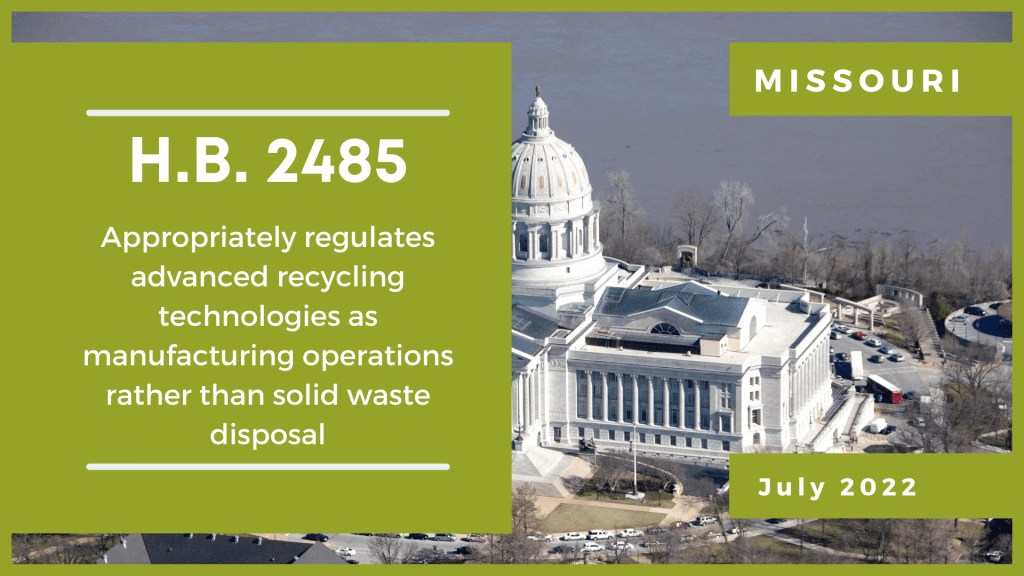 Missouri
In July 2022, Governor Mike Parson signed H.B. 2485 into law, making Missouri the 20th state to pass advanced recycling legislation.
"This legislation will help reduce plastic waste and allow more used plastic to become valuable new products—all while creating jobs and encouraging investment in our state. Companies all over the country are investing billions in these type of recycling facilities. With this new law on the books, they will know Missouri is open for business, and our citizens will know we are serious about a clean, sustainable Missouri."

Governor Mike Parson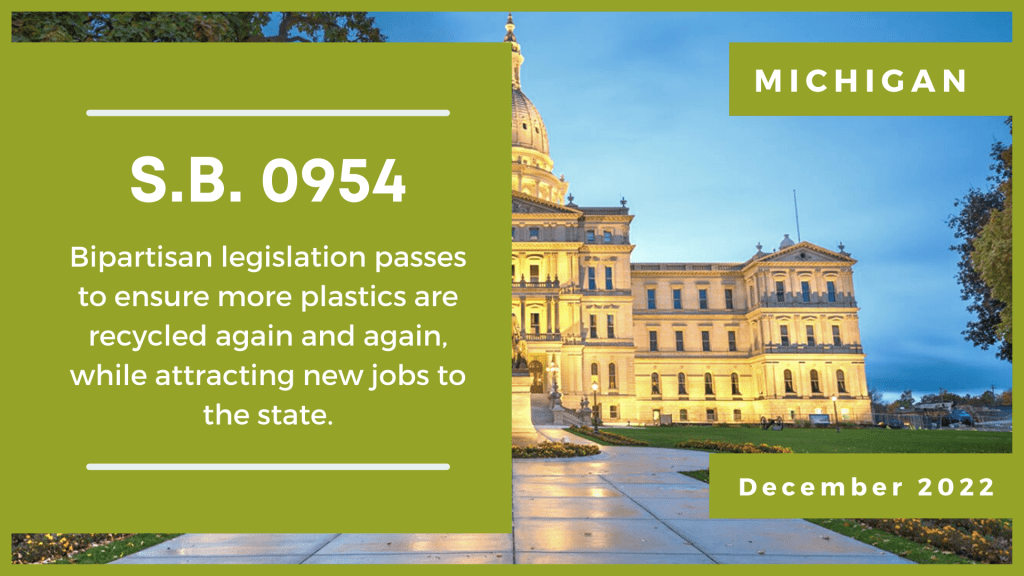 Michigan
Late in 2022, Michigan Governor Gretchen Whitmer signed bipartisan legislation to enable advanced recycling in the state.
Said Joshua Baca, VP of Plastics at the American Chemistry Council (ACC), "Lawmakers on both sides of the aisle recognize the multiple benefits of accelerating advanced recycling technologies to help make the United States the global leader in developing a circular economy for plastics."
More than 50 products in the global marketplace already use plastics made from advanced recycling.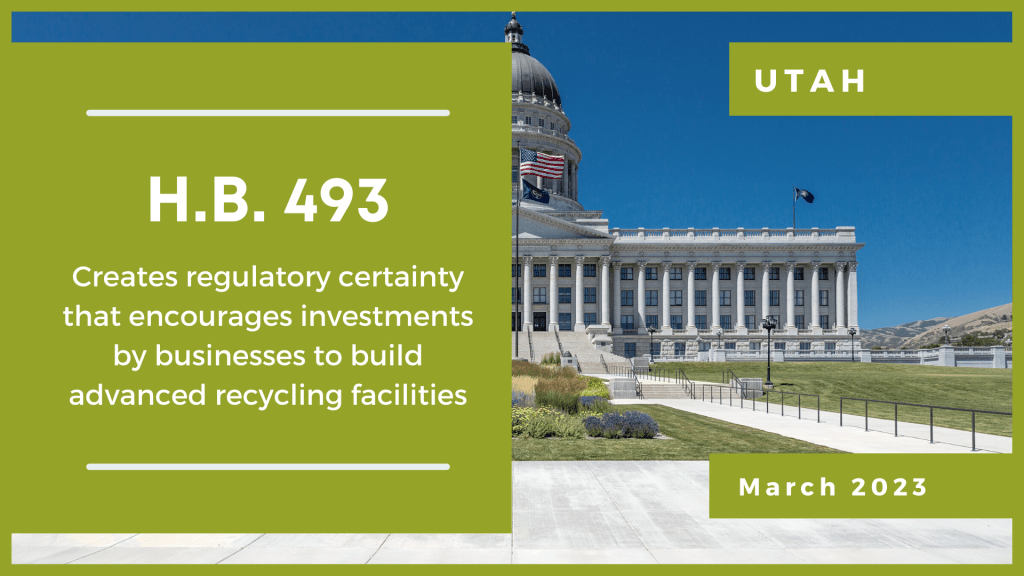 Utah
Utah became the first state to pass advanced recycling legislation in 2023. With the overwhelmingly bipartisan passage of HB 493, investments in advanced recycling are primed to spread west, along with the green-collar jobs and sustainability benefits that come with it.
If Utah converts just 50% of the currently landfilled plastic feedstock in the state, it could generate nearly $156 million in economic output each year and upwards of 600 manufacturing jobs in Utah.
The regulatory certainty provided by HB 493 encourages investments by businesses to build these facilities, which can easily exceed $200 million in capital costs. Additionally, HB 493 will help protect public health and the environment because the regulations applied most appropriately match the operations on the ground.
"I'm proud that we're paving the way for cutting-edge technology to come to Utah so we can have a more sustainable, circular economy and create jobs for our residents."

– Rep. Tim Jimenez, an environmental engineer who sponsored the legislation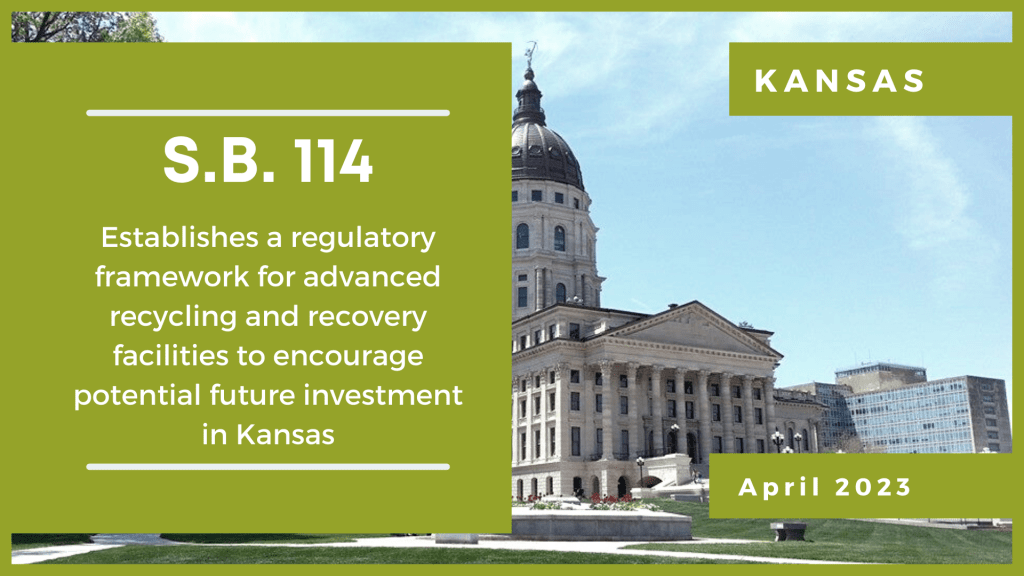 Kansas
This month, Kansas Governor Laura Kelly (D) signed into law bipartisan legislation establishing that advanced recycling operations are properly regulated as manufacturing facilities.
"This bill clears the path for Kansas to be a leader in the circular economy. In addition to boosting tax revenue from business investments, it will bring good-paying green-collar jobs to our residents and reduce plastic waste from ending up in landfills," said Sen. Renee Erickson, Assistant Majority Leader.
The potential economic impact of advanced recycling and recovery in Kansas is considerable: an additional $144 million in activity could support as many as 550 jobs in local communities.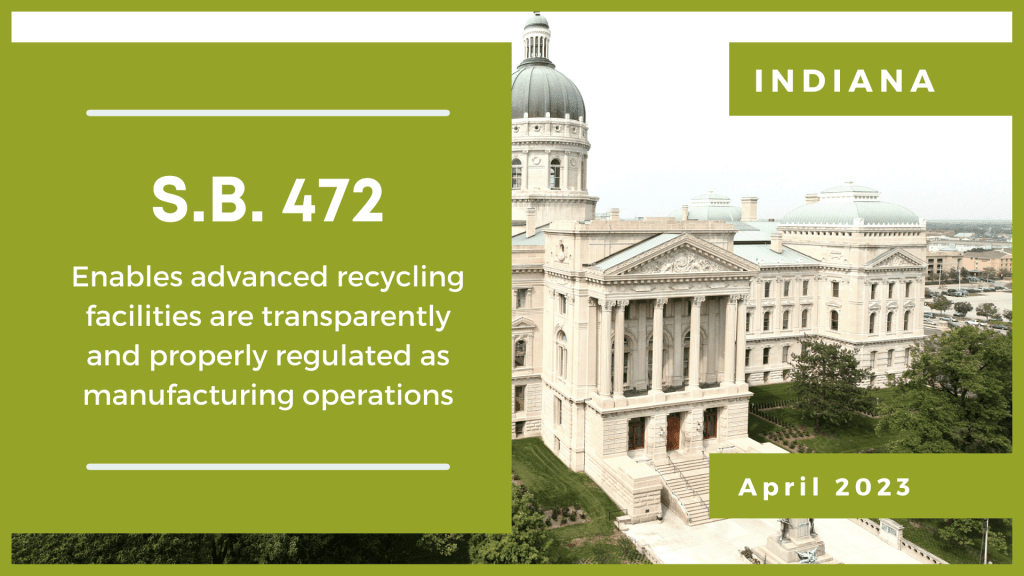 Indiana
Just today, Indiana became the 24th state in the country to adopt legislation so advanced recycling facilities are transparently and properly regulated as manufacturing operations.
ACC is pleased to learn of the strong bipartisan support of SB 472 — passing 94-1 in the House, 44-5 in the Senate — which could generate more than $222 million for Indiana each year and upwards of 900 jobs in the state.
Things are heating up – several states still have advanced recycling on the legislative docket for 2023, and we're excited to see which will be next to move their state's sustainability efforts forward.
You can learn more about Advanced Recycling here, and meet "America's Change Makers," the people changing the way plastic is made and remade here.